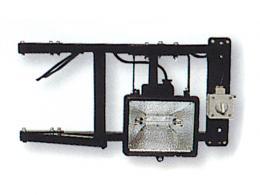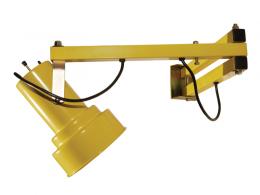 Dock Lights
Dock Lights
Loading and unloading at the loading dock isn't always conveniently available to do during daylight hours. Quite often, deliveries are delayed and unloading and loading activities need to take place at night. To ensure the safety of drivers and warehouse staff, The Workplace Depot offers a selection of dock lights. The standard dock light and standard plus dock light are great solutions to illuminating dim and poorly lit loading docks and surrounding areas that are primarily used during daylight hours. Loading docks are sometimes used 24 hours a day and the need to ensure a brightly lit environment is available, which is where flexible and manoeuvrable dock lights are incredibly useful.
Using Dock Lights
Dock lights are typically mounted indoors around loading docks and areas where loading and unloading take place, but they're also very useful in other applications. Dock lights are very flexible and can be mounted anywhere, which means they're also useful in stairwells, laneways, bathrooms, desks, loft areas, around electrical panels, and lots of other places in commercial and industrial situations that are poorly lit.
Industrial & Commercial Businesses Use Dock Lights
Dock lights are widely used in commercial and industrial companies and businesses to ensure the safety of the employees and support their existing lighting systems. Many loading docks and other areas are typically brightly lit, but the inside of transport trucks aren't and navigating a poorly lit truck trailer looking for cargo can be a safety hazard. Light up everything with these high-quality dock lights.
Dock Light Specifications
Dock lights have a 1 year parts and labour warranty. They also come with free next day delivery and a price match guarantee. If you've purchased dock lights and, within 1 year of purchase, are unhappy with them, The Workplace Depot has an easy exchange and return policy.