Cycle Stand
£78.84
Ex. VAT
£94.61
Inc. VAT
£94.61
Inc. VAT
£78.84
Ex. VAT
FREE DELIVERY
| | |
| --- | --- |
| 20+ units gets 3% off | |
| 10+ units gets 2% off | |
| 5+ units gets 1% off | |
Free Delivery -
Next Working Day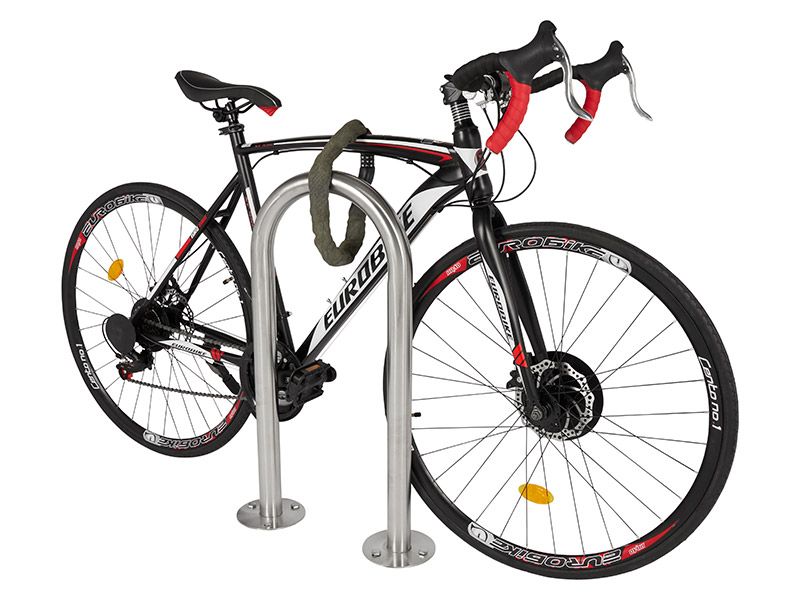 View All Bike Racks & Shelters
Secure Today, Cycle Tomorrow
Secure and Stylish: Ensure your bike's protection with the Cycle Stand's rugged design.
Two-Bike Convenience: Organise and store two bikes at once, one on each side, decluttering your space.
Elegant Aesthetics: Classic circular hoop design with a galvanised finish, enhancing any setting.
Built to Last: Crafted from 50mm tubular mild steel, it promises longevity and durability.
Weather-Resilient: Corrosion-resistant galvanised finish ensures the stand remains pristine throughout seasons.
Tamper-Proof Design: Ultra-strong body prevents tampering, ensuring your bike's security.
Sturdy Installation: Bolt-down design offers unwavering stability against external forces.
Hassle-Free Setup: Comes with durable concrete and tarmac compatible bolts for quick installation.
Optimal Dimensions: Compact yet functional at 755(H) x 460(W) x 50(D) mm, ensuring a seamless fit in any location.

Secured with Panache
Discover the Cycle Stand - your ultimate ally for safeguarding and organising your guests' bicycles. Adorned with a timeless hoop design and a resilient stainless steel finish, this stand is an aesthetic addition to any space. Designed to hold two bicycles simultaneously, it assures your visitors that their bikes are in safe hands.
Crafted from robust 50mm diameter tubular mild steel, the stand is the embodiment of strength and durability. Thanks to the corrosion-resistant stainless steel finish, this stand can face any weather and continue to serve you for years. Its tamper-proof design makes it a fortress against any attempts to loosen or displace it.
Peace of Mind, One Stand at a Time
Bike storage isn't just about creating space, it's about fostering a sense of security. Experience the reassurance of knowing that your guests' bikes are safe from theft with our Cycle Stand. Its secure storage system arranges bikes neatly, allowing visitors to easily locate their rides and guaranteeing their undisturbed condition.
For you as a proprietor, this ensures an added layer of tranquillity, knowing your guests' bikes are well-protected while they are within your premises. With the Cycle Stand, you're not just offering a parking spot, but a promise of protection.


Harmony in Order
Maintaining a systematic bike storage is crucial in guaranteeing the safety and security of your guests' bicycles. Our Cycle Stand brings order with its unique design, ingeniously created to accommodate two bikes per stand, each on either side. This not only assures firm security but also promotes easy identification and access for your guests.
For you, as the owner, this structured storage system helps you oversee the bikes on your premises effortlessly and ensures they are never misplaced or forgotten. With our Cycle Stand, it's not just about storage, but about crafting an experience of ease and assurance.

Overall Dimensions
| | | |
| --- | --- | --- |
| | OVERALL HEIGHT | 755 mm |
| | INTERNAL HEIGHT | 705 mm |
| | OVERALL WIDTH | 460 mm |
| | TUBE DIAMETER | 50 mm |
| | PLATE DIAMETER | 150 mm |
| | RAIL WIDTH | 360 mm |
| | WEIGHT | 4.5 kg |
Built to Protect
When it comes to bike storage, resilience is paramount. With the Cycle Stand, rest easy in the knowledge that your guests' bikes are in a safe haven. Crafted from 50mm diameter tubular mild steel, this stand epitomises robustness, designed to hold its own against the elements. Its corrosion-resistant, stainless steel finish guarantees a lengthy lifespan, making it an ideal choice for outdoor deployment.


Elegant Protection
The aesthetic appeal of a bike stand can be as vital as its practicality. Our Cycle Stand, with its classic circular hoop design and stainless steel finish, enhances any setting, proving to be a stylish addition to any business or organisation. But it's not just about looks - this traditional design not only catches the eye but also strengthens the security, making it difficult for any miscreants to meddle with the stand.
Unbreakable Security
In the realm of bike storage, a tamper-proof design is not just a nice-to-have, it's an essential. Our Cycle Stand is virtually immovable once installed, offering steadfast security for your guests' bikes at all times. Such a tamper-proof design is particularly crucial for businesses or establishments situated in high-traffic zones or in areas prone to bike theft.


Installing Made Simple
The thought of installing a bike stand can seem daunting, but with the Cycle Stand, the promise of "Effortless Installation" comes to life. The stand's flanged ends are crafted for seamless installation on any surface, and it arrives complete with sturdy concrete and tarmac-compatible fixing bolts.
Item Information
Keeps bikes secure and organised, each stand can hold two bikes, one on each side
Classic hooped design and stainless steel finish looks great in any surroundings
Constructed from thick 50mm diameter tubular mild steel and is built to last
Corrosion-resistant stainless steel finish, long all-weather lifespan
Tamper-proof design makes it virtually impossible for the stand to be loosened
Designed for outdoor use, flanged ends can be bolted in to the floor surface
Comes with sturdy concrete and tarmac compatible fixing bolts for installation
Overall dimensions of the stand are 755(H) x 460(W) x 50(D) mm
Should be placed approx. 800mm apart and about 450mm from any wall

Customer Reviews
---
How do you rate this product? Guidance:
Please focus on the item itself. Your review will be most helpful if you include the specific reasons why you either liked or disliked the item.
Try to be concise and straight to the point - but avoid single-word reviews.
---

Free Next Day Delivery
We're proud to offer FREE next working day delivery to mainland Great Britain for all orders placed before 3pm. That means you'll have your shiny new Cycle Hoop in no time – and without spending an extra penny on shipping!
Your Satisfaction Is Our Success
At The Workplace Depot, we pride ourselves on providing extraordinary customer support that goes above and beyond. Our dedicated team is available Mon-Fri from 8am to 5pm to answer any questions you may have, and assist you with your purchase. You can reach us at 0800 0126777, and we'll be more than happy to help you.


Guaranteed Satisfaction
When you place an order with The Workplace Depot, you can rest easy knowing that your purchase is backed by our unbeatable 1-year parts and labour warranty. This means that if any issues arise with your product within the first year of ownership, we've got you covered!
Our warranty is a testament to the quality and durability of our products, and it's just one of the many ways we stand behind our merchandise. It gives you the peace of mind that you deserve, knowing that you're protected against any unexpected defects or malfunctions.
Warranty
1 year parts / labour
Price Promise
We match any price
Easy Returns
Return or exchange