Red VIP Rope
£364.49
Ex. VAT
£437.39
Inc. VAT
£437.39
Inc. VAT
£364.49
Ex. VAT
FREE DELIVERY
| | |
| --- | --- |
| 20+ units gets 3% off | |
| 10+ units gets 2% off | |
| 5+ units gets 1% off | |
Free Delivery -
Next Working Day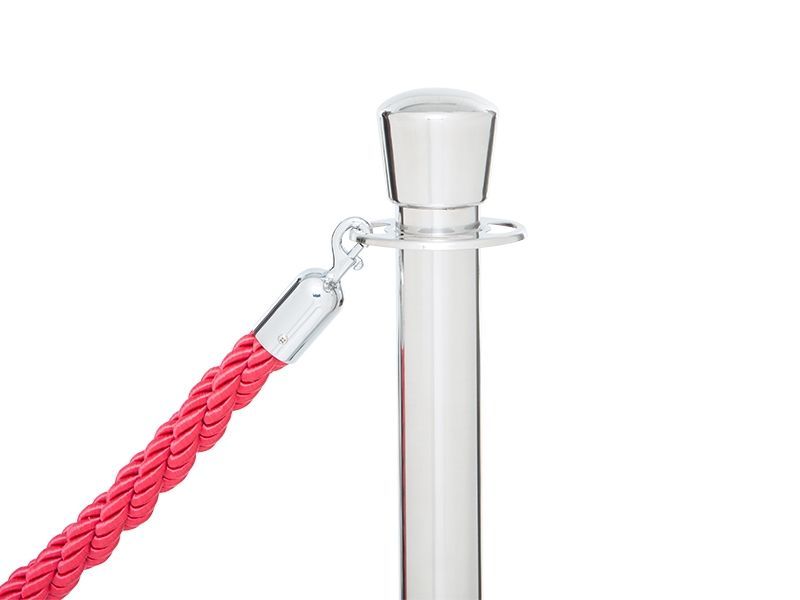 View All Rope Barriers
Define Your Space With Distinction
Elegance Redefined: Introduce a touch of sophistication to any setting with our Red VIP Rope, ideal for cordoning off VIP areas in style.
Timeless Design: Boasting a classic, elegant design, this rope barrier elevates the aesthetic of spaces while effectively managing crowd control.
Complete Set: Our kit includes 10 stainless steel crown top posts and 9 red ropes, offering a complete solution for sectioning off exclusive areas.
Versatile Attachment: Each post is equipped with a 4-way rope attachment ring, enabling flexible configuration options to suit any layout.
Luxurious Rope: The set features 9 x 1.5m lengths of soft, twisted red rope, combining opulence with durability for long-lasting use.
Secure Connection: Stainless steel spring closure end hooks on each rope ensure a firm, reliable attachment, enhancing overall safety and functionality.
Indoor & Outdoor Use: The corrosion-resistant posts are suitable for both indoor and outdoor settings, offering versatility in various environments.
Sturdy Foundation: A 320mm diameter weighted base on each post provides unparalleled stability, ensuring the barrier remains upright in all conditions.
Detailed Specifications: With a post diameter of 50mm, height of 980mm, and a post weight of 8.4kg, this barrier is as robust as it is elegant.

The Pinnacle of Boundary Elegance
In a world where first impressions often determine the success of an event or venue, the Red VIP Rope stands as a testament to uncompromising sophistication. This barrier is not just about setting boundaries; it's about announcing the prestige of the space it adorns.
The Red VIP Rope combines functional design with an air of exclusivity. Whether you're delineating spaces in bustling cafes or creating an elite entrance to a nightclub, this kit ensures a blend of durability and luxury. It's a statement piece, ready to impress and serve in any setting.
Setting Boundaries with Class
In the realm of event management and venue design, the barriers used can often dictate the ambience of a space. The Red VIP Rope's classic design is a masterstroke of subtlety and grace. Its inherent elegance transforms an ordinary cordoning exercise into an invitation to an exclusive experience.
Beyond its primary function of setting boundaries, this design speaks a language of luxury. It's not just about keeping spaces separate; it's about doing so with an air of distinction. The Red VIP Rope ensures that every partition feels like a passage to somewhere special, making every event or venue effortlessly upscale.


Crafted for Excellence
The meticulous composition of the Red VIP Rope kit leaves no stone unturned in ensuring its users are equipped for any event size or layout. With 10 gleaming stainless steel crown top posts and 9 luxurious red ropes, every component is designed to be both purposeful and impressive.
A barrier system is as strong as its weakest link. Our kit ensures there isn't one. The strategic combination of posts and ropes allows for flexible configurations, accommodating diverse spaces while maintaining an aura of exclusivity. Whether it's a winding queue at a gala or a VIP section at a grand opening, this kit is tailor-made to set the scene with grandeur.
Quadruple the Versatility
At the heart of the Red VIP Rope's unparalleled functionality is the 4-way rope attachment ring fitted meticulously on each stainless steel post. This design genius is not just an added feature but a game-changer, propelling the product into a realm of unmatched versatility.
The true magic of this design choice reveals itself in adaptability. It allows users to create customised configurations to suit any venue layout, from intricate mazes for gallery openings to simplistic, linear queues outside theatres. This 4-way attachment doesn't just elevate the barrier's function; it empowers its users, granting them the flexibility to craft distinct, efficient, and elegant boundary solutions for every event.


Luxury in Every Length
When we think of exclusivity, the image of a twisted red rope often comes to mind. The Red VIP Rope kit doesn't just include any rope but offers 9 individual lengths, each stretching to a generous 1.5m. These ropes, crafted with softness and visual allure, are the epitome of classic luxury.
More than their aesthetic appeal, the ropes' length and softness have been meticulously chosen for function and comfort. The 1.5m length ensures ample space between posts, providing ease of access while maintaining the sanctity of cordoned areas.

Overall Dimensions
| | | |
| --- | --- | --- |
| | OVERALL HEIGHT | 1030 mm |
| | POST HEIGHT | 990 mm |
| | BASE HEIGHT | 40 mm |
| | CROWN DIAMETER | 65 mm |
| | RING DIAMETER | 95 mm |
| | POST DIAMETER | 50 mm |
| | BASE DIAMETER | 345 mm |
| | RING GAP DEPTH | 10 mm |
| | RING METAL THICKNESS | 8 mm |
| | WEIGHT | 7.15 kg |
Secure Elegance
In the world of luxury barriers, every detail matters. The Red VIP Rope underscores this ethos with its stainless steel spring closure end hooks on each rope. These aren't just hooks; they are a testament to precision engineering and thoughtful design, ensuring seamless connections without compromising on aesthetics.
Functionality pairs with finesse as these hooks guarantee robust and reliable attachments, warding off accidental detachments in bustling environments. At the same time, the stainless steel finish adds a touch of sleek elegance, ensuring that even the smallest components align with the product's overarching promise of luxury and reliability.


Enduring Excellence
At the core of the Red VIP Rope's promise of timeless elegance is its unwavering commitment to durability. Every stainless steel post in this kit is masterfully crafted with corrosion resistance in mind, ensuring that they stand tall and lustrous regardless of the setting or elements.
While many barriers are confined to indoor events, fearing the unpredictability of nature, the Red VIP Rope breaks that mould. Whether it's an opulent indoor gala or an outdoor red-carpet event, these posts are built to brave both environments without losing their sheen or strength.
Stability Meets Aesthetics
In the world of premium barriers, it's not just about looking the part; it's about standing firm, event after event. With the Red VIP Rope, this assurance comes in the form of its 320mm diameter weighted base, meticulously designed to be the pillar of stability in any setting.
While its sleek design adds to the overall allure of the barrier system, the weighted base serves a critical function: ensuring each post remains unwavering amidst bustling crowds or gusty winds. The base not only reinforces the physical stability of the barrier but also instils confidence in event organisers.


Unbox and Unveil
In today's fast-paced world, time is luxury. Recognising this, the Red VIP Rope takes pride in being ready-to-use straight from the box. No fumbling with parts, no lengthy setups; just pure, effortless elegance waiting to be showcased.
Event organisers and venue managers can relate to the pressures of getting everything perfect in a tight timeframe. With the Red VIP Rope's ready-assembled design, one significant task is made effortless. It ensures not just a swift installation but a seamless experience, allowing users to focus on the event's myriad other details while being confident of the barrier's impeccable presentation.
Customer Reviews
---
How do you rate this product? Guidance:
Please focus on the item itself. Your review will be most helpful if you include the specific reasons why you either liked or disliked the item.
Try to be concise and straight to the point - but avoid single-word reviews.
---

Free Next Day Delivery
The Workplace Depot understands the allure of immediacy, especially when luxury is involved. Why wait when sophistication can be yours in a matter of hours? Order the Red VIP Rope before 3pm and witness the blend of opulence and efficiency, as our premium product graces your venue the very next working day.
Shopping with us isn't just about quality products; it's about an unmatched service experience. Our commitment to mainland Great Britain ensures that when you choose elegance, delays don't stand in the way. Dive into the realm of Red VIP Rope luxury, knowing your vision will come to life faster than you imagined
Always At Your Service
We believe in more than just providing exceptional products. We champion an unwavering commitment to stand beside our customers, ensuring every query and concern is met with understanding and dedication. With our devoted phone line, 0800 0126777, ringing true from 8am to 5pm, Mon-Fri, we're always just a call away.
It's more than just a helpline; it's a testament to our promise of putting customers first, every single time. Whether you have a question about the Red VIP Rope or need guidance on your purchase, our expert team awaits, eager to enhance your shopping experience with unmatched care and support.


Our Warranty, Your Peace of Mind
When you shop with us, you're investing in more than just high-calibre products; you're securing peace of mind. Our 1-year parts and labour warranty isn't just a statement—it's our covenant, ensuring that every purchase is backed by a promise of durability and performance.
But it's not just about product longevity; it's about the continued relationship we aspire to have with each customer. This warranty symbolises our unyielding dedication to your satisfaction, guaranteeing that, should you face any hitches, we're right here to set things right. With The Workplace Depot, you're not just buying a product; you're entering a pact of reliability and unwavering support.
Warranty
1 year parts / labour
Price Promise
We match any price
Easy Returns
Return or exchange