Post and Chain
£47.99
Ex. VAT
£57.59
Inc. VAT
£57.59
Inc. VAT
£47.99
Ex. VAT
FREE DELIVERY
| | |
| --- | --- |
| 20+ units gets 5% off | |
| 10+ units gets 4% off | |
| 5+ units gets 3% off | |
Free Delivery -
Next Working Day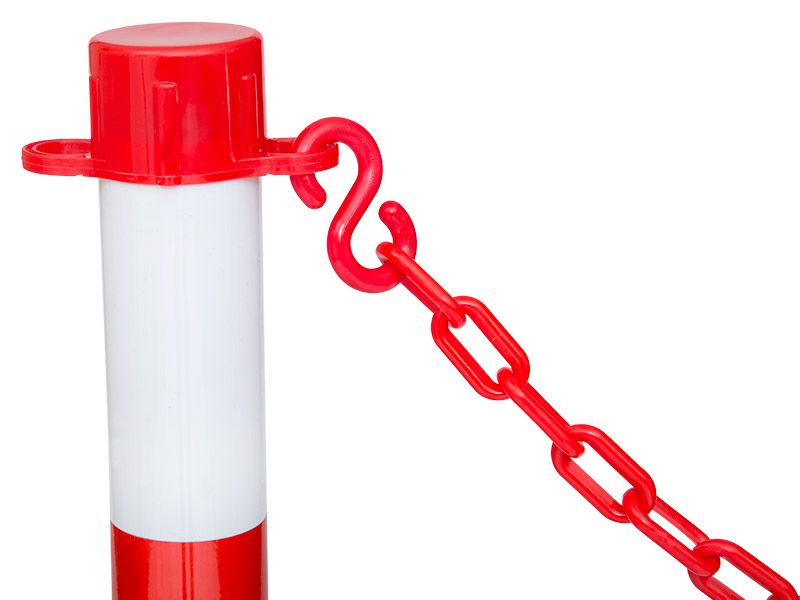 View All Traffic & Construction Barriers
Stand Strong, See Clearly
Barrier Excellence Unveiled: Discover the Post and Chain, the ultimate in crowd control, perfect for indoor and outdoor environments, from warehouses to car parks.
Enduring Material: Crafted from corrosion-proof plastic, our barrier system promises longevity, standing steadfast against rust and decay.
Visibility at Its Best: With a striking red and white design, our posts command attention, ensuring safety and clear demarcation in high traffic areas.
Innovative Design: Each post features four integrated chain eyes, allowing for versatile, multi-directional chain connections that redefine barrier solutions.
Stability Guaranteed: The robust, non-trip 3kg base provides unwavering stability in all weather conditions, anchoring the posts securely on any surface.
Flexibility Meets Strength: The UV treated chain boasts an embedded stretch, offering durability with a forgiving 'give' to maintain integrity upon impact.
Deployment Simplified: Our barrier system is designed for swift setup, enabling quick deployment with ease – no fuss, no delay.
Versatile Use: Ideal for delineation in both internal spaces and temporary outdoor venues, the Post and Chain adapts to your spatial needs with ease.
Measured to Perfection: With posts standing at 900mm high and a base diameter of 345mm, dimensions are crafted for optimal visibility and stability.

Master the Flow
Navigating the bustling realm of busy environments requires a tool that's both efficient and reliable. Enter the Post and Chain Barrier Kit, a product engineered to perfection, fusing durability with distinctive design, ensuring optimum visibility and unparalleled resilience. Whether you're managing a car park or organising indoor spaces, this kit is tailored to deliver precision.
Its features shine brightest in challenging conditions. Not only does the corrosion-proof plastic promise longevity, but the UV-treated chains also stand their ground against environmental wear and tear. Simplify crowd and vehicle management with the Post and Chain, a true testament to versatility and steadfastness.
Defying Decay
In an age where endurance is often compromised for aesthetics, our Post and Chain Barrier Kit defies this norm. The cornerstone of its robustness lies in its corrosion-proof plastic construction. This isn't just any material; it's a promise of longevity and resilience, ensuring that your barrier remains unyielding and pristine, no matter the environment it's placed in.
But why does this matter? Corrosion can silently diminish the life and efficiency of many products. By investing in our corrosion-resistant plastic, you're not just purchasing a barrier kit; you're securing an ally that stands the test of time and elements. A commitment to durability means fewer replacements, sustained performance, and peace of mind, making every pound spent a worthy investment.


Spotlight on Safety
Visibility isn't just about being seen; it's about ensuring safety and clear direction, especially in bustling environments. The Post and Chain Barrier Kit boasts a striking red and white contrasting design, deliberately chosen to catch the eye and signal caution. This isn't merely an aesthetic choice; it's a commitment to prioritise the well-being of pedestrians and drivers alike.
The significance of this design cannot be overstated. In areas with high traffic, whether vehicular or pedestrian, every second counts. A barrier that fades into the background is a missed opportunity for guidance and safety. Our bold contrasting colours ensure immediate recognition, reducing potential mishaps and streamlining movement.

Overall Dimensions
| | | |
| --- | --- | --- |
| | OVERALL HEIGHT | 900 mm |
| | POST HEIGHT | 850 mm |
| | BASE HEIGHT | 85 mm |
| | WIDTH INC HOOKS | 95 mm |
| | BASE DIAMETER | 345 mm |
| | POST DIAMETER | 50 mm |
| | WEIGHT | 3.5 kg |
Precision in Design
When it comes to erecting barriers, flexibility and adaptability are paramount. The Post and Chain Barrier Kit takes this to heart with its four integrated chain eyes in the post cap. This feature is an ode to versatility, allowing users to configure the barrier in various patterns, tailoring it to the unique requirements of any given environment or situation.
The presence of these four chain eyes is more than just a technical addition—it's a strategic enhancement. It ensures seamless chain attachments, facilitating quick adjustments and configurations. Whether creating a linear barrier, a square, or any polygonal setup, these chain eyes are testament to the product's thought-out design.


Steadfast in the Storm
Stability is the silent guardian of any effective barrier system. The Post and Chain Barrier Kit stands unyielding, thanks to its 3kg heavy base—a design choice meticulously made to ensure your barrier remains steadfast. Engineered with a non-trip profile, it promises not just stability, but also safety, eliminating potential hazards for pedestrians.
The significance of this heavy base extends beyond just its weight. In unpredictable weather, from gusty winds to torrential rains, barriers can often become unstable or even hazardous. With our 3kg base, you're investing in a product that remains unfazed by the elements.
UV Treated
Exposure to sunlight often poses a silent threat to many products, leading to degradation and brittleness over time. Not with our Post and Chain Barrier Kit. Its chain is UV treated, ensuring a defence against the relentless sun, maintaining its integrity and colour throughout its lifespan. This is longevity and vibrancy, rolled into one.
But there's more to this chain than just its UV resistance. It's designed with a unique embedded stretch or 'give'. This subtle flexibility ensures that the chain can absorb minor impacts without breaking, adding an extra layer of durability and adaptability.


Swift Setup, Seamless Solution
Time is often of the essence, especially in dynamic environments that require swift adaptations. Recognising this, the Post and Chain Barrier Kit is designed to be rapidly deployable, allowing you to erect barriers in moments, not hours. This isn't just a feature—it's an assurance that efficiency and efficacy go hand in hand.
The ease of deployment speaks volumes about the kit's user-centric design. Whether you're a seasoned professional or a first-time user, the barrier's intuitive design ensures a hassle-free setup experience. By prioritising quick deployment, we're not just offering a product but a promise—that in moments of need, the Post and Chain will be your steadfast companion, ready at a moment's notice.
Inside and Out
The adaptability of a barrier system often defines its true worth. With the Post and Chain Barrier Kit, versatility is at its core. Designed meticulously to be apt for both indoor environments and temporary outdoor setups, it seamlessly transitions between the two, offering consistent performance irrespective of the locale.
Such adaptability is pivotal in today's ever-changing scenarios. Indoor events, warehouse delineations, outdoor festivities, or temporary car park setups—all demand a barrier system that's both robust and flexible. Our Post and Chain Barrier Kit doesn't just fit the bill; it exceeds expectations. Its suitability for diverse environments ensures that no matter where you deploy it, you're guaranteed reliability and efficiency in one cohesive package.

Item Information
Corrosion-proof plastic construction ensures durability and longevity
Contrasting red and white design for optimal visibility and safety
Four integrated chain eyes allow versatile barrier configurations
3kg non-trip heavy base offers unparalleled stability in all conditions
UV-treated chain resists sunlight-induced wear and bleaching
Embedded chain 'give' provides added durability against minor impacts
Quick and easy deployment for time-efficient setups
Suitable for diverse indoor events and temporary outdoor scenarios
Kit comprises 4 red and white plastic posts and 4 rubber bases
Posts: 50mm diameter, 900mm height for ideal visibility and structure
Bases: 345mm diameter, 84mm height, weighing a stable 3kg each
Chain: 2m length segments, 8mm link size, ensuring robust connections

Customer Reviews
---
How do you rate this product? Guidance:
Please focus on the item itself. Your review will be most helpful if you include the specific reasons why you either liked or disliked the item.
Try to be concise and straight to the point - but avoid single-word reviews.
---

Free Next Day Delivery
At The Workplace Depot, we understand the essence of time, especially when it comes to the needs of your establishment. That's why, with every order of the Post and Chain made before 3pm, we guarantee a door-step delivery by the very next working day. It's not just about providing a product; it's about delivering an experience, and ours is wrapped in promptness and efficiency.
Imagine the delight of securing a top-tier barrier system today and having it ready for deployment tomorrow. That's the luxury we offer to our valued customers across mainland Great Britain.
Always At Your Service
With our dedicated phone line, 0800 0126777, operational from 8am to 5pm, Monday to Friday, we ensure you're never left with unanswered questions. It's a channel that echoes our steadfast commitment to every individual, offering real-time solutions and insights.
We believe in the power of conversation. In a digital age, there's something profoundly reassuring about a human voice at the other end, eager to assist. Our team embodies this spirit, brimming with knowledge, patience, and an unparalleled zeal to elevate your shopping experience.


Our Warranty, Your Peace of Mind
Purchasing from The Workplace Depot is not merely a transaction; it's a pact of trust. Every product we curate is backed by a comprehensive 1-year parts and labour warranty. This isn't just a piece of paper—it's our solemn promise that the value we deliver extends well beyond the day of purchase, ensuring you receive a year-round commitment to excellence and reliability.
Peace of mind is not a luxury; it's a necessity. In a world filled with fleeting guarantees, our warranty stands as a testament to our dedication to quality and customer satisfaction. When you choose The Workplace Depot, you're not just investing in a product—you're securing a partner dedicated to your long-term satisfaction and peace of mind.
Warranty
1 year parts / labour
Price Promise
We match any price
Easy Returns
Return or exchange