City Bike Stand
£47.99
Ex. VAT
£57.59
Inc. VAT
£57.59
Inc. VAT
£47.99
Ex. VAT
FREE DELIVERY
Free Delivery -
Next Working Day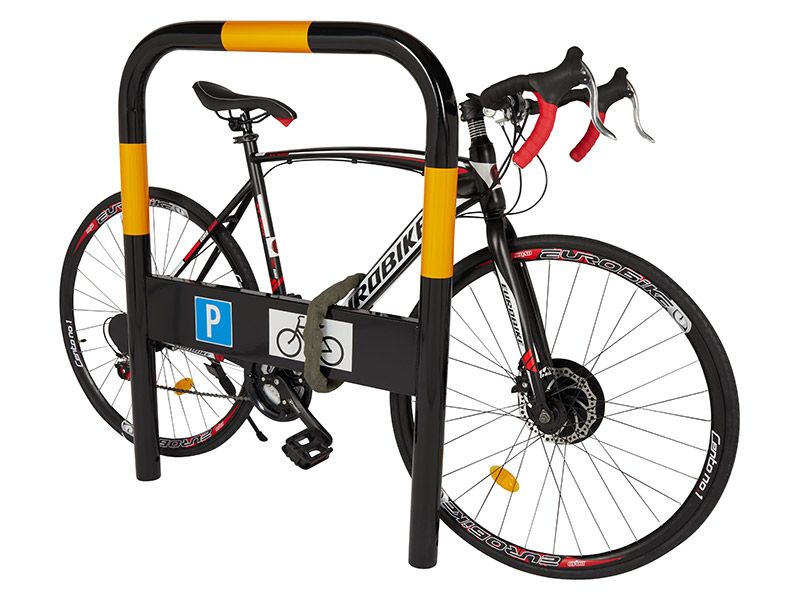 View All Bike Racks & Shelters
The Ultimate Guardian for Your Two-wheeled Treasure
Unmatched Security: Keep your bike safe with our theft-resistant City Bike Stand design.
Public Space Friendly: Boost on-street cycle parking accessibility in high-traffic areas.
Space-Saving Solution: Hold two bikes per stand, maximising efficiency without sacrificing quality.
Durable Construction: 60mm diameter tubular mild steel ensures a long-lasting, cut-resistant stand.
Eye-Catching Design: Yellow reflective tape, tapping bar, and cycle parking badges for easy identification.
Triple Lock Protection: Secure the front wheel, rear wheel, and frame for ultimate theft prevention.
Effortless Installation: Grout-in design offers a secure, permanent, and outdoor-ready solution.
Perfect Dimensions: Measuring 1060(H) x 790(W) x 60(D) mm, the City Bike Stand fits seamlessly into any outdoor space.

Ride With Confidence, Store With Security
Welcome the Cycle Stand - your ultimate choice for bike safety. It's the perfect match for councils and business parks looking to expand their public bike parking facilities. Each Cycle Stand can accommodate two bikes - one on each side. This not only makes it an economical choice but also a great space-saver.
Highlighted with yellow reflective tape, a tapping bar and cycle parking badges, the Cycle Stand is easy to spot. You can secure both wheels and the bike frame, offering an optimum level of security. Designed for outdoor usage, just surround the base with grout and let it set. The installation is so sturdy that it's almost impossible to tamper with.
Say No to Bike Burglary
Giving you the assurance of bike safety is what we do best. The thought of leaving your bike in bustling places, such as business districts or city centres, can indeed cause a bit of anxiety. However, with our Cycle Stand, you can breathe a sigh of relief knowing that your bike is securely guarded against theft.
Additionally, it significantly enhances the number of publicly available on-street bike parking spots, proving to be an excellent solution for councils and businesses wanting to offer secure bike storage facilities to their communities.


Pedal-Parking Made Easy
The scarcity of safe, readily available bike storage is a recurrent problem in many city environments, and the Cycle Stand steps up as a solution. It's a top choice for councils and business complexes looking to enrich their provisions for the cyclist community.
This is especially advantageous for urban residents who depend on their bikes for commuting and for those keen on endorsing greener modes of transport. The increase in public on-street cycle parking spots not only promotes more people to take up cycling but also positively influences traffic flow, air quality, and public health.

Overall Dimensions
| | | |
| --- | --- | --- |
| | OVERALL HEIGHT | 1060 mm |
| | 1ST INTERNAL HEIGHT | 490 mm |
| | INTERNAL WIDTH | 690 mm |
| | OVERALL WIDTH | 790 mm |
| | TUBE DIAMETER | 60 mm |
| | 2ND INTERNAL HEIGHT | 360 mm |
| | WEIGHT | 13.0 kg |
Cost Effective Bike Storage Solution
The Cycle Stand's significant cost and space efficiency are among its defining features. Each stand comfortably accommodates two bikes, one on either side, effectively doubling the storage capacity in the same given space.
This comes as a considerable advantage for businesses, councils, and office parks working with restricted areas for bike storage. It promotes a more efficient utilisation of space - a boon in urban settings where space comes at a premium.


Elegant and Enduring
The Cycle Stand is safeguarded with a robust black powder coat finish, ensuring an added layer of corrosion resistance. This feature is particularly advantageous for outdoor bike storage as it shields the stand from the elements, extending its longevity.
The powder coat finish also imparts a sleek and polished look to the stand, making it an attractive choice for businesses, local authorities, and office complexes aiming to provide secure and visually appealing bike storage.
Unyielding Defense for Bikes
The Cycle Stand, meticulously crafted from 60mm diameter tubular mild steel, offers a resilient and enduring solution for bike storage. The employment of tubular mild steel guarantees a stand that's built to weather the demands of outdoor usage.
The stand's construction from this material renders it near-impossible to cut through, adding an additional layer of security for your bike. This feature is of particular value to owners of high-end bikes or for those who primarily rely on their bike for transportation.


Made for the Great Outdoors
The Cycle Stand is designed for outdoor usage and its installation is straightforward - simply surround the base with grout and let it harden. This feature is especially beneficial for businesses, local authorities, and office complexes that aim to provide secure bike storage in outdoor spaces.
The grout-in design renders it near-impossible for the stand to be loosened post-installation, ensuring its stability and security. The stand is also built to resist harsh weather, making it an excellent choice for outdoor bike storage.
Highly Visible
The Cycle Stand is easily recognisable with its yellow reflective tape, tapping bar, and cycle parking badges. This feature is especially beneficial for enabling quick and easy location and usage of the stand, even in conditions with poor lighting.
The reflective tape and badges make the stand distinct, making it effortless for cyclists to spot and utilise the stand, thereby enhancing its use and user satisfaction. The tapping bar provides convenience for users to secure their bikes to the stand and acts as a physical deterrent to potential thieves.

Item Information
Each stand can hold two bikes, one on each side
Made from 60mm diameter tubular mild steel
Built to last and virtually impossible to cut
Protected with a durable, black powder coat finish for corrosion resistance
Designed for outdoor use, grout-in installation method and weather resistance
Features yellow reflective tape, tapping bar and cycle parking badges
Allows you to lock the front wheel, the rear wheel and the frame of the bike
Provides peace of mind by protecting bikes from theft

Customer Reviews
---
How do you rate this product? Guidance:
Please focus on the item itself. Your review will be most helpful if you include the specific reasons why you either liked or disliked the item.
Try to be concise and straight to the point - but avoid single-word reviews.
---

Free Next Day Delivery
At The Workplace Depot, we understand that when you need a product, you need it fast – and that's why we're here to make your dreams come true! With our free, next working day delivery to mainland Great Britain, the City Bike Stand will be in your hands before you know it.
Time is Money: By placing your order before 3 pm, you'll receive the City Bike Stand the very next day – no more waiting around! Say goodbye to long lead times and hello to instant gratification
Invest With Confidence
We offer extraordinary customer support, available Mon-Fri from 8am to 5pm, to help you with any questions or concerns you may have. Our friendly and knowledgeable team is always happy to help, whether you need assistance placing an order or have a question about one of our products.
We pride ourselves on being able to provide you with the best service possible. That's why we have made it easy for you to reach us. You can call us on 0800 0126777 and speak to one of our representatives, or you can use our website's live chat feature to get instant assistance.


A Warranty You Can Trust
When you place your order with The Workplace Depot, you can rest easy knowing that your investment is protected. We are so confident in the quality of our products that we offer a 1-year parts and labour warranty on all of our products. This means that if anything goes wrong with your product within the first year of ownership, we will repair or replace it free of charge.
Warranty
1 year parts / labour
Price Promise
We match any price
Easy Returns
Return or exchange