Sheffield Bike Stand
£32.99
Ex. VAT
£39.59
Inc. VAT
£39.59
Inc. VAT
£32.99
Ex. VAT
FREE DELIVERY
Free Delivery -
Next Working Day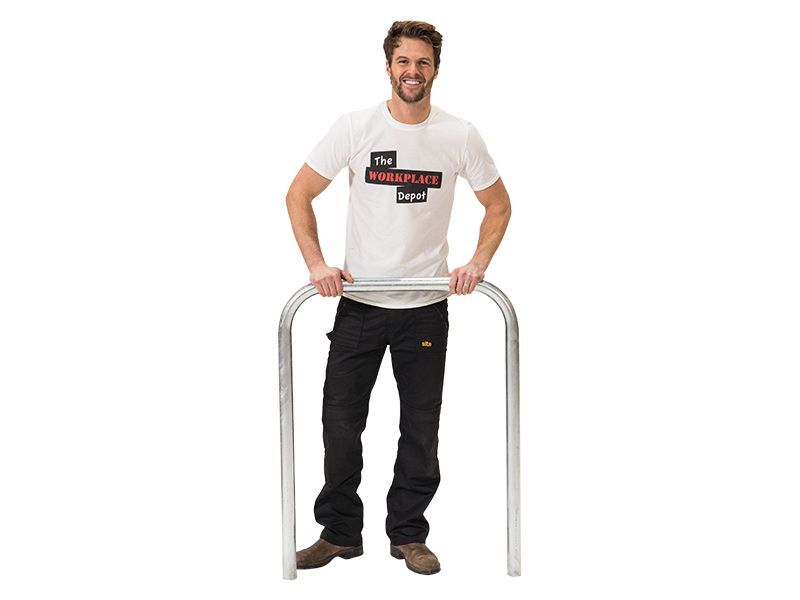 View All Bike Racks & Shelters
Dual Design, Singular Security
Secure Your Cycle: The Sheffield Bike Stand is your premier choice for keeping bikes safe and sound in any setting, ensuring peace of mind for cyclists.
Theft? Foiled: With the Sheffield Stand, bicycles are safeguarded against theft, offering you the tranquillity that comes from top-tier security measures.
Mighty Mild Steel: Our Stand is a fortress made of thick 50mm diameter tubular mild steel, providing unparalleled strength and steadfastness against force.
Rust Resistant: A gleaming galvanised finish not only adds to its robustness but also shields the stand from corrosion, ensuring a clean look through seasons.
Tamper-Proof Toughness: Designed to defy meddling, this rugged stand offers a secure anchor that resolutely resists any attempts at tampering.
Double the Defence: Each Sheffield Stand cradles two bicycles, doubling your storage without compromising on the security or accessibility of your prized possessions.
Lock with Confidence: Crafted to allow the locking of both wheels and the frame, our stand ensures that your bike remains exactly where you left it.
Mounting Mastery: Choose the ease of Flanged mounting or the immovable security of the Grout-In option, both tailored for steadfast stability.
Precision Proportions: At 1050(H) x 805(W) x 50(D) mm, the Sheffield Bike Stand fits perfectly into urban landscapes and private properties alike.

Where Tradition Meets Modern Security
In the heart of Sheffield, a city renowned for its cycling heritage, emerges the Sheffield Bike Stand — an epitome of safety combined with sleek design. Crafted meticulously with durability in mind, this stand is a seamless blend of classic aesthetics and cutting-edge security features, showcasing the best of Sheffield's legacy.
With its robust 50mm diameter tubular mild steel construction and a galvanised finish, it promises both longevity and an all-weather resilience. Beyond its structural prowess, the Sheffield Bike Stand effortlessly offers peace of mind, ensuring that your cherished bicycles are not just secured, but also presented in an organised manner, enhancing any environment they grace.
Unyielding Defence
In a world where security is paramount, the Sheffield Bike Stand rises as a beacon of assurance. Its design, firmly rooted in anti-theft principles, ensures that every bicycle parked is shielded from malicious intent, rendering opportunistic theft attempts futile.
But beyond the tangible, there's the intangible offering: peace of mind. Knowing that your bicycle, often a cherished possession, is protected allows you to go about your day without the overbearing weight of worry. With the Sheffield Bike Stand, you're not just investing in metal and design, but in tranquillity and the joy of stress-free bike parking.


A Testament to Durability
The Sheffield Bike Stand is not just another fixture in the landscape; it's a symbol of resilience. Made from 50mm diameter tubular mild steel, its robustness is evident not just in its appearance but in its very essence. This construction isn't a mere choice but a calculated decision to provide maximum security.
Such a material selection ensures two core benefits: longevity and unwavering stability. The thick steel tube defies wear and tear, promising years of unwavering service. Furthermore, its substantial build offers users the confidence that, when they lock their bikes to the Sheffield Stand, they're entrusting them to a structure built to withstand the test of time and elements.

Overall Dimensions
| | | |
| --- | --- | --- |
| | OVERALL HEIGHT | 1050 mm |
| | INTERNAL HEIGHT | 990 mm |
| | INTERNAL WIDTH | 700 mm |
| | OVERALL WIDTH | 805 mm |
| | TUBE DIAMETER | 50 mm |
| | WEIGHT | 6.15 kg |
Guarded by Galvanisation
The Sheffield Bike Stand isn't just designed; it's crafted with foresight. A gleaming galvanised finish isn't merely about aesthetics; it's a shield, purposefully applied to resist the relentless assault of moisture, oxygen, and other corroding agents that the elements might unleash.
This strategic choice ensures that the stand not only retains its lustre over time but also consistently offers its best in terms of strength and security. While other materials might succumb to rust and degradation, the Sheffield Bike Stand's galvanised finish stands as an enduring promise of resilience and long-lasting protection, making it an investment that continually rewards its owner.


Defying Tampering Attempts with Ease
The essence of the Sheffield Bike Stand goes beyond mere utility; it's an embodiment of fortitude. Its rugged design is a deliberate answer to the myriad challenges presented by potential thieves and vandals. Every curve, every weld, every component is crafted to deter tampering, ensuring that your bike remains just where you left it.
But the significance of this design choice isn't restricted to thwarting theft alone. It instils confidence in users, providing an unmistakable assurance that their bicycle is cradled in a fortress of strength. The Sheffield Bike Stand's rugged design isn't just a feature; it's a promise of unwavering protection.
Double the Security
The Sheffield Bike Stand, with its grout-in installation, offers an exceptional level of stability, virtually eliminating the chance of loosening over time. This is especially crucial for public bike storage areas that experience heavy use and harsh conditions. The grout-in design provides a firm and stable base for the stand, ensuring that bicycles remain safe and secure, even under heavy winds or severe weather.
Choose the Sheffield Bike Stand for a bicycle storage solution that delivers unwavering stability and security, making it an ideal choice for those who prioritise both dependability and peace of mind.


Triple Lock Assurance
The Sheffield Bike Stand goes beyond traditional security measures, offering a holistic approach to bicycle protection. With the capability to lock the front wheel, rear wheel, and the very frame of the bike, it ensures that every potential vulnerability is safeguarded against theft and tampering.
This triple lock feature is not merely a function; it's a philosophy of all-encompassing security. By catering to all critical points of a bicycle, the stand ensures that owners can step away with the utmost confidence, knowing their precious ride is ensconced in a cocoon of unparalleled protection. With the Sheffield Bike Stand, security isn't just a feature; it's a guarantee.
Customised Stability
The Sheffield Bike Stand recognises that every location, every setting, has its unique requirements. To cater to diverse installation needs, the stand is thoughtfully designed with two distinct mounting options: the Flanged for those seeking a direct mount onto surfaces like concrete and tarmac, and the Grout-In for those desiring a more embedded installation, offering an additional layer of security.
Choosing between Flanged and Grout-In isn't just about aesthetics or installation ease; it's about aligning with the specific demands of your environment. Whether you're setting up in an urban plaza or a more secluded spot, the Sheffield Bike Stand ensures that its roots – be it on the surface or within the ground – are firmly anchored, providing steadfast protection for every bicycle it holds.

Item Information
Constructed from robust 50mm diameter tubular mild steel.
Galvanised finish ensures superior corrosion resistance.
Each stand securely accommodates two bicycles.
Triple lock: front wheel, rear wheel, and frame.
Available in two mounting options: Flanged or Grout-In.
Overall dimensions: 1050(H) x 805(W) x 50(D) mm.
Optimal placement: 800mm apart, 450mm from obstacles.
Flanged version includes concrete and tarmac fixing bolts.
Grout-In design sinks securely into the ground.
Rugged design resists tampering and theft attempts.
Suitable for all environments with its classic design.
Origin: Sheffield, England – iconic for cycle stand designs.

Customer Reviews
---
How do you rate this product? Guidance:
Please focus on the item itself. Your review will be most helpful if you include the specific reasons why you either liked or disliked the item.
Try to be concise and straight to the point - but avoid single-word reviews.
---

Free Next Day Delivery
At The Workplace Depot, we understand the exhilaration of making a purchase – especially when it's the iconic Sheffield Bike Stand. That's why we've streamlined our processes, ensuring that the moment you click 'buy', our team springs into action. For every order made before 3pm, we promise a rapid dispatch and a swift journey to your doorstep.
Luxury isn't just in the product, but also in the experience. And with our free, next working day delivery to mainland Great Britain, we ensure that your Sheffield Bike Stand isn't the only thing arriving in style. Make your purchase, and by tomorrow, you could be marvelling at the epitome of bike security. Celebrate quick choices with even quicker deliveries, only at The Workplace Depot.
Always At Your Service
At The Workplace Depot, we believe that an exceptional product deserves an equally outstanding support system. Our dedication transcends mere transactions; it's a commitment to the experience, the journey, and most importantly, to you. This is why we've established a dedicated phone line, open every weekday from the first rays of morning at 8am, until the wrap of the working day at 5pm.
We understand that questions, inquiries, or even the simple desire for a chat about our products can arise at any time. And when it does, our team is eager, ready, and delighted to assist. With every ring on 0800 0126777, hear not just a voice, but our unwavering pledge to ensure that every Workplace Depot customer feels valued, heard, and impeccably served.


Our Warranty, Your Peace of Mind
When you shop at The Workplace Depot, you're investing in more than just a tangible item. You're securing a promise – a pledge that underscores our unyielding faith in the quality of our offerings. With our 1-year parts and labour warranty, we don't just hand over a product; we hand over a year-long reassurance of its durability, functionality, and excellence.
In the rare event that things don't go as planned, this warranty stands as a testament to our commitment to rectify, repair, and renew. We understand the essence of peace of mind, and with every purchase, we endeavour to ensure you feel as confident in our support as you do in our products. At The Workplace Depot, your satisfaction isn't just a goal; it's a guarantee, sealed with a year's worth of trust.
Warranty
1 year parts / labour
Price Promise
We match any price
Easy Returns
Return or exchange