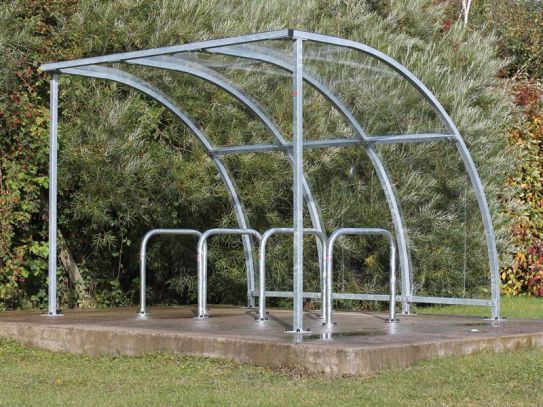 from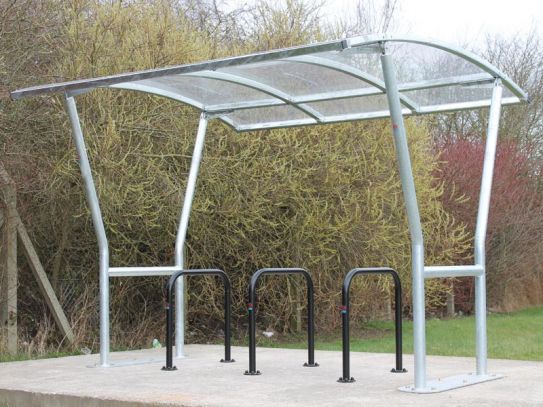 from
Bike Shelters
Bike thefts in the UK have risen in recent years. Bikeoff.org states that a bike is stolen every minute. Less than 5 percent of the bikes are returned or found. Bicycles are much more likely to be taken than automobiles. Many cases are unreported, so an exact number is unknown. This is due to the difficulty of the finding the culprits. Installing cycle shelters in key locations that have heavy bicycle traffic will help ensure less thefts.
Our Bike Shelters
The Stratford Cycle Shelter is an easy to install, stand-alone cycle shelter. It can hold several bikes, accommodating different types of bike stand. The shelter frame is made from galvanised mild steel with a powder-coat finish. It has a clear UV stabilised roof
For a sleek and stylish design, Sandford Cycle and Buggy Shelter has a lightweight and durable aluminium tube frame. Finished with polyester powder coating in a choice of seven colours its 100% corrosion resistant. The domed roof is made from fibre glass and is UV resistant. Optionally supplied with a lockable door.
A Cycle Shelter Compound offers the upmost protection for bicycles. The unit is covered and has a UV resistant opaque polycarbonate roof. The side panels are constructed from Perspex and there are twin level bike racks. Adding to the features is a gate with a padlock-able hasp. An optional central security canopy can also be purchased.
Summary of Bike Shelters
Having a bike shelter will draw more business to your location. Potential customers will feel more secure and there will be less thefts in your area. Parks and schools can also benefit from the use of bicycle shelters. Our products are durable and can withstand any types of weather. The units can be added to for maximum space potential. The cost of additional protection is invaluable.