Queue Barriers
£22.49
Ex. VAT
£26.99
Inc. VAT
£26.99
Inc. VAT
£22.49
Ex. VAT
FREE DELIVERY
| | |
| --- | --- |
| 20+ units gets 20% off | |
| 10+ units gets 16% off | |
| 5+ units gets 13% off | |
Free Delivery -
Next Working Day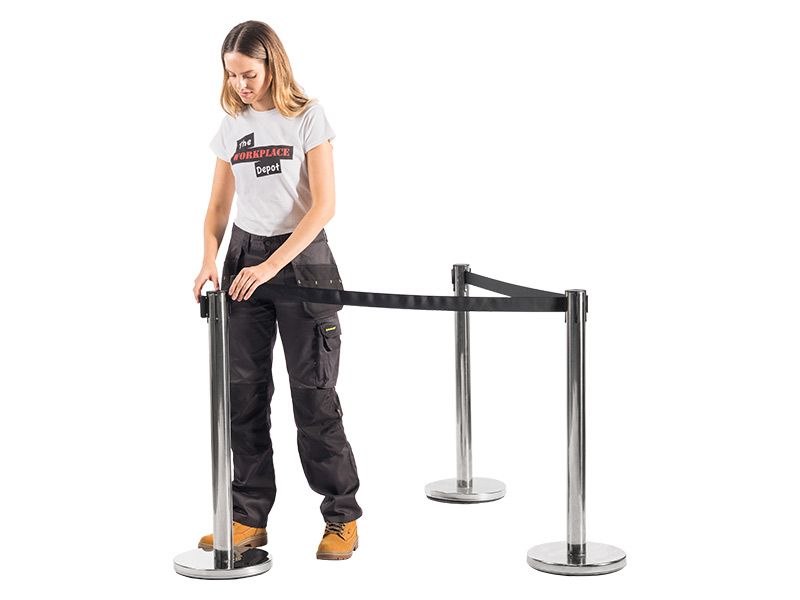 View All Retractable Barriers
Shape Spaces, Guide Crowds
Elegant Crowd Control Solution: Queue Barriers offer a sophisticated approach to managing foot traffic in various settings, from malls to open-air events.
Stainless Steel Elegance: Robust and aesthetically pleasing, these barriers are designed for both durability and visual appeal, ensuring long-lasting service.
Ultra-Light and Portable: Weighing a mere 5.7kg, these barriers are exceptionally easy to transport and set up, perfect for fast-paced environments.
Adaptable Crowd Management: Featuring a retractable webbed belt that extends up to 3000mm, these barriers easily adapt to different crowd sizes and spaces.
Stable and Safe: With a concrete-filled base, these barriers provide unmatched stability, significantly reducing the risk of accidents in crowded areas.
Flexible Layout Options: Offering 4-way connectivity, these barriers allow for versatile layout customization to fit various spatial requirements and event types.
Versatile Indoor/Outdoor Use: Engineered for both indoor and outdoor environments, these barriers are ideal for diverse locations, from shopping malls to outdoor festivals.
Effortless Setup: Queue Barriers are designed for easy deployment, ensuring swift and efficient set-up with minimal interruption to your event or business operations.
Compact and Practical Design: With a post size of 63mm diameter and 900mm height, and a base diameter of 320mm, these barriers are both space-efficient and practical.

Revolutionise Your Space
Discover Queue Barriers, the ultimate solution in sophisticated crowd management. Engineered with precision, these barriers represent a perfect blend of elegance and practicality, transforming the way spaces manage foot traffic. Their sleek stainless steel construction not only enhances the aesthetics of any setting but also promises unmatched durability.
Queue Barriers are not just about good looks; they bring unparalleled ease and adaptability to crowd control. Lightweight yet sturdy, they are effortlessly portable, making set-up and relocation a breeze in various environments. Whether it's the bustling corridors of an airport or the lively atmosphere of an outdoor event, Queue Barriers offer stability, flexibility, and reliability, redefining the standards of efficient space management.
Stainless Steel Sophistication
Step into the world of Queue Barriers, where the stainless steel construction is not just a feature but a statement of elegance and endurance. These barriers boast a sleek design, made from high-grade stainless steel that promises not only to withstand the rigours of heavy use but to do so with an air of sophistication. The meticulous crafting of each barrier reflects a commitment to quality, ensuring that they are as visually appealing as they are durable.
The significance of stainless steel goes beyond mere aesthetics; it's about longevity and maintenance ease. Resistant to corrosion and weathering, these barriers are ideal for both indoor and outdoor use, maintaining their lustre and strength over time. This durability means reduced replacement costs and a consistently presentable appearance, making Queue Barriers a wise investment for venues seeking both beauty and functionality in their crowd management solutions.


Lightweight Agility
Introducing the Queue Barriers, where lightweight design redefines ease of use in crowd control. Weighing in at just 5.7kg, these barriers are a game-changer for rapid deployment and reconfiguration. Their feather-like weight does not compromise on strength, ensuring they are as robust as they are portable. This unique combination of lightness and durability makes them an ideal choice for dynamic environments requiring quick and frequent adjustments.
The significance of such a lightweight design cannot be overstated in busy settings like events, airports, or shopping centres. The ease of moving and setting up these barriers means reduced setup times and increased efficiency. This agility allows for quick adaptation to changing crowd sizes and layouts, ensuring seamless crowd management. For businesses and event organisers, Queue Barriers represent not just a tool, but a smart investment in creating a more flexible, responsive, and user-friendly environment.

Overall Dimensions
| | | |
| --- | --- | --- |
| | OVERALL HEIGHT | 900 mm |
| | POST HEIGHT | 855 mm |
| | BASE HEIGHT | 45 mm |
| | BASE DIAMETER | 320 mm |
| | BELT LENGTH | 3000 mm |
| | BELT HEIGHT | 48 mm |
| | BELT THICKNESS | 1 mm |
| | WEIGHT | 5.7 kg |
Adaptive Control
Introducing the cornerstone of Queue Barriers' versatility: the retractable webbed belt. This pivotal feature extends up to an impressive 3000mm, providing unparalleled adaptability to a variety of crowd sizes and spaces. The belt's smooth extension and retraction mechanism ensure that modifying the barrier's reach is effortless, allowing for quick and efficient crowd management in any scenario. This flexibility is key in environments where crowd dynamics can change rapidly, such as events, public spaces, and transport hubs.
The retractable webbed belt is not just about adaptability; it's about creating a safe, organised environment. By easily extending to the required length, these barriers ensure optimal spacing and flow of people, preventing overcrowding and enhancing overall safety. This functionality is crucial in maintaining orderly queues and directing foot traffic effectively, making it an indispensable tool for businesses and organisers who prioritise both efficiency and the well-being of their patrons.


Unshakeable Stability
At the heart of Queue Barriers' reliability lies its concrete-filled base, a feature designed to ground each barrier with unwavering stability. This solid foundation ensures that the barriers remain steadfast, even in bustling environments with high foot traffic. The risk of accidental tipping or displacement is significantly minimised, making these barriers a safe choice for any setting. Whether used in a busy airport, a crowded event, or a bustling retail space, the concrete-filled base provides the assurance of consistent performance.
The importance of this feature extends beyond mere stability; it's about creating a secure and orderly environment. The robust base not only anchors the barrier but also instils confidence in those managing and navigating through the crowds. For event planners, business owners, and public space managers, this means peace of mind knowing that their crowd control solution is not only effective but also inherently safe.
Versatile Configurations
Queue Barriers stand out with their innovative 4-way connectivity, a feature that revolutionises how spaces manage and direct crowds. This advanced design allows for the barriers to be connected from any side, offering unmatched flexibility in creating layouts that are tailor-made for any environment. Whether it's a winding queue in a retail store, straight lines in an airport, or complex patterns in a convention centre, these barriers adapt seamlessly to meet diverse spatial needs and crowd flow requirements.
This feature's significance lies in its ability to mould to different settings without compromising on efficiency or aesthetics. The ease with which these barriers can be linked and rearranged ensures that changing the layout is not only possible but also effortless. For businesses and event organisers, this means the ability to customise and reconfigure spaces quickly, responding to varying crowd sizes, events, and space uses.


All-Environment Adaptability
Queue Barriers set the standard for versatility with their remarkable indoor and outdoor compatibility. Designed to excel in a myriad of environments, these barriers are equally at home in the controlled climates of malls and the unpredictable settings of open-air events. This adaptability ensures that whether you're managing crowds in a cosy indoor exhibition or a sprawling outdoor festival, Queue Barriers offer the same level of efficiency and elegance.
The significance of this feature lies in its contribution to seamless crowd management across different settings. For businesses and event organisers, this translates to reduced need for different types of barriers for different venues, streamlining equipment needs and simplifying logistics. The indoor and outdoor compatibility of Queue Barriers also means consistency in aesthetics and functionality, regardless of the location.
Swift Deployment, Maximum Efficiency
Queue Barriers redefine efficiency with their 'Easy to Deploy' feature, ensuring a swift setup process with minimal downtime. This essential attribute is a boon for dynamic environments where time is of the essence and crowd management needs can change rapidly. The quick and effortless assembly of these barriers means that you can respond to evolving crowd scenarios in real-time, maintaining a smooth flow of people and activities.
This feature's significance extends beyond mere convenience; it's about enhancing operational efficiency and reducing labour costs. The simplicity of setting up these barriers means less manpower is required, allowing staff to focus on other crucial aspects of venue management or event organisation. For businesses and event planners, this translates into a smoother operation and an improved bottom line.

Item Information
Stainless steel construction for lasting durability and visual appeal
Lightweight design, each barrier weighs only 5.7kg for easy mobility
Retractable webbed belt extends up to 3000mm, adaptable to crowds
Concrete-filled base ensures stability, minimises accident risks
4-way connectivity for versatile barrier layout customization
Suitable for both indoor and outdoor environments
Swift and easy deployment, minimal setup time required
Barrier dimensions: 63mm diameter, 900mm height for posts
Base dimensions: 320mm diameter, 45mm height, concrete-filled
Belt dimensions: 48mm width, stretches up to 3000mm
Material: 0.5mm thick stainless steel, robust and elegant
Designed for efficient adaptability in high-traffic areas and events

Customer Reviews
---
How do you rate this product? Guidance:
Please focus on the item itself. Your review will be most helpful if you include the specific reasons why you either liked or disliked the item.
Try to be concise and straight to the point - but avoid single-word reviews.
---

Free Next Day Delivery
Experience the luxury of speed with The Workplace Depot's unparalleled delivery service for Queue Barriers. Order before 3 pm, and your barriers will be on their way to enhance your space by the next working day. This swift delivery to mainland Great Britain not only exemplifies our commitment to customer satisfaction but also ensures that your crowd management solutions are in place when you need them most.
Our next-day delivery service is designed to match the pace of your dynamic needs. Whether preparing for an upcoming event or upgrading your current space, the convenience of receiving Queue Barriers promptly eliminates wait times and logistical hassles. This rapid turnaround is not just a promise; it's a demonstration of how The Workplace Depot values your time and business.
Always At Your Service
We pride ourselves on providing exceptional customer support that's just a phone call away. Our dedicated team is available at 0800 0126777 from Monday to Friday, 8 am to 5 pm, ready to assist with any queries or guidance you may need. Whether it's about product details, order assistance, or after-sales service, our commitment to customer care is unwavering.
Our eagerness to assist goes beyond mere transactions; we aim to be your trusted partner in finding the right solutions for your needs. Understanding that each customer has unique requirements, we listen attentively, provide expert advice, and tailor our services to ensure satisfaction every time. This dedication to excellent customer service is the cornerstone of our business, reflecting our deep commitment to not just meeting, but exceeding your expectations.


Our Warranty, Your Peace of Mind
At The Workplace Depot, we offer more than just high-quality products; we offer the assurance of a 1-year parts and labour warranty on every purchase. This warranty is our commitment to your peace of mind, ensuring that your investment in our products is protected against any unexpected issues. It's not just about selling; it's about providing a safety net that guarantees product reliability and your complete satisfaction.
This warranty represents our confidence in the durability and performance of our products. Whether it's Queue Barriers or any other item from our extensive range, you can rest assured knowing that our support extends beyond the point of sale. Should you encounter any problems, our dedicated team is ready to assist with repairs or replacements, minimising any inconvenience.
Warranty
1 year parts / labour
Price Promise
We match any price
Easy Returns
Return or exchange