Post and Chain Bollards
£70.99
Ex. VAT
£85.19
Inc. VAT
£85.19
Inc. VAT
£70.99
Ex. VAT
FREE DELIVERY
| | |
| --- | --- |
| 20+ units gets 7% off | |
| 10+ units gets 6% off | |
| 5+ units gets 3% off | |
Free Delivery -
Next Working Day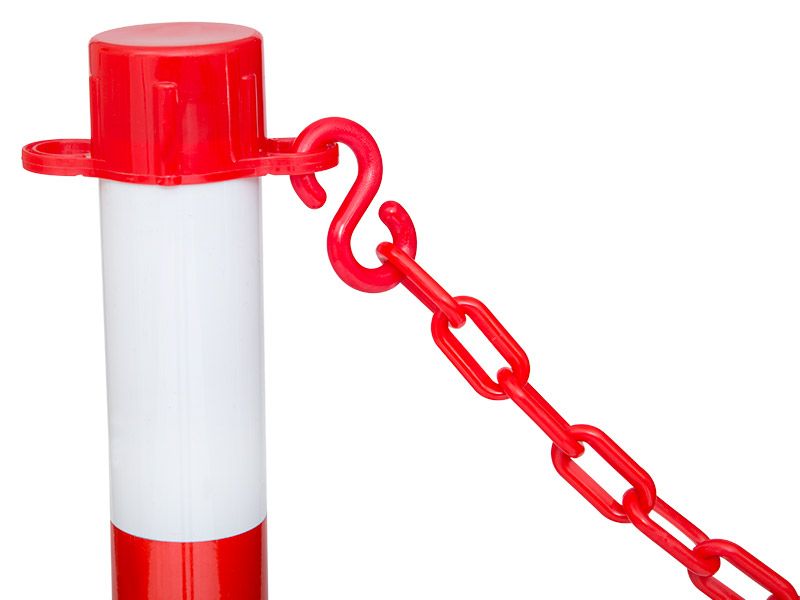 View All Traffic & Construction Barriers
Stand Out, Stand Strong, Stand Safe
Barrier Essentials Unveiled: Discover the ultimate crowd control solution with our Post and Chain Bollards, perfect for venues of all types.
Durability Defined: Constructed from corrosion-proof plastic, these bollards resist rust and decay, ensuring a pristine appearance year-round.
Visibility at its Best: The red and white design stands out starkly against any backdrop, providing clear demarcation in high-traffic areas.
Ingenious Integration: With four chain eyes per post cap, these bollards offer versatile chain configurations for easy area cordoning.
Stability Without Stumbles: The non-trip, hefty 3kg base secures the posts firmly, maintaining upright posture through wind, rain, or shine.
Flexibility Meets Strength: Chains treated with UV protection offer stretch for shock absorption while resisting weather-induced brittleness.
Deployment Made Simple: These bollards are designed for quick set-up, making them ideal for rapid deployment in unpredictable scenarios.
Versatile Placement: Engineered for both the calm of indoors and the challenges of outdoor use, these barriers adapt without compromise.
Clear-Cut Dimensions: Posts stand at a noticeable 900mm height with a handy 50mm diameter, anchored by 345mm diameter, 3kg bases for unwavering support.

Effortless Boundaries
In the bustling landscapes of today's urban environments, the need for clear, sturdy, and dependable demarcations has never been more pressing. Enter the Post and Chain Bollards – a testament to innovative design that marries durability with visually striking aesthetics. Made from corrosion-resistant plastic, this kit promises not just longevity, but also an unmatched steadiness, ensuring that both pedestrians and vehicles find their way effortlessly.
Whether it's a busy hospital corridor, an expansive warehouse, or a sprawling outdoor car park, the Post and Chain Bollards rise to the occasion with unparalleled efficacy. Beyond its technical prowess, what sets it apart is its ease of assembly and adaptability. No special tools, no extensive training – just swift, effective boundaries ready to enhance safety and streamline movement, indoors or out.
Defying Decay
In a world where elements often wear down the most resilient of materials, the Post and Chain Bollards stand out with their corrosion-proof plastic composition. This isn't just any material; it's a statement of durability, assuring you that come rain or shine, these bollards remain untouched by rust or decay. Their lasting integrity means a singular investment goes a long way, promising performance that doesn't waver.
But why should corrosion resistance matter to you? For one, it translates to cost savings – no need for replacements or frequent maintenance. More importantly, it ensures consistent safety. A corroded barrier can compromise the very purpose it serves, potentially endangering the flow of vehicles and pedestrians.


Commanding Attention
In the realm of safety and direction, visibility isn't just a luxury—it's paramount. The Post and Chain Bollards boast a striking red and white contrasting design, ensuring they're not just seen, but truly noticed. This vibrant colour combination doesn't merely serve aesthetic purposes; it's a beacon of clarity, guiding and alerting with undeniable efficacy.
Think of busy settings—a bustling hospital corridor or a crowded event space. In such scenarios, mediocre visibility can spell chaos. With the vivid red and white design of these bollards, there's no room for ambiguity. Every individual, be it a pedestrian or a driver, will instantly recognise the boundary, facilitating smooth flow and reducing the risk of accidents.
Precision in Design
The genius of the Post and Chain Bollards often lies in its subtleties. One such nuance is the integration of four chain eyes into the post cap, a design choice that echoes thoughtfulness and practicality. These aren't just points of attachment; they're emblematic of versatility, allowing for flexible configurations to suit varying needs.
Imagine the scenarios: perhaps you require a circular boundary for a special display or a linear demarcation for a parking queue. With the four integrated chain eyes, adaptation becomes effortless. These multiple attachment points not only ensure that the chains remain taut and well-defined but also cater to a spectrum of layout possibilities.


Grounded in Excellence
A bollard's true mettle is tested not when skies are clear, but during the unpredictable onslaughts of nature. The Post and Chain Bollards come equipped with a robust 3kg heavy base—a feature that silently works to ensure that your barriers remain unyielding, regardless of the weather's whims. The sheer weight, balanced expertly, promises unwavering steadiness, making it a dependable sentinel in all conditions.
The significance of the 'non-trip' design can't be understated. Safety hazards aren't just about delineating boundaries, but also ensuring that the solutions themselves don't become obstacles. By integrating a non-trip base, these bollards ensure that foot traffic flows smoothly, reducing the risk of accidental trips and falls.

Overall Dimensions
| | | |
| --- | --- | --- |
| | OVERALL HEIGHT | 900 mm |
| | POST HEIGHT | 850 mm |
| | BASE HEIGHT | 85 mm |
| | WIDTH INC HOOKS | 95 mm |
| | BASE DIAMETER | 345 mm |
| | POST DIAMETER | 50 mm |
| | WEIGHT | 3.5 kg |
Resilience Refined
The sun, with all its brilliance, often poses a challenge to outdoor products. But with the Post and Chain Bollards, we've turned this challenge into a triumph. The chains, treated with UV protection, are meticulously designed to weather the unrelenting assault of ultraviolet rays. This ensures that the chains not only retain their vibrant colour but also resist the brittleness often associated with prolonged sun exposure.
But there's another dimension to these chains—a subtle elasticity, a 'give' that's embedded into their design. This inherent stretchability offers two profound benefits. First, it absorbs tension, reducing the chances of breakage under stress. Second, it provides a flexibility that adapts to the needs of different setups, ensuring the chains don't snap or sag.


Swift Setup, Steady Service
Time is of the essence, especially when establishing boundaries or setting up demarcations for an imminent event. The Post and Chain Bollards are engineered with this very urgency in mind. Their design champions ease and speed, ensuring that from box to ground, the setup is a breeze. With no cumbersome procedures or intricate components, deployment becomes an exercise in simplicity.
But why does rapid deployment matter? In dynamic settings, where change is constant, the ability to quickly establish or modify boundaries can be the difference between order and chaos. Whether prepping for a last-minute event, managing unexpected crowd surges, or adjusting to evolving site requirements, the rapid deployability of these bollards ensures you're always a step ahead.
Versatility Unveiled
In the realm of space management, the need for adaptability cannot be overstated. The Post and Chain Bollards rise to this challenge, demonstrating unparalleled versatility. Designed to seamlessly transition between the warmth of indoor settings to the variable conditions of the outdoors, these bollards are a masterclass in flexibility.
The implications of such adaptability are profound. Inside, be it in a corporate setting, hospital corridor, or exhibition space, the bollards serve as steadfast guides, maintaining order. Outdoors, they become your reliable sentinels during events, sales, or temporary diversions, braving the elements while directing the flow.

Item Information
Corrosion-proof plastic construction: durability meets aesthetic appeal
Red and white design: maximum visibility in any environment
Four chain eyes in post cap: versatility in chain configurations
Non-trip, 3kg heavy base: unparalleled stability in all conditions
UV treated chain: resists sun-induced wear and retains colour
Chain with 'give': stretchability ensures durability and adaptability
Rapid deployment design: quick, easy setup when time is crucial
Suitable for indoors and temporary outdoors: versatility across settings
Kit includes six red and white posts: comprehensive boundary setup
Six rubber bases included: firm ground anchoring for each post
10m of plastic chain: ample length for diverse configurations
Post dimensions: 50mm diameter, 900mm height for prominent visibility
Base specifications: 345mm diameter, 84mm height, ensuring stability
Chain specifics: 2m length segments, robust 8mm link size

Customer Reviews
---
How do you rate this product? Guidance:
Please focus on the item itself. Your review will be most helpful if you include the specific reasons why you either liked or disliked the item.
Try to be concise and straight to the point - but avoid single-word reviews.
---

Free Next Day Delivery
At The Workplace Depot, we understand the urgency behind every order. The need for efficient space management can arise anytime, and with our unparalleled next working day delivery, we ensure you're never caught unprepared. Place your order for the Post and Chain Bollards before 3pm, and witness the magic of our swift service, delivering your product right to your doorstep by the next day.
But it's not just about speed—it's a commitment to our cherished customers in mainland Great Britain. Our free, rapid delivery service underscores our dedication to ensuring you have what you need when you need it. Experience the luxury of promptness, combined with the assurance of quality, only at The Workplace Depot.
Always At Your Service
The essence of The Workplace Depot isn't just in the quality products we offer, but in the genuine connections we forge with our cherished customers. We believe that exceptional service shouldn't end at purchase, and with our dedicated phone line, 0800 0126777, you're never alone on your product journey. Whether it's a query, a concern, or simply a chat about our offerings, we're here to guide and assist, Monday to Friday, 8am to 5pm.
Our commitment to you extends beyond the digital realms of our online store. Behind every call is a team passionate about ensuring your experience is seamless and satisfying. At The Workplace Depot, every ring is met with eagerness, every voice valued. We're not just providing products; we're forging lasting relationships, one call at a time.


Our Warranty, Your Peace of Mind
When you choose The Workplace Depot, you're not just selecting a product; you're embracing a promise of quality and endurance. Our 1-year parts and labour warranty stands as a testament to our unwavering belief in the excellence of our offerings. It's not merely about providing solutions for today, but ensuring they stand the test of time, bolstered by our dedicated support.
But this warranty is more than just words on paper—it's our handshake with you, a bond of trust. With every purchase, you're shielded by our commitment, knowing that should any unforeseen issue arise, we've got you covered. At The Workplace Depot, we don't just sell products; we pledge peace of mind, ensuring every customer feels valued, secure, and truly taken care of.
Warranty
1 year parts / labour
Price Promise
We match any price
Easy Returns
Return or exchange