Cable Protectors, Cable Covers and Ramps - WE WILL NOT BE BEATEN ON PRICE!
****** FREE NEXT DAY DELIVERY if you order before 3pm today ******
These Speed Ramps have a central slot for cables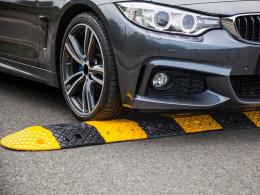 See Our Full Range of Speed Ramp Kits here Heavy duty recycled ru...
18 variants of this product...
Best Seller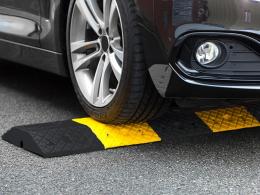 See Our Full Range of Speed Ramp Kits here 5mph bundles, availabl...
34 variants of this product...
****** Standard working days for delivery are Monday to Friday ******

Cable Protectors at work - reducing electrical and trip hazards
The Electrical Safety Council suggest that something like 2.5 million people received electric shocks each year and about 350,000 of these received a 'serious' injury. As well as the issue of electrical shock from trailing and loose cables, there is also the trip danger.
It is important to use the right cable protectors for each workplace situation – it would be fairly pointless and rather stupid looking to use a heavy duty external cable protector in a office. It would be outright dangerous to use a snap fit internal cable protector on a construction site with lorries and machinery driving over it. So we thought it would be a good idea to have a quick review of some of the different types of cable protector that the Workplace Depot sells.
Indoor, rubber cable protector
We currently offer four different types of indoor cable protectors – the Universal Internal Cable Protector is the cheapest one that we sell. It comes in a 9 metre roll of high grade flexible PVC and has a large central chamber (28mm x 10mm) suitable for multiple cables. The 'snap-fit protector' also comes in a 9 meter roll and is easy to cut to the required length; it has smooth sloping edges allowing for easy passage of trolleys. Lastly, the translucent internal cable protector blends nicely into any floor covering and is suitable for telephone, communications, domestic and multiple cables – it is perfect for covering LED strips and is tested for non conductivity to BS903-C5 to 500 volts and fire retardant to BS476 Part 7 Class 3.
Outdoor cable protector
Turning to the external cable protectors, our best seller is the External Budget Cable Protector. It has tough rubber extrusion cable protection to protect cables where they need to withstand vehicular traffic. It suits all weights of vehicle and is supplied in economical 10 metre black rolls. The External Temporary Cable Protector is both a heavy duty cable protector and a traffic speed controller or ramp. It is easily removed and re-laid and comes in black and yellow 1.5m lengths.
There is also a Heavy Duty Cable Protector which offers instant cable protection for outdoor events and building site works. It has mouldings that can interlink to form a continuous ramp and ground fixings if required (although they are usually not needed). It is supplied in 1000mm x 600 mm sections and has been traffic tested with axle loads of up to 6000kg. Some of the external cable protectors also double up as speed ramps which is very handy on construction sites and private roads. However, we also have a ramp which basically doubles up as a cable protector – this product is called the Sleeping Policeman with Cable Channel – it has a 1830mm long section that simply drops into place and can be bolted to the ground for permanent installation. It also has high visibility yellow and black stripes.
Although not strictly speaking 'cable protectors' we have a number of related products in our range such as cable ties, cable snakes, electrical trunking, cable tidies and an office desk cable tray. For a complete list of the different types of cable protectors that we sell complete with pictures, please scroll to the top of the page.
Further information on cord covers and cable management
'Cable protector' is a very broad term and can mean different things to different people. Some office managers will regard them purely as floor cable covers to prevent staff from tripping over loose cable and leads. We have a blog article which goes into more detail about the health and safety side of using indoor cable covers and reducung trip hazards in the office. They are sometimes confused with cable tidies as they do also have a function of making loose cabling at least look tidier. A cable tidy is usually the term used to describe the plastic trunking used to bundle up the cable at the back of a PC or TV. These perform a similar function to a cable tie, (aka a zip tie or tie-wrap), which is similar to a fastener and are used to bind electronic cables or wires together.

Confused? Well there is one further category of cable protector, the external cable protector which can also double up as a traffic or speed ramp. These outdoor cable protectors need to be very heavy duty as lorries and machinery will often need to pass over them. In many cases there is no drilling, bonding or bolting required as they can be laid snugly into the camber of the road. The very heavy duty cable protecting systems will have multiple channels which can accommodate both cables and hoses. Because this type of cable cover can also be used for traffic calming, Workplace Depot / Central Source cable protectors will have hi vis yellow stripes and be UV stabilised for extended outdoor life. Our top cable protector is fire retardent to BS476 Part 7 class 3 standards and tested for non-conductivity to BS903-C5. For more information on ramps, bumps and sleeping policemen see our speed ramps blog article.

As most facility managers will know, cable protectors are needed for compliance with the Health & Safety legislation preventing accidents at work (Health & Safety Offences Act 2008). If you can't find the right kind of information on our web pages or in our videos, please don't hesitate to call our Freephone number.