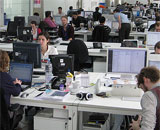 When you consider the fact that approximately twenty-five per cent of the working population are employed in what is generally categorised as office work, you'll understand how important it is for staff to make their workstations an amenable combination of private, pleasant and personal.
If you're going to spend the best part of eight hours a days, five days a week on the same spot of carpet within the same few square feet sat at the same desk, it makes sense to make your workstation as comfy as possible.
Studies have shown that transforming your desk into a personalised workspace can have a marked physical and psychological benefit – it makes our feel better (you want that) and improves productivity (your employer definitely wants that).
Here then are a few suggestions to make your desk a home from home.
Have Your Own Screensaver
As long as it's not a download from a dubious source (or image of a dubious nature), most employers are happy to let employees have their own screensavers. Whether it's an image from your favourite film or a humorous pic to boost your mood on those days you roll out of bed the wrong way, it's a small but important way of personalising your desk when you switch on your PC.
Pin Up Some Pics
Sat at your desk in your own cubicle busying yourself with your everyday tasks is inclined to make you feel a bit isolated. Photos of friends and family are a great way of reminding you of the world outside of work and your loved ones.
If things are proving stressful or you're feeling a bit down, a quick glance up at that impromptu snap taken of you and your friends after a few ales at The Old Pipe and Gusset is guaranteed to raise your spirits and bring a smile to your face.
Plants
Studies have repeatedly shown that having plants in the office is beneficial to staff in a number of was. For example, plants reduce stress, fatigue, headaches, dry throats and coughs. They give off oxygen, therefore making staff more alert and focused. These things combined also reduce levels of absenteeism. So what are you waiting for? Put a pot plant on your desk and feel the benefits.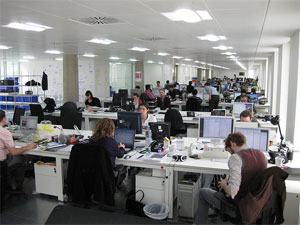 Office Partitions
If you work in an open-plan office it's easy to get distracted from your daily activities by the smallest things. Office partitions, however, are an ideal solution to getting your head down and getting your work done within an enclosed space of your own without the inevitable disturbances and distractions associated with office life.
As convivial as it is to chatter with your colleagues, it's also crucial to maintain a certain level of isolation and privacy to do the task at hand, and office partitions are invaluable additions to any office when it comes to cracking on with your workload unimpeded.
Organise And De-Clutter
Despite modern businesses dogged determination to help save the planet and the tendency for offices to proudly proclaim they're strictly paper-free zones, we all know the day of working in an environment without spotting a single sheet of A4 remains something of a futuristic fantasy.
So it's easy for your workstation to get clogged up with paperwork, files, pens, stationery, old polystyrene lunchboxes, plastic coffee cups, gloves and scarves, sweet wrappers, and....well, you get the picture. In fact, your own desk might not sound a million miles from the bomb-zone I've just described.
Ergonomics
Unless you've a hankering to appear on a First4Lawyers ad as an embittered ex-employee suing your old boss for arthritis brought on by an ill-fitting mouse mat, then there are a few simple things you can do to make your workstation a more ergonomically sound environment. If you're sitting at a desk for prolonged periods, it's important you take a break every now and again to give your eyes a rest from the monitor and stretch your arms, legs, body and muscles. Here are a few useful and practical exercises that all of us desk jockeys can benefit from.
These are just a few ways you can make your desk your own by adding a few personal flourishes. Have you got any other suggestions? Share in the comments.
Bio: James Duval is an IT enthusiast who spends a fair chunk of his working day desk-bound. He recommends Continua
---
Posted in Office, Expert Commentary