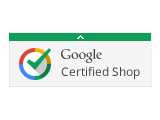 Here at The Workplace Depot we are proud to announce that we have become a Google Certified Shop! Being a Google Certified Shop means that our customers can shop with us confidently and are safe with the knowledge that we as a business will provide the best customer service and reliable dispatch as we possibly can.
Once you arrive on our website, you'll see the added certified shop badge, if you click this you can see our overall rating as a business; unique, historic buyers have rated us on their own experiences. You can also see that you are protected on your purchases and even verify us, to make sure we are who we say we are and do what we say we do - you no longer just have to take my word for it!
To become a Google Certified Shop, as a company you need to meet the following metrics to show that you can offer an ongoing, high quality shopping experience:
Have a high percentage of orders with quick response and delivery times.
Have a low average for products to be shipped, so your buyers do not have to wait.
Any problems that occur are resolved in a quick manner.
Have a low number of customers who need assistance.
The benefits for the buyer include:
You can see that The Workplace Depot offer an excellent experience.
You can receive purchase protection from Google for amounts up to £1,000.
See other buyer's reviews.
Overall, just shop confidently!
To see our Google Certified Shops validation, click here or to see a full list of our reviews from previous customers, click here.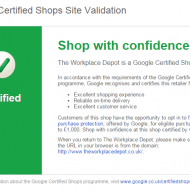 ---
Posted in News, Website & Features