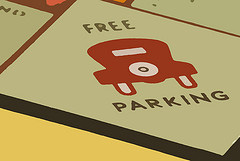 According to an article written earlier this year by the BBC, Aldi is now a household name and has 'cracked the supermarket business.'
The bargain supermarket has achieved success through following five steps: basic store layout, selling unusual items, general 'penny pinching', satisfying middle-class shoppers and by ultimately being in the right place at the right time.
Aldi's huge growth overlapped with the UK recession around 2007 and with their trademark cheap price, shoppers are likening to lower cost supermarkets in order to reduce their outgoings.
Unfortunately, shopping at these smaller retail outlets such as Aldi are actually becoming more expensive than if you decided to do your weekly shop at Waitrose.
Last week, our company director was issued with a charge to pay £70 for parking thirty minutes longer than was supposedly suggested by the car parking signs outside of the Aldi supermarket in Newark.
Considering the fact that the nature of the trip was to visit the Aldi store and carry out a significant amount of shopping, resulting in a profit for the company, makes the parking notice seem extremely questionable, particularly if the sign posts specified these regulations in small print.
Typically, supermarket car parks do not charge for parking, even after a couple of hours, therefore this also adds to the misunderstanding of the incident; not to mention the other factors to take in to consideration, such as the time it would take to park the car, queue up in the store whilst waiting to pay and load the car with shopping at the end of the visit.
However, it would appear that this is not the first time a parking notice has been issued to an unsuspecting consumer who has spent a considerable amount of money shopping in a store after they had innocently parked their car in the car park outside.
Back in 2009, Neil Alcock spent the best part of £400 in a Homebase store, but was later fined £95 after it was realised his vehicle was parked there for fifty two minutes longer than suggested by the signs.
Although Neil stated that the signs were unclear, he had also just spent a significant amount of money in the store where he believed he was able to park for this reason. He was quoted as saying: "I'm appalled private companies think they can get away with charging excessive amounts for the sake of a few minutes parking. Also, the fact that they lay out their letters to make them look like official fines in order to dupe susceptible, law-abiding people should be stopped."
With this being said, please refer to the image overleaf; a scanned copy of the letter our company director received. It might not be immediately obvious, but in fact the parking notice isn't an official fine.
Unfair, Unlawful, Illegal!
Following on from this, in a step by step guide on moneysavingexpert.com, it is suggested that if you get an unfair ticket in a private car park, you should not automatically pay it, as these fines are merely invoices.
The difference between being sent a parking charge notice by a private parking company and by actually being sent a fine is huge; as long as you haven't (for example) blocked the car park entrance or parked along three spaces, you can write back explaining why you aren't willing to pay the notice if you have a reason that specifies why the charge is unfair, unlawful or illegal.
Having said this, Neil Alcock's charge was eventually waived by Homebase and they have said that anyone who might be issued with a ticket in the future should contact the store manager.
Appealing the Parking Notice
We have established a letter for appealing this style of parking notice, suggesting the appropriate reasons as to why the charge is unfair.
Another article covering this topic was recently published in the Daily Mail, suggesting that millions of people who have been given large fines by private car parking firms could be owed a refund.
Some of Britain's biggest stores have been listed, in which Aldi is included, along with Lidl, B&Q and PC World, as having private companies that run car parks outside of them, allowing shoppers to park there for free, but will threaten you with a fine if you breach certain rules.
The main talking point of these 'fines', besides the fact that they are not actually official fines, is that perhaps those who are issued with these excessive charges should be charged, but only with the amount of which they remain parked in the car park for.
Shocking statistics show that an estimated £176 million is expected to be taken in by the private parking industry by the end of 2014, a growth of over 300%, compared to £93 million in 2010 and £21 million in 2006.
Another victim, Marilyn Head, was fined £70 by car park management company Parking Eye after she left her local NHS car park 13 SECONDS too late. After she arrived at 10:14am and left at 10:45am, this means she was charged just over £5 for each of the 13 seconds.
There are some other shocking stories regarding time lapsed cars in parking areas due to health reasons, including a young woman who had to park in the drop-off bay after she had to rush inside with her two year old son who was having fits, as well as a diabetic man who had to wait for his blood sugar to stabilise whilst he waited in a McDonald's parking outlet at Gatwick airport; each of these people getting fined £60 and £50 respectively.
Ultimately, it appears that more and more people are becoming victims and targets of these parking notices, consequently people are beginning to campaign against private car parking firms in a bid to re-establish fairness when parking.
Join the Campaign
Michael Green, a 22 year old Cambridge graduate is trying to gather 100,000 cases in order to lead a legal battle to go to High Court to end these charges – in what could be Britain's largest ever group litigation; those affected can sign up to challengethefine.com.
This topic has generated wide spread media attention, with The Telegraph also picking up the story of Michael Green, and specifying Aldi in particular as an example of one of the places in which these private car parking firms are picking out targets.
It is obvious that some of the charges are ridiculous for the amount of time that people have been staying in the car parks for - it is stated in The Telegraph article above that there is no excuse for a system that charges the same amount of fees if someone was over the time by ten seconds or ten hours, other than that it has been designed to make money out of other peoples parking misfortune.
Having said this, perhaps people would be more willing to pay a smaller fee if they were charged with the amount for what it would actually cost them at a Pay and Display machine, potentially situated in these supermarket and hospital car parks presently. Nevertheless, charges ranging anywhere from £30 - £200 are allowing the public to protest against paying the fees altogether.
On the other hand, you can see why people do pay these notices, particularly when the parking firm are making you feel like you could get a good deal with a discounted rate if you pay the charge within 14 days as opposed to 28 days.
There is also the risk that the parking firm will take you to court if you continue to ignore the notices. Still, if you have a substantial case, it is probably unlikely that it will even get that far, however the threat of such action evidently does enough to get some people to cough up.
Overall, from the research that has been gathered at present and what it appears will continue to be gathered in order to pursue the dismissal of these parking notice charges, hopefully these private parking firms will be prevented from issuing unfair fees on to the public who are spending money in the retail stores that they are parking their cars in, or visiting hospitals for health reasons.
We would be extremely interested to hear your opinions on this story. Please write to us at keepintouch@theworkplacedepot.co.uk, or on either of our Facebook or Twitter pages if you have ever been involved in a situation similar to those mentioned in this article, or what your view on private parking firm notices are.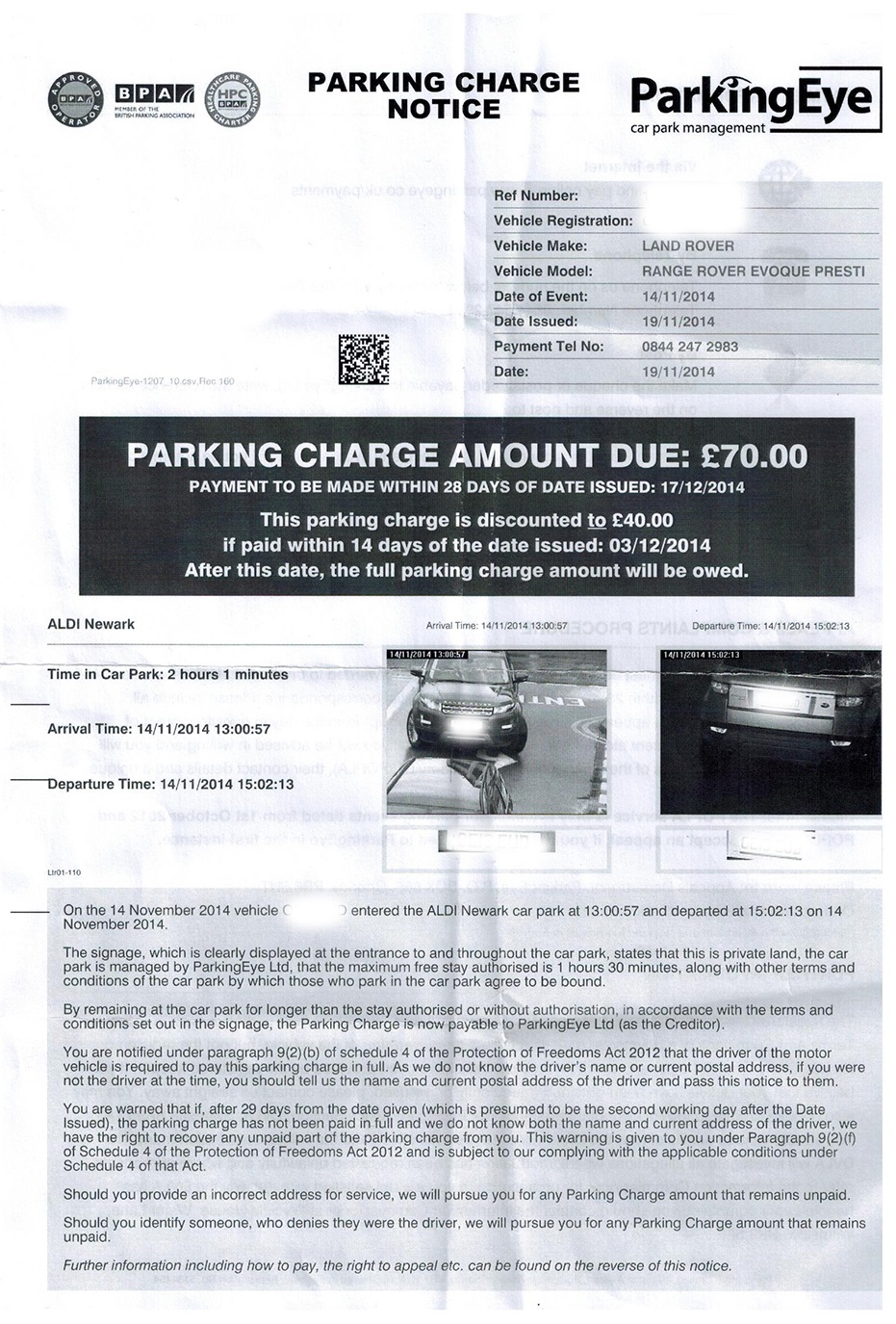 Parking Notice (Front) Please note: details have been blanked out for confidentiality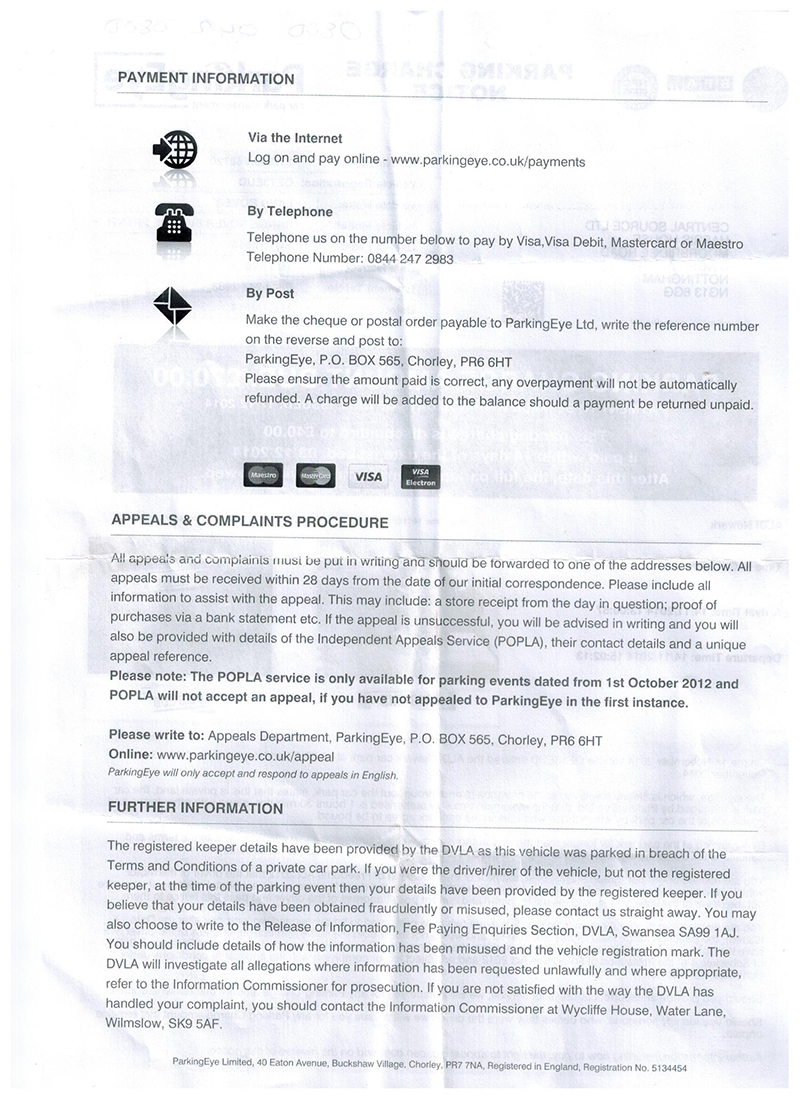 Parking Notice (Back)
---
Posted in News, Press Release