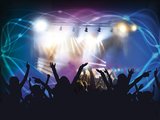 Summer is the season of fun and merry-making—a time when people love to go out of their homes, bask in the sun and make the best of the good weather, and enjoy time with friends and family. What makes this time of the year even more spectacular is the summer festivals: Glastonbury, T in the Park, High Definition Festival, you name it. They say "summer" so emphatically that every year people look forward to the next one even while the leaves are just starting to fall.
Improve Logistics
On the other hand, summer festivals often present a logistical nightmare for organizers. Two particular problems stand out: wiring layouts and taking care of litter. I've had a lot of experience with how bad wiring can ruin an otherwise splendid concert, and I've seen how a huge crowd can turn a perfectly nice field into a complete mess after a concert without strategically placed and easily visible litter bins.
Good thing we at Workplace Depot have solutions for both of these problems—our Outdoor Cable Protectors and Outdoor Litter Bins.
Cables Matter
In tight spaces and heavily crowded areas such as concerts, people can easily trip over wiring. If someone is focusing on trying to get through the crowd, they'll be less likely to look down and see where their feet are going, and probably won't notice cables until they've stepped or tripped on them. Not only do uncovered cables pose the danger of trips and falls, but they could also become exposed due to damage from constant foot traffic. This could cause more people getting hurt from exposed wires and disrupt electronic systems during the concert. In order to ensure that cables are properly secured, Workplace Depot has a wide array of cable protectors for various outdoor events. Some of the ones we have that may be useful for concerts are:
* Pedestrian Cable Cover – for heavy foot traffic
* External Heavy Duty Cable Protector – for areas with vehicular traffic
* External Budget Cable Protector – for all-purpose cable protection at a highly cost-effective price
Out With the Rubbish
UK legislation requires that an area should be designated for collection of rubbish, and non-compliance can result in heavy penalties. Our litter bins are designed to accommodate copious amounts of trash, stand in all weather conditions, and are highly visible even in crowded areas. Not only will they ensure that you are following Environment Agency policies, people also appreciate a clean and well-kept area.
We have a large selection of outdoor litter bins that can meet your needs. Some of the best we have are the following:
* Copperfield Litter Bin – for that classic look, with 90L capacity
* Merlin Litter Bin – for a more contemporary style, comes in 9 different colours, with 90L capacity
* Dog Bin – for animal droppings, comes with self-closing lid with deodorizer, may be post- or wall- mounted
The Workplace Depot has over 20 years of experience in providing solutions for both outdoor and indoor needs. We take pride in making sure that we can match and surpass other providers both in price and service, with a 12-month minimum guarantee on our products. We also offer free delivery on all orders, and can deliver on the next working day for most items.
For more details, including item descriptions, terms and conditions, and testimonials from some of our satisfied customers, you can visit our website at www.theworkplacedepot.co.uk.
---
Posted in Security, Health and Safety