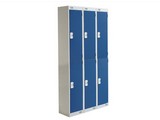 I think we have established that the lockers here at The Workplace Depot are one of the more versatile products we can talk about, not to mention one of the most fun!
Have you read a couple of my personal favourite locker related posts?
Although the majority of these posts are relating to lockers in locker rooms and centring on sports, this is probably what lockers are most known for!
With this being said, I thought it would be fitting to base this blog post on another similar topic; locker room songs! You are probably most likely to come across a locker room full of footballers blasting out an upbeat album after they have won a game, or perhaps to get a group of basketball players in the mood; either way, music in locker rooms might be as inspirational to some people as a speech from their coach, if not more so.
Some of our favourite sporting songs include:
Fatboy Slim – Right Here Right Now - an upbeat and uplifting song to put you in a pumped up mood ready for action!
Public Enemy – Harder Than You Think – tones that would perhaps instil some belief in the underdog and get you back out fighting.
Kasabian – Club Foot – you can just imagine this in a premier league football team's changing room pre-match.
Jay Z/Linkin Park – Numb/Encore – I can picture this one being played before an American Football game… Very dramatic!
Jake Bugg – Lightning Bolt – Nottinghamshire's very own Jake Bugg has provided us with an addictive track that makes you want to get up and go.
Queen – We Are The Champions - a classic by anyone's standards, this song could be used pre or post match to get you in the fighting spirit and winning mentality.
The Verve – Bitter Sweet Symphony - perhaps most associated now with England qualifiers, this tune is one that we will the England squad to win matches with year after year.
R Kelly – I Believe I Can Fly - a bit of a slow one, but nevertheless inspirational and motivational, put this on to get your team mates wanting a victory more than anything!
Tinie Tempah – Written in the Stars - another one I personally associate with English football, however the lyrics are perfect for putting you in the mood to beat your opponent.
Survivor – Eye of the Tiger - we had to include this one, perhaps the ultimate motivational sporting song of all time, waiting in the locker room was never this exciting!
We hope you like our list, please feel free to share any of your favourites that we might have missed on either of our Facebook or Twitter pages.
Locker Room Looks
If you are looking to create your own locker room, visit The Workplace Depot website for our full range of lockers; we supply everything from metal to mesh!
Unfortunately we can't supply the music, but I'm sure you won't have a problem getting a playlist together now, particularly with a little help from our list… Enjoy!
---