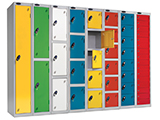 We've all thrown out furniture that we no longer want or need, but what about schools and leisure centres?  Have they ever thought of getting new lockers and throwing out the old ones?  Well think again.  How about taking those lockers and upcycling them, giving them a new home and a new role to play?  After crawling the internet for some nice looking, ex-lockers I thought I'd share with you my selected favourites.
Lockers obviously come in all shapes and sizes and this one seems perfect to store your shoes in.  Nicely decorated and labelled with family member's names.
Another nice way to upcycle your old lockers, is by creating a nice piece of kitchen furniture out of one – in this case a kitchen table, including plenty of storage underneath.
Staying in the kitchen, this is another one of my favourite uses of an upcycled locker.  Create some kitchen storage, whilst giving your kitchen a nice look.
An interesting idea for your upcycled locker is to create a piece for your living room, remove some doors, give it a lick of paint and you'll have yourself a beautiful piece of living room furniture.
More of a "vintage look" sort of person?  Don't worry we have the perfect example of what you can achieve when you give your locker a fresh, or in this case old style, look.
Need some storage for all your children's toys and bits and bobs?  Take a look at this wardrobe.
Finally I have saved my personal favourite until last.  A unique, bottle storing set of draws.  Won't keep them cold, but can definitely store them away safely.
If you would like to see a full range of The Workplace Depot's lockers, click here.  You could use them for their initial purpose or even try to create your very own nice piece of furniture.
---
Posted in Think Green, Recycling