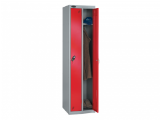 We are all accustomed to the inspirational locker room scene towards the end of a movie that is keeping us on the edge of our seats regarding who will win the basketball/hockey/football (I could go on) game – but just to remind you all of some of those heart-warming, motivational speeches, I thought I would list the top 10 locker room movie scenes that we at The Workplace Depot agree are the most memorable:
Many of these may be familiar to you, although admittedly I wasn't aware of some of them before I gave them a watch! If we have missed your favourite though, be sure to let us know on either of our Facebook or Twitter pages.
Inspirational
Although the main point of these movie scenes is that they are in the surroundings of locker rooms, they are also associated with being inspirational, so with this in mind if you are in need of some inspiration this week, why not take a look at some of these 'locker room quotes' to get you going!
Memorable Moments
Personally, my much-loved locker related scenes weren't actually from a movie, but the 80's/90's classic sitcom Saved by the Bell. Who could possibly forget that memorable soundtrack, the retro clothes and the slamming of locker doors more often than not through following a group of high school students and their principal? As there are too many hallway scenes to choose from, take a nostalgic look back at the first episode, I bet it won't take you long to spot the lockers!
Need a locker?
If you are in need of some lockers, check out our range at The Workplace Depot; from metal to mesh to plastic, we supply schools, universities and leisure centres with what they are looking for.
---
Posted in Storage