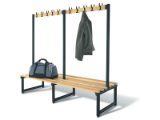 That time of year is approaching again… the start of the Premier League football season. Admittedly this year's break hasn't been as torturous as usual, mainly because we had the World Cup to keep us entertained, all for about a week. Nevertheless, twenty more clubs are back in action this weekend, joining the rest of those in the lower leagues for another, what I'm sure will be eventful, season!
Changing Room Traits
As a life-long Liverpool supporter, I have been lucky enough to experience the landmark that is Anfield and as many Reds fans will agree, we might not be where we are today without the legend that was Bill Shankly; the man who revolutionised the stadium. It was Bill Shankly who kept the changing rooms within the ground somewhat basic in terms of the wooden benches and clothes hooks compared to other teams in the premier league, such as Manchester City, who admittedly have a bit of a larger budget to expand on their changing room!
Liverpool FC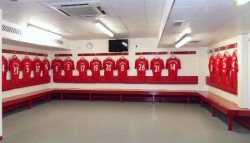 Manchester City FC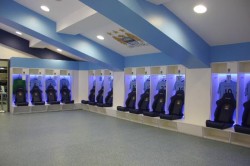 Superstitions of Sportsmen
Of course, it's important for football clubs to have their own identities and surroundings such as their changing rooms; they are after all a place where inspirational team talks take place, where captains encourage their co-workers to dig deep for one more goal, one more win or one more trophy.
This being said, let's take a look at some of the rituals that are/have been performed by a number of household footballing names.
Former England skipper and Chelsea defender John Terry once confirmed that he has around 50 superstitions that must be carried out before a match, some of which included: listening to the same Usher CD in the car, parking in the same spot, sitting on the same seat on the team bus and using the same pair of shin pads for 10 years before losing them.
French team mates Laurent Blanc and Fabien Barthez treated us with one of the highlights of the 1998 World Cup, which France of course went on to win, where the defender would kiss the goalkeeper's bald head before every game. Not only did this ritual obviously help them secure their first ever World Cup win, but additionally, each player would sit on the same seat of the team bus before listening to the classic Gloria Gaynor anthem, I Will Survive, in the changing room.
Last, but certainly not least, the Brazilian legend that is Pele once gave his match shirt to a fan, to then undergo a dip in form. This resulted in him instructing a friend to track down the shirt and when it was returned one week later, Pele was back in goal scoring form. What I gather Pele was not told at the time, was that the shirt was actually just a replacement of the original, otherwise we may look back at some football history a little differently!
What Goes On Behind Closed Doors?
Following on from these footballing superstitions, considering some of them do indeed take place in the locker room, although some of us may have seen the insides of them through Stadium tours and on TV, what we don't normally get to see is normally the most interesting!
Having said this, I have decided to treat you to some of the biggest changing room bust-ups in football:
Can you remember that Sir Alex Ferguson v. David Beckham moment over a decade ago? After Manchester United lost to Arsenal in the FA Cup fifth round at Old Trafford in 2003, Fergie kicked a football boot in anger, which happened to hit Becks right above his eye! The incident received a hype of media attention, although Ferguson and Beckham both dismissed it as a freak accident, with Sir Alex stating that he could try and kick the boot 1 million times over without that happening again. Although there didn't seem to be any hard feelings between the two, Becks moved to Real Madrid for £25 million four months later.
Next up, about 5 years ago Joey Barton came to blows with Alan Shearer, who was briefly the caretaker manager at St James' Park. After Barton was sent off in a game against Liverpool at the end of April 2009, Shearer told him it was a mistake to bring him back into the side, before Barton responded with a rather bad-mouthed reply. Sure enough, Newcastle were relegated to the Championship one month later.
Later on in 2009, Stoke City manager Tony Pulis ordered his squad to attend an extra training session on Sunday after a 2-0 loss to Arsenal in December, much to the dismay of striker James Beattie, who had arranged a party for the team that night. Consequently, the pair ended up exchanging head butts and punches before they had to be pulled apart!
The next year, French coach Raymond Domenech was involved in controversy with the whole France squad after sending Nicolas Anelka home from the 2010 World Cup. The team, led by Captain Patrice Evra, turned on the coach through refusing to train the day before France's game against South Africa, which they needed to win to progress in the competition. As a result of the previous series of events, France were left red faced after suffering a 2-1 defeat and finishing bottom of their group.
Footballers and their egos…
Changing It Up
If you are going to be warming up for the season, do you have your changing rooms sorted?
The Workplace Depot can supply you with a Shankly style setting in the form of wooden benches.
Alternatively you can opt for some of our more modern lockers to give your changing room a twist.
Don't forget to let us know if you have ever witnessed or been involved in a locker room bust up on either of our Facebook or Twitter pages, or if you are just excited for the return of the season.
We can hardly contain our excitement here at The Workplace Depot, amongst weekly collective accumulators and Fantasy Football Leagues, we can't wait to see what happens!
---