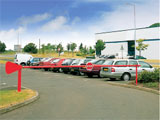 According to a parking report issued by the RAC Foundation, 800 cars are parked every second in Britain. Rapid commercialisation has rendered the cities into underachieving replicas of the future cities depicted in old movies such as The Fifth Element, except for the flying cars. The sad absence of flyable cars is made worse by a more than tenfold increase in the number of road cars, from 2 million in the 1950s to over 28 million now. It doesn't take a genius to figure out why there's a nerve-wrecking parking problem in our cities.
Parking blues keep most cars parked at homes, 80% of their life on the average. They are parked elsewhere for 16% and move for only 4% of their average lifespan. The point is, if your office is blessed with a private car park, you can consider yourself lucky. Your parking makes your office much friendlier for your employees and customers, who don't have to go through the traumatising experience of having to find a parking space before they can come to your office.
Car Park Safety Marking and Equipment
Car parks are often the places where cars get bumps and scratches, minor accidents that are seldom reported. They are also scenes of crimes such as drugs or other undesirable activities. Blind corners and entry/exit points can be hazardous. The car park is not something that may be on the top of your priority list as a business owner or manager, unless you have a car showroom or another such facility to manage. Regardless of the size and scale of your car park, you can definitely put some of the following items to good use.
Perimeter Barriers
You may need these barriers to mark your parking area and prevent motorists from driving over green belts or into a no-parking zone. Perimeter barriers are manufactured from mild steel and come in galvanised and yellow-black finishes. They can be grouted underground and can also be attached to a sidewalk or road surface with bolts. See our Perimeter Barriers
Speed Bumps
If cars swerve into your park from a high speed lane, you definitely need a Speed Bump to slow them down and prevent them from hitting the entry gate and/or another car. Speed bumps are made of heavy-duty recycled rubber and can be bolted to concrete or asphalt surfaces with ease. For the car park, you should get a Speed Hump that reduces the speed to 5–10 mph. See our full range of Speed bumps.
Automatic Barrier
If you are looking to build an automated car park, you can couple this barrier with an e-tag scanner and obviate the need for manning the entry/exit points.
Swing Gates
When the parking is full, this manual swing gate can be closed and locked in order to stop unwanted motorists from trying to jam into an already full lot and creating trouble. The inexpensive swing gates also secure your parking against car theft.
Traffic Paint
This high quality paint is an economical, quick and inexpensive way to mark pedestrian lanes, disabled access, and other safety areas in your car park. The paint would dry to a rubbery anti-slip surface quickly. You can also use it to mark parking lanes according to the parking standards prescribed by the government.
Height Restriction Barrier
If you don't want minivans or trucks venture into your indoor or basement car park, this plastic height restriction barrier is just what you need. Hang it with the roof using the 6mm adjustable chains that come with it and create formidable deterrence against unwanted vehicles.
Parking Blocks
These tough, easy-to-install parking blocks are best at preventing backup bumps and overdrive dents. The heavy duty molded rubber construction and carefully built angles provide robust protection against inadvertent or careless shifts.
These are just some of the basic things that you need for setting up your office car park. You can always put a couple of security cameras at the entry and exit points. There are car parks in Europe that provide for solar charging of hybrid cars. Future car parks may have your cell phones integrated with the entry/exit systems. Until then, this is pretty much it.
Car Park Plastic Chain
If you don't require a sturdy perimeter barrier then you can cordon off sections using decorative plastic chain and posts - this is very popular in the car parks of hotels, golf and country club - see our plastic chain guide here.
Click here for a list of all the items we sell for car parks.
---
Posted in Workplace Commentary