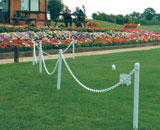 Everything you need to make a plastic chain fence can be purchased on this website - see our range of plastic chains and posts. Please note that the following does not apply to freestanding posts.
What you will need:
Plastic chain – this is sold in 24 metre bags
Mounting posts – either a spike or socket version (see our video for details)
Plastic chain S-hook - to link the post and the chain together, and/or
Rubber connectors - used if you want the chain to be mid-post (also need S-hooks with this option)
How many posts and chains will you need?
Take measurements and sketch out the area the area, bearing in mind the following:
Posts (Spacing): The spacing of the posts is a little subjective - somewhere between 1.5 metres to 2 metres apart is standard for a run of 5 posts; if you have a run of say 25 posts then a wider spacing will look better although you should not go above 3 metres apart for the lightest chain. Also the thickness (weight) of the chain is an issue in the maximum distance between posts; Our recommendation is 6mm chain = 3m, 8mm chain 2m, 10mm chain 1.5. If you have objects or curves to go round then the spacing between posts may need to be less and therefore the number of posts will be a little higher.
Chain: Allow for the 'drop' on the chain (about 10%). So if you have a total length of 35m you will need approximately 39m of chain (i.e. 2 bags of 24m chain). The standard garden chain comes in 3 sizes – 6mm, 8mm or 10mm and the decorative chain in 6mm and 8mm
Hooks and connectors: For every 5 posts you will need 1 pack of S-hooks to attach the chain to the top of each side of the post. If you want the chain to be mid-post or have a second row (see picture below) then you will need to buy rubber connectors (also in a pack of 10) AND the S-hooks.
Plastic chain reflector plate: For use near driveways or car parks, hung mid-chain
Accessories: If you click on either the Plastic Garden Chain page or the Decorative Plastic Chain pages you will see the 'Accessories' available lower down on the page.
Which posts to use?
For softer ground you can simply hammer in the spiked post (code: PS600) to the depth of 270mm
For harder ground or cement choose the socket version (code: PG600). The socket is installed into the ground, either in the soil or surrounded in concrete, to a depth of just 200mm. The post simply drops into the socket.
Post Script!!
The Workplace Depot also sells freestanding plastic posts which are more suitable as temporary barriers in places like car parks or for public events and queue management. These posts can be colour branded for safety applications and have different base designs. See our range here.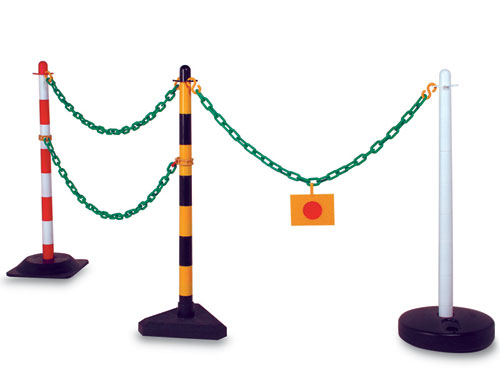 Free standing posts. Note the double chain between the first two posts requiring hooks and connectors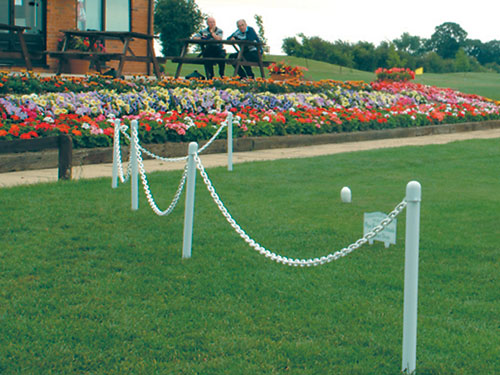 White, decorative garden chain and posts
Richard Bloomfield is website editor for The Workplace Depot
---
Posted in News, Product Updates