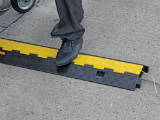 No matter what the event; indoors or outdoors, big or small, village fete or music festival, regardless of the nature and purpose of the event all loose leads and cables pose their own risk to property and life.  Carrying out advanced planning and risk assessing, ensuring cable protection is thoroughly thought threw is vital.
If you are thinking about setting up your own event, you need to make sure that you understand that you as the organiser are legally accountable for any accidents that may occur during the event, so having cable protectors in place is essential.
Events can be so hazardous that the Health and Safety Executive (HSE) has dedicated a section of their website to cover the topic, click here to read more.
Cable protectors are mostly rubber or plastic material cases, enabling you to keep your cables safe and secure, preventing trip hazards to users and damage to the property using the cable.  Also used outside, these protectors can cover leads and allow users to drive over them, used especially in car parks and at festivals/fetes.
As an event organiser…
You might not have ever thought about using a cable protector, however ensuring all loose leads; indoors or outdoors need to be protected to ensure the safety of the general public.  If you have looked into getting cable protectors for an event you're organising, you'll be surprised to see that there are a vast range of different makes and models out there.  If you dig a little deeper, you'll realise that each cable protector is more suited for specific purposes, so you should evaluate your situation and need before you purchase one.  Some of the things you should keep in mind when purchasing a cable protector for an event include:
- what environment you are using them in; indoors or outdoors
- who may come in contact with the protectors; vehicles (weight of the vehicle) or pedestrians
- what length of cable you have and how long you need your protector to be
- what thickness of cable/lead you have
- how many cables/leads you need to thread through individual protectors
- what budget you have for your event
- if your cable protector is going to be permanent or temporary
Once you have purchased your cable protector, being permanent or temporary, they will be easy to install and use.  Click here to see how to install a Heavy Duty Cable Protector (an example of a cable protector you may use for an outdoor event).
Once installed, you are ready to go.  You will be able to carry out your event, without worrying about trip hazards or damaged caused due to loose leads.
The Workplace Depot supply a vast range of different cable protectors; both indoor and external.  To see a full range that The Workplace Depot offer, click here.
---
Posted in Office, Health and Safety, In the Community