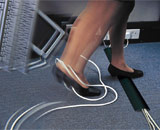 As you must be aware by now, The Workplace Depot sells everything you could possibly need for your workplace. However, as we have more recently been discussing how to prepare for the winter weather and which products you will need to stock up on if you are working outdoors, don't forget that we also supply for: offices, factories, warehouses, schools, leisure centres and many more indoor areas that we have just as many products for!
For those of us lucky enough to escape the cold weather for the majority of the day, it's equally as important that we avoid any injuries from the indoors. In order to do this, ensure you have the following products in place:
Indoor Cable Protectors - stopping any staff from taking an unwanted trip over loose cables and wires.
Entrance Matting - designed to prevent dirty carpets and absorb moisture in order to avert slipping and falling.
Leisure Centre PVC Mat - ideal for changing rooms in leisure centres to keep floors from being soaked and causing hazards.
Wet Floor Signs - extremely important to display when mopping/cleaning has just taken place, particularly in busy office buildings/schools.
Parcel Trolley - to stop you manoeuvring through mail left right and centre, place everything in this easily portable trolley.
First Aid Kits – essential for all workplaces and educational institutions!
Safety Steps, Ladders and Kick Steps - for everywhere you can think of from libraries to warehouses, our range of safety steps can help you when searching for products in those hard to reach places.
Although these are just a few of the things we supply for indoor areas here at The Workplace Depot, head on over to our website if we have missed off what you were looking for!
Whether you are an employer or an employee, don't forget to keep your wits about you in the workplace! For a less serious look at health and safety, have a read of one our previous blog posts: Top 10 Worst Health and Safety Myths.
---
Posted in Office, Health and Safety