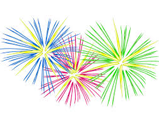 So you've had your display and hopefully nothing has gone wrong.  You're soaking up the applause from the audience and the satisfaction of setting off all of your rockets.  But it's not over yet; you still need to clean up and dispose of your fireworks safely!
Immediate To-do List
Once you have finished, still keep your boundaries.  Don't let your crowd come anywhere near the fireworks when you are cleaning up.
All being well there won't be any problem fireworks, however if there are any, make sure you give them plenty of room and let them finish smouldering.
Ensure everyone is safe and injury free - report to first aiders, if necessary.
Tidying Up
Always give yourself plenty of time to clean up; depending on how thorough you want to be on the night.  You should definitely make sure you clear away all spent firework shells and any other big litter.  Being at night you'll want to make sure you get some light to help see the area you are clearing up.  If you can, try and get yourself down the morning after to finish clearing up.
Take caution; try to avoid leaning over fireworks when you are clearing them away, just in case one of the fireworks hasn't gone off.
Once you have gathered all of your spent fireworks, if you have had a private display, it is OK to soak the carcasses  and put them in your ordinary waste bin.
Clearing away a Bonfire Safely
If you have a bonfire in place, make sure you use plenty of water to put out the fire safely, unless you have used petrol or any other chemicals that may react with water.  To make sure you are equipped for next year, take a look at The Workplace Depot's range of fire hoses, fire extinguishers and other fire safety products.
We hope you all enjoyed the fireworks!
---
Posted in News, Health and Safety