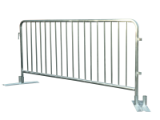 Not quite Superman, Spider-man or Batman, but a recent Facebook post from popular publishing page 'The Lad Bible', has given the world an everyday superhero that may actually be a bit more of a realistic aspiration for 5 year olds!
'Barrier Man' gained almost 100,000 likes, over 3,800 shares and 2,500 comments on Facebook when a picture of a worker was posted with the caption 'The Superhero we've all been waiting for'.
Of course we shouldn't take away from the seriousness of Barrier Man's job and the fact that guys like him are actually providing a service to the public – much like the superhero's we read about in comics! (Although potentially less life risking).
Look closely at the picture below and you can tell that there is work being carried out next to a particularly busy area, possibly in front of a University or office block, and that the man is ensuring the barrier is correctly in place to protect pedestrians from a potentially dangerous work area, as a well as a busy road.
Let's not forget that simple apparatus such as crowd control safety barriers are easy to use and at the same time are very important to have in place around crowded areas and where work may be being carried out.
Barrier Man to the Rescue!
Of course Barrier Man wouldn't be complete without his cape (AKA his hi-viz jacket) don't forget you can grab all of this safety equipment and more from us here at The Workplace Depot: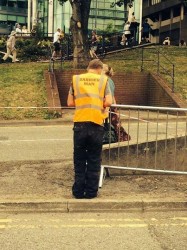 Don't forget to let us know on either our Facebook or Twitter pages if you see any more everyday people disguised as superheroes, or if you have are a superhero yourself of course!
---
Posted in Health and Safety, Amusing, In the Community