Pull Along Cart
£517.99
Ex. VAT
£621.59
Inc. VAT
£621.59
Inc. VAT
£517.99
Ex. VAT
FREE DELIVERY
Free Delivery -
Next Working Day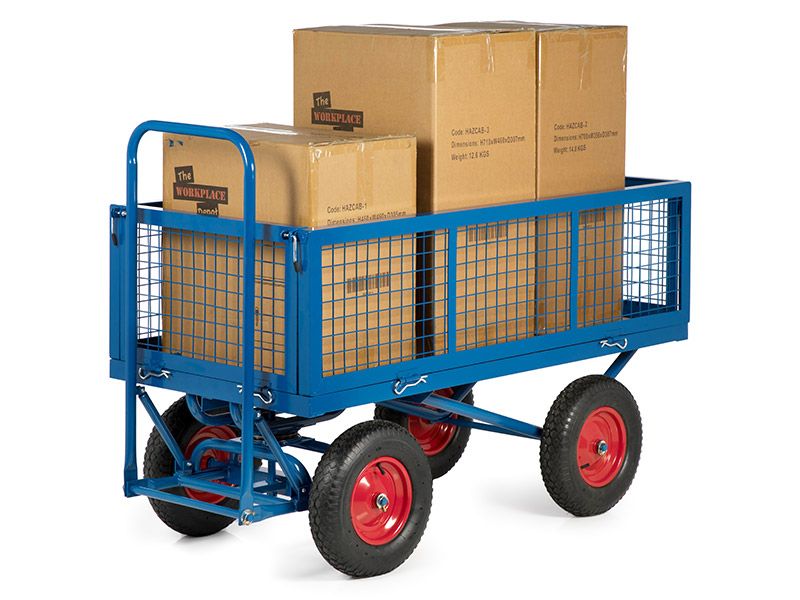 View All Turntable Trucks
Smooth Navigation, Maximum Load Capacity
Efficient and Effortless: Transport heavy, bulky items with ease using our Pull Along Cart with anti-friction turntable steering for smooth, effortless navigation.
Heavy-Duty Performance: With a huge load capacity of 1000kg and a sturdy plywood base with fold-down sides, our cart is ideal for factories, warehouses, and more.
Versatile and Reliable: Perfect for uneven terrains, our cart features heavy-duty 400mm pneumatic tires and secure drop-down sides to protect your load.
Manoeuvre with Confidence: The cart's turntable steering ensures smooth turns and easy manoeuvrability, even in tight spaces.
Easy Loading and Unloading: Four mesh side panels enable quick and convenient access to your goods, saving you time and effort.
Durable Construction: Our Pull Along Cart is built to last, with a fully-welded steel frame, rust-resistant finish, and long-lasting wheels for daily use.
Spacious and Practical: With platform dimensions of 700W(W) x 1525(L) mm, our cart provides ample space to transport a variety of items.
Overall Dimensions: 1120(H) x 700(W) x 1600(L) mm with a unit weight of 87.05kg

Your Reliable Heavy-Duty Transport Solution
When it comes to moving heavy, bulky items, trust the Pull Along Cart to get the job done safely and effortlessly. Designed with a sturdy plywood base and convenient fold-down sides, this reliable turntable truck is your ultimate companion in factories, warehouses, mail distribution centres, events, and beyond.
Loading and unloading goods has never been easier, thanks to the four mesh side panels that enable seamless access. Worried about protecting your precious cargo? Simply fix the drop-down sides securely in place, ensuring that your load stays secure throughout the journey.
Flexibility at Your Fingertips
Experience the convenience of a pull along cart with a sturdy plywood base and fold-down sides. Effortlessly adjust the cart to accommodate different load sizes, making it the ultimate versatile companion for your transportation needs.
The fold-down sides offer a flexible solution to accommodate items of various sizes and shapes, allowing you to adapt the cart to your specific needs. Whether you're moving large, bulky objects or smaller, irregularly shaped loads, the plywood base and fold-down sides provide the perfect combination of strength and adaptability.


Seamless Access Made Simple
Say goodbye to the hassle of loading and unloading heavy items. Our Pull Along Cart features four mesh side panels that allow you to effortlessly access your goods, saving you time and effort. Streamline your workflow and boost efficiency with this game-changing feature.
Whether you're working in a fast-paced warehouse environment or organising an event, the mesh side panels streamline your workflow, saving you valuable time and effort. With their durable construction, the panels provide the necessary support to secure your items while still providing excellent visibility.

Overall Dimensions
| | | |
| --- | --- | --- |
| | PLATFORM LENGTH | 1525 mm |
| | PLATFORM WIDTH | 700 mm |
| | PLATFORM THICKNESS | 50 mm |
| | OVERALL LENGTH | 1600 mm |
| | OVERALL HEIGHT | 1120 mm |
| | WHEEL DIAMETER | 400 mm |
| | GROUND TO PLATFORM TOP | 900 mm |
| | HANDLE GAP DISTANCE | 400 mm |
| | OVERALL HANDLE WIDTH | 460 mm |
| | OVERALL HANDLE HEIGHT | 960 mm |
| | MESH GAP | 25 x 25 mm |
| | WEIGHT | 87.05 kg |
Built to Last
Invest in durability and longevity. Our Pull Along Cart features a robust, fully-welded steel construction, ensuring that it can withstand the demands of everyday usage. Built to last, this cart will be your reliable companion for years to come.
The solid steel construction provides a sturdy framework that can handle substantial weight and resist impact, making it ideal for handling even the toughest loads. By opting for a fully-welded steel construction, you are investing in a product that is built to last, reducing the need for frequent replacements or repairs.


Effortless Manoeuvrability at Every Turn
Navigate tight corners and narrow spaces with ease. Our Pull Along Cart is equipped with effective, anti-friction turntable steering, allowing you to smoothly manoeuvre even in the most challenging environments.
The innovative steering mechanism minimises friction, allowing the cart to make seamless turns and manoeuvres, even in tight spaces. With this feature, you can say goodbye to the frustrations of struggling with cumbersome carts that are difficult to manoeuvre.
Conquer Any Terrain
Take on rough, uneven terrains with confidence. The Pull Along Cart features heavy-duty 400mm pneumatic tires, providing excellent traction and stability. No matter the ruggedness of the path ahead, this cart is built to conquer it all.
Whether you're manoeuvring through gravel, grass, or uneven flooring, the pneumatic tires offer excellent traction and stability, ensuring a smooth and controlled movement. Their durable construction allows the cart to absorb shocks and vibrations, protecting both the load and the cart itself.


Powerful Performance, Maximum Capacity
Never worry about weight limits again. Our Pull Along Cart offers an incredible load capacity of 1000kg, making it the perfect choice for heavy-duty tasks. Whether you're transporting equipment, supplies, or materials, this cart can handle it all with ease.
Whether you're moving large machinery, stacks of materials, or bulky equipment, our cart can handle it all with ease. The high load capacity eliminates the need for multiple trips or additional equipment, saving you valuable time and effort. With this robust cart by your side, you can streamline your operations, increase productivity, and reduce the strain on your workforce.
Strength That Endures
Combine strength and style in one exceptional cart. The Pull Along Cart boasts a rust and impact-resistant steel frame protected by a sleek powder-coat finish. Not only does it deliver unmatched durability, but it also adds a touch of elegance to your workspace.
This protective finish adds a sleek and professional look to the cart, elevating its appearance in any setting. More importantly, the powder-coat finish acts as a shield, safeguarding the steel frame against rust and impact damage. It forms a resilient barrier that resists scratches, chips, and peeling, ensuring the cart maintains its visual appeal and structural integrity over time.

Item Information
Plywood base with fold-down sides for flexible load accommodation
Four mesh side panels for easy loading and unloading
Securely fixable drop-down sides to protect the load
Effective, anti-friction turntable steering for smooth navigation
Heavy-duty 400mm pneumatic tires for rugged terrains
Load capacity of 1000kg for transporting heavy items
Robust, fully-welded steel construction for durability
Rust and impact-resistant steel frame with a powder-coat finish
Platform dimensions: 700(W) x 1525(L) mm
Overall dimensions: 1120(H) x 700(W) x 1600(L) mm
Weight: 87.05kg

Customer Reviews
---
How do you rate this product? Guidance:
Please focus on the item itself. Your review will be most helpful if you include the specific reasons why you either liked or disliked the item.
Try to be concise and straight to the point - but avoid single-word reviews.
---

Free Next Day Delivery
We're thrilled to offer you free, next working day delivery to mainland Great Britain when you order our Pull Along Cart. Yes, you heard that right – no additional fees or waiting around for weeks on end. Just place your order with us before 3pm, and voila! Your cart will be at your doorstep the very next day.
Need it urgently for a time-sensitive project? No problem! We understand the value of time and the importance of prompt deliveries. That's why we've partnered with reliable carriers to ensure your order arrives swiftly and securely, so you can get to work and make things happen.
Support You Can Count On
We believe that exceptional service is not just a department, but a way of doing business. From the moment you step into our virtual store, we're dedicated to ensuring your experience is nothing short of amazing.
Our friendly and knowledgeable customer support team is always here to lend a helping hand. Need assistance choosing the perfect Pull Along Cart or have questions about our product specifications? Give us a call at 0800 0126777, and our team of experts will be delighted to guide you through every step of the way.


Quality Backed by Our Warranty
We believe in standing behind the quality and reliability of our products, which is why we proudly offer a 1-year parts and labour warranty. Why settle for anything less when you can have the peace of mind that comes with knowing your purchase is protected?
Our warranty ensures that if any part of your cart malfunctions or if you encounter any issues within the first year, we've got you covered. Simply reach out to our friendly customer support team, and we'll swiftly and efficiently handle any necessary repairs or replacements, all at no extra cost to you.
Warranty
1 year parts / labour
Price Promise
We match any price
Easy Returns
Return or exchange