Platform Truck with Sides
£418.99
Ex. VAT
£502.79
Inc. VAT
£502.79
Inc. VAT
£418.99
Ex. VAT
FREE DELIVERY
Free Delivery -
Next Working Day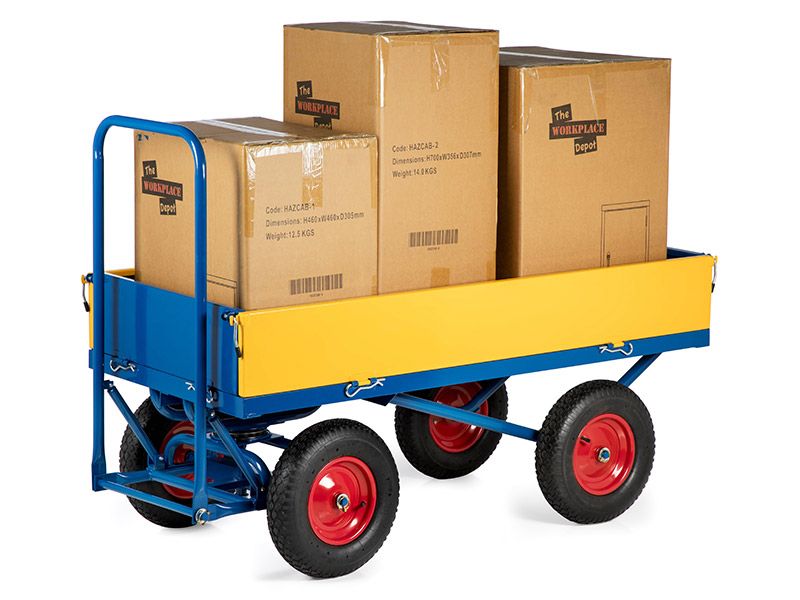 View All Turntable Trucks
Navigate Any Terrain, Move Any Load
Versatile and Multi-Purpose: Ideal for warehouses, factories, and industries where moving loads safely and efficiently is essential.
Heavy-Duty Capacity: Strong and reliable load capacity of 1000kg, making it suitable for transporting heavy items with ease.
Manoeuvre with Ease: Equipped with heavy-duty 400mm pneumatic tires, perfect for navigating rugged terrains effortlessly.
Precise Control: Effective anti-friction turntable and large looped steering handle for smooth and accurate manoeuvrability.
Effortless Loading: Solid metal sides that drop down easily, allowing for quick and effective loading of items.
Reliable Performance: Fully-welded steel construction with a sturdy 50mm platform base, ensuring durability and dependability.
Spacious and Practical: Platform dimensions of 700(W) x 1525 (L) mm offer a generous loading area to transport a variety of items.
Overall Dimensions: 1120(H) x 700(W) x 1600(L) mm with a unit weight of 70.80kg

Easy and Efficient Load Transport
Designed for warehouses, factories, and industries that prioritise seamless load movement, the Platform Truck with Sides is here to revolutionise the way you handle your items. With its solid metal sides that effortlessly drop down, loading and unloading have never been smoother.
Imagine a tool that streamlines your operations, making it a breeze to load items quickly and efficiently. This versatile truck is the ideal solution for businesses seeking an effortless loading experience. Its multi-purpose design caters to the needs of staff members who value safety and efficiency above all.
Effortless Loading, Simplified Operations
Say goodbye to the hassle of loading items with our Platform Truck's solid metal sides that drop-down effortlessly. Streamline your operations and enjoy a seamless loading experience like never before.
This functionality is especially helpful for businesses and industries that require frequent and efficient loading, such as warehouses and factories. The ability to quickly load items onto the platform truck not only enhances productivity but also reduces the risk of potential injuries caused by awkward lifting or manoeuvring.


Unleash the Power of Maximum Capacity
Embrace the power of our Platform Truck's large loading area, allowing you to maximise your productivity. Fill the length of the truck with items and transport your goods with ease A large loading area is a highly sought-after feature for those seeking optimal capacity and efficiency in load transportation. The advantage of a spacious loading area cannot be overstated, as it allows users to maximise the quantity of items they can transport at once. Whether it's bulky equipment, heavy packages, or numerous smaller items, the large loading area accommodates them all.

Overall Dimensions
| | | |
| --- | --- | --- |
| | PLATFORM LENGTH | 1525 mm |
| | PLATFORM WIDTH | 700 mm |
| | PLATFORM THICKNESS | 50 mm |
| | OVERALL LENGTH | 1600 mm |
| | OVERALL HEIGHT | 1120 mm |
| | WHEEL DIAMETER | 400 mm |
| | GROUND TO PLATFORM TOP | 700 mm |
| | HANDLE GAP DISTANCE | 400 mm |
| | OVERALL HANDLE WIDTH | 460 mm |
| | OVERALL HANDLE HEIGHT | 960 mm |
| | WEIGHT | 70.80 kg |
Strength and Reliability in Every Move
Our Platform Truck's fully-welded steel construction ensures unmatched strength and reliability. With a sturdy 50mm platform base, you can trust that your loads will be transported securely. Invest in quality and experience peace of mind.
The robust construction ensures the durability and longevity of the truck, making it a trustworthy and long-lasting investment. With the fully-welded steel frame, the truck can withstand heavy loads and endure the rigours of demanding work environments such as warehouses and factories.


Powerful Performance, Heavy-Duty Results
Trust in our Platform Truck's strong and reliable load capacity of 1000kg. Designed to handle heavy items with ease, it is your go-to solution for transporting substantial loads. Experience powerful performance and heavy-duty results.
With such a high load capacity, the Platform Truck becomes an indispensable tool for businesses dealing with bulky and weighty items. It provides the ability to transport substantial loads in a single trip, saving time and effort. Whether it's moving heavy machinery, stacks of materials, or large quantities of inventory, the robust load capacity ensures that the Platform Truck can handle the task with ease.
Conquer Any Terrain with Ease
Don't let rugged terrains hinder your progress. Our Platform Truck features heavy-duty 400mm pneumatic tires that effortlessly navigate through challenging landscapes. Enjoy smooth transportation, regardless of the terrain.
These robust tires are specifically designed to withstand rugged terrains and challenging environments, ensuring smooth and reliable transportation across various surfaces. Whether it's uneven terrain, rough floors, or outdoor landscapes, the pneumatic tires provide excellent traction and shock absorption, making manoeuvring effortless.


Precision and Control in Your Hands
Take control of your load with our Platform Truck's effective anti-friction turntable and large looped steering handle. Experience precise manoeuvrability and effortless navigation, ensuring your items reach their destination flawlessly.
The anti-friction turntable ensures that the truck can make tight turns with ease, even in confined spaces. This is especially valuable in busy work environments where manoeuvring around obstacles or navigating narrow aisles is a daily occurrence. The anti-friction turntable enhances control and precision, enabling users to navigate with confidence and accuracy, ultimately saving time and effort.
Sleek Aesthetics, Unmatched Protection
Our Platform Truck boasts a professional, powder-coated blue finish that not only enhances its sleek aesthetics but also provides protection against scuffs and scrapes. Invest in durability and maintain the impeccable appearance of your truck.
The visually pleasing finish gives the truck a polished and professional appearance, making it suitable for various work environments. Beyond its attractive look, the powder coating provides essential protection against scuffs, scratches, and daily wear and tear.

Item Information
Solid metal sides that easily drop-down for efficient loading
Built for warehouses, factories, and industries requiring easy load transportation
Multi-purpose design for efficient loading and unloading of items
Large loading area capable of accommodating items spanning the length of the truck
Fully-welded steel construction with a sturdy 50mm platform base for reliability
Impressive load capacity of 1000kg for transporting heavy items
Heavy-duty 400mm pneumatic tires for smooth movement over rugged terrains
Effective anti-friction turntable and large looped steering handle for precise control
Professional, powder-coated blue finish for added protection
Platform dimensions of 700(W) x 1525(L) mm
Overall dimensions of 1120(H) x 700(W) x 1600(L) mm

Customer Reviews
---
How do you rate this product? Guidance:
Please focus on the item itself. Your review will be most helpful if you include the specific reasons why you either liked or disliked the item.
Try to be concise and straight to the point - but avoid single-word reviews.
---

Free Next Day Delivery
At The Workplace Depot, we believe in delivering not just exceptional products but also an exceptional shopping experience. That's why we offer you the incredible benefit of free, next working day delivery to mainland Great Britain when you order the Platform Truck with Sides.
We understand the importance of receiving your order promptly, and we're committed to ensuring that you get your hands on your new platform truck as quickly as possible. Simply place your order with us today before 3pm, and tomorrow, like magic, your brand new Platform Truck with Sides arrives at your doorstep.
Exceptional Support Guaranteed
We believe that happy customers are the heart of our business. That's why we go above and beyond to provide you with the exceptional service you deserve. Our team of dedicated experts is here to assist you every step of the way, ensuring that your experience with us is nothing short of amazing.
Need assistance with product inquiries, order tracking, or any other questions? Don't hesitate to reach out to us! Our friendly and knowledgeable customer support team is ready to lend a helping hand. Simply give us a call at 0800 0126777 during our operating hours from Monday to Friday, 8am to 5pm.


Peace of Mind, Guaranteed
We believe in standing behind the quality and reliability of our products. That's why we offer you the fantastic benefit of a 1-year parts and labour warranty on our entire range, including the Platform Truck with Sides. We want you to have complete peace of mind when you choose to shop with us.
Our comprehensive warranty ensures that if any parts malfunction or if you encounter any issues with the truck's performance within the first year, we've got you covered. We'll take care of the repairs and the associated labour costs, so you can focus on what matters most – getting the job done.
Warranty
1 year parts / labour
Price Promise
We match any price
Easy Returns
Return or exchange