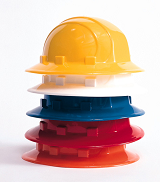 There are many health & safety rules and regulations that every workplace has to follow, but every workplace will need some tools to help them enforce these laws. Whether it's to prevent an accident from happening or just following the health and safety regulations, this equipment will help you in your quest to make your workplace, a safer workplace.
Slips and trips
After the cleaner has been and mopped all the floors, or a member of staff has accidentally spilt something on the floor, you will need to warn your fellow colleagues of the danger of potentially slipping over. Wet floor signs are the best thing for highlighting any slippery surface. In a warehouse or workshop, chemicals and hazardous liquids are spilt then you can buy hazardous spillage (clean up equipment) including chemical absorbents and spill kits.
If you are worried about the odd spillage in the workshops, factory or warehouse then some workshop matting may be the answer. By laying rubber matting down, it will help prevent any slips and the liquid will soak through to the floor, which can be cleaned up later.
When winter arrives, so does the snow and ice. Accidents such as slipping over or skidding in your car, could be prevented by buying some grit salt and accessories. The grit bins come in different sizes and capacities to suit all types of workplace. Of course for those larger complexes, you won't be lifting 25kg bag around. Whoever, is in charge of spreading the salt will want a grit spreader to assist in the job.
Cable protectors are the one thing that can prevent any damage to wires/cables and stops employees from tripping over – at the same time! Keeping cables/wires tidy is one of the most important aspects to health and safety in the workplace. Leaving them lying about ready for someone to trip over is dangerous. There are cable protectors for indoor or outdoor use and each have their own dimensions and aperture sizes.
Reach for the skies!
Struggling to reach something? Don't risk injury by standing on a swivelling chair, chances are you will fall off. Step stools are sturdy, safe and strong - if you have one of

these beauty's in your workplace, use it! If you don't have one, have no fear, there is a variety of step stools you can buy from us in a range of styles and colours.
If you prefer something a bit more industrialised and with a tad more metal involved, then you should be investing in a stepladder. Unlike step stools, stepladders can reach new heights and elevate you when working. They can be easily transported and can be used for many different applications. There are various models to choose from including accessories to helps stabilise and utilise your chosen stepladder.
Safety first
Industrial workplaces will require extra safety measures because of the hazardous equipment and materials the staff are surrounded by. The appropriate workwear should be worn at all times e.g. hard hats, high visibility clothing and safety goggles. Construction sites, factories, warehouses and workshops are the main locations where this type of workwear should be worn. The HSE (Health and Safety Executive) recommend that workers keep in mind the hazards around them and not to carry out any work that they feel that is unsafe.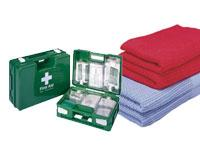 Unfortunately, accidents do happen, no matter how safe the workplace is. This isn't because the company is not following the correct procedures, sometimes this misfortunes just happen. In case of an accident, first aid must be supplied and fully stocked in every workplace along with someone who is trained to carry out any first aid. First aid is not just about having a box in the store cupboard, if staff are handling chemicals or hazardous products, then an eyewash kit and a drench shower need to be provided.
Fire safety laws are vital to every workplace and every regulation must be followed. Having all the equipment in place will ensure that in case of a fire, everything will be in place for extinguishing the fire and safe evacuation. Fire alarms need to be installed without question (and simply no choice). A fire alarm is the one thing that could save a number of lives if there is a fire in the building. A logbook may also be required if you need to put in a claim to the insurance company. Having a place where you can store all the details of even the smallest of fires can help in the future when thinking about the companies safety plan.
Being careful
Safety in an area where vehicles and pedestrians are travelling alongside each other is vital. Speed humps and bumps could be the answer to prevent speeding vehicles colliding with other vehicles and possibly pedestrians. Depending on how fast you want the area to be e.g. entrance to a car park or office complex, you can choose the type of speed bump you want. If you want a dual outdoor cable protector and speed bump, then the sleeping policeman is the one for you.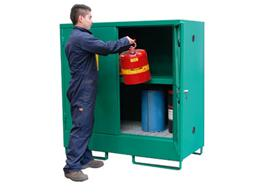 If your job is handling gas, hazardous chemicals or liquids, then you need to be supplied with somewhere to store all of this equipment. Keeping these kind of materials stored away either in a drum, gas cylinder, cabinet or fuel can will ensure that you and your colleagues are safe from harm. Of course some chemicals, gases and liquids are flammable and can cause injury and damage if exposed to a flame and supply flammable resistant containers and cabinets to store these materials in. By using hazardous substance storage , you will be complying with the Health and Safety Regulations 1997, by keeping people and property safer from injury and damage.
Safety mirrors aid drivers when there is a blind spot that needs to be seen. Blind spot mirrors can be placed on corners in the road, outside car parks and lorry bays, so that when travelling in and out of places, the driver has full visibility. Traffic mirrors can be used as security mirrors when reversing into a parking space or loading bay.
---
Posted in Warehouse, Office, Health and Safety