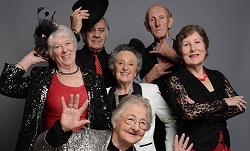 Some of you may have seen the new ITV prankster show 'Off Their Rockers', if not, watch it! The show is about a bunch of old aged pensioners being let loose into the big wide world and playing pranks on the younger generations. We normally see old dears out and about the place either slowly walking down the street or racing about in their mobility scooters, looking rather down and quite frankly complaining about most things, but these elderly folk will have you rocking with laughter.
How can we make the reality a better place for the older generation? Have an 'Old Aged Pensioner' lane on the path? Give them free vegetables for a year? Or do we given them a way of accessing areas easily and safely? I say yes we do!
We have a list of products from The Workplace Depot that will help in creating a more accessible place for the people who cannot move as easily as they used to. Let's start with a Disabled Grab Rail. Grab rails can help an elderly person when climbing up some stairs or help them stand back up after sitting down. They can offer added reassurance and assistance in a shower or bathroom area within a public place and are made of white coated steel tubing with a thermoplastic coating and come in a range of styles e.g. straight, angled and foldable.
When people mention disabled products, the image that pops into their heads is more than likely a person in a wheelchair. Disabled products such as wheelchair ramps and hearing loops are suitable to use for elderly people in care homes, shopping centres, hotels, leisure centres and theatres. Wheelchair ramps are an easy solution to any environment to allow elderly as well as disabled people to access an area easily without the risk of injury. Most ramps have an anti-slip surface and can be kept in the same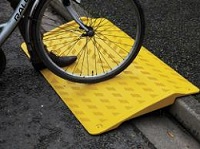 place for a number of weeks as they are not dangerous to able bodied pedestrians.
Much like the wheelchair ramp, a kerb ramp can do the same job. A kerb ramp is smaller than a wheelchair ramp but is just as good. Our Plastic (polyethylene) Kerb Ramp can be bolted down for maximum security and stability whenever in use. Kerb ramps are ideal for placing down next to a path to allow the old dears to get off and onto the path or a higher level. It can adapt to a variety of kerb ramps between 60mm and 160mm and is raised at both sides for secure access. Our other kerb ramp comes in a pack of two and are easily portable with the built in handle. It has a rigid and tough rubber design that prevents any slips or trips when using the ramp.
Pubs, bars, restaurants, hotels, leisure centres would benefit from having a kerb ramp outside their doors to help their local customers enter the building without any hassle.
We love the elderly residents of our community and we want to keep them happy by giving them what they need - easy access! But just in case they get too excited and start speeding around the corners of the streets, you may need a blind spot mirror just to make sure you won't get ran over!
---
Posted in News, Health and Safety