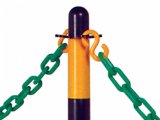 Plastic chains and posts are one of those inconspicuous products that none of us feel a glaring need for, unless dealing with crowd management. Workplaces like banks, theatres, cinemas, airports and public offices know the utility of these practical products can restore order to a bustling workplace without much effort. Just mark the line that you don't want the people to cross, and watch them obey the rules. Posts and chains deliver a stern warning without actually saying anything to offend the customers, who would stay in queues and avoid the areas where you don't want them to tread, for whatever reasons. People generally respect the limits marked with these plastic poles and chains.
Plastic posts and chains present an instant and economical solution to crowd management. Just put up the posts, attach these heavy duty plastic chains, and you are done. Using these chains, you can easily control the flow of the pedestrian traffic in the office or even regulate vehicular traffic in the car park. The high quality polyurethane construction of the chains makes sure that they are resilient to impacts, shears, and the elements of nature. They are equally suitable for your office lobby as well as your car park or garden, where you want people to keep off the grass. The plastic posts come in many varieties, including the ones that you can hammer into soft ground with little effort as well as those that come with a low-profile rubber base for free standing on building floors.
These items can become indispensable for workplaces like schools, hospitals, parking garages, ticketing booths, retail stores, construction sites and numerous other offices. Even when you are not dealing with a rush of customers, it would be nice to have a few lengths of plastic chain and a few posts in your storage, so that you may use them in your office whenever a need arises. Plastic chains and posts can be used to cordon off an area when there's cleaning or painting occurring, where privacy is desired, or some minor construction works are in progress. Plastic chains and posts are among those discreet pieces of equipment that define a safety-conscious and orderly workplace.
The plastic construction of these chains and posts makes them light weight and easy to carry. The polyurethane base makes them resistant to breakage or fraying. The low profile arrangement and bright, solid colors make sure that your post and chain barriers are clearly visible and pose no hazard to the passersby.
There are many variants and versions of plastic posts and chains available at The Workplace Depot, you can be certain that you are buying the product that is serving high profile workplaces in the UK. Click here to see The Workplace Depot's range of posts and chains.
---
Posted in News, Office, Health and Safety