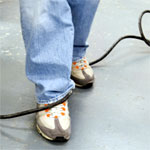 Our range of office and external cable protectors are now on sale
Thousands of people in the UK each year have accidents at work simply from tripping over. Some of these accidents are difficult to prevent if the individual isn't paying much attention to what they are doing! However, tripping over loose and trailing cables can be avoided by using cheap and easy to install cable protectors.
Careful cable management can play an important part in helping to ensure a safer environment in your workplace, and cable protectors are needed for compliance with the Health & Safety legislation preventing accidents at work (Health & Safety Offences Act 2008). A cable tidy (protector) should be used in offices, shop floors or warehouse areas to prevent trip hazards. More heavy duty cable protectors and ramps can be used outside in parking areas, roads, construction and redevelopment sites both to protect workers from temporary electrical cables and/or as traffic calming, speed ramps.
A standard indoor cable protector will either be sold in rolls or pre-cut to various lengths. If they are made of PVC they will be easy to cut to the required length with a sharp knife with the base being simple to slit so as the insert the cables. They require no fixing to the floor as the weight and design should keep them flush to the ground. A good cable protector should have a gentle slope which will allow trolleys and wheelchairs to smoothly pass over them as well as further reducing the trip hazard. Other indicators of good cable protectors will be whether they are UV stabilised for longer life, if they are fire retardant to BS476 Part 7 Class 3 and also electrical non-conductivity to 500 volts  (BS903-C5). Consequently these cable covers can vary a lot in terms of quality of manufacture; there are also variants such as budget, snap-fit and translucent cable protectors.
Heavy duty cable protectors can often solve two problems at once! They can be used for both traffic calming and shielding cable. Most external cable protectors will have a vibrant yellow stripe  on both sides (visible at night) providing a warning to drivers that they need to slow down. The strength and flexibility of a good cable protector should enable it to fit snugly into the camber or the road or parking area, and allow heavy vehicles, including construction machinery to pass over safely. Some heavy duty cable protectors may have a hinged lid allowing the cable to be inserted when the ramps are in position and have mouldings at the side so that they can be interlinked and the possibility of side movement further reduced. In most cases there is no need for drilling, bolting or bonding making them easy to remove or to be relaid. They can be ready to use in a matter of minutes.
Rarely can such a simple device as the common floor cable protector have prevented so many employees from falling head-over-heels!
---
Posted in Office, Health and Safety