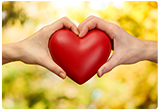 Here at The Workplace Depot, we are delighted to be named as a finalist for the Community Business of the Year Award 2014.  This recognition is part of Rushcliffe's Community Awards and will take place at the Becket School next week.  The nominees for this award are businesses that have specifically worked to support their local community - people, charities, etc.
These prestigious awards honour the work carried out by individuals, groups or businesses who've gone to great lengths within their local community to improve the lives and circumstances of Rushcliffe's residents.
We believe in helping others, be it getting their voice heard, providing them with some much needed supplies or donating money.  Some of the work we have carried out to improve people's lives within the community include:
Donating much needed stock to charities; Cerebral Palsy Sport, Groundwork Greater Nottingham, Rainbows, Age Concern, Nottinghamshire Hospice, Food Cycle and The Mercury Theatre.  The stock we donated were products such as: First Aid Kits, Grit Salt, Adhesive Tape, Floor Tape, RAC Vivo Motoring First Aid Kit, Burns Dispenser Kit, Large Eyewash Station and Fire Extinguisher Stands.
We also wanted to support the No More Page 3 campaign , so we thought we would give the charity page 3 of our catalogue.  Since then we have received a lot of praise due to the industry we work in.  The initial idea to start supporting this campaign was sparked by a member of staff here at The Workplace Depot, they were sick and tired of visiting warehouses with sexist calendars and The Sun's page 3.  From there, the team at The Workplace Depot thought it would be a good idea to take the page 3 from our catalogue and make it into an advert for the No More Page 3 campaign.
To read more about what we have carried out within the community, click here.
---
Posted in News, In the Community