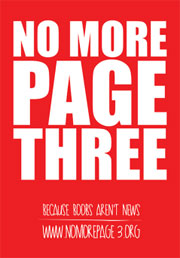 Twice a year here at The Workplace Depot, we send out an updated version of our catalogue to keep our customers informed of changes to our range of products. With this in mind, we are currently in the process of sending out our Summer/Autumn Workplace Depot catalogue, this time with a twist.
The latest catalogue features support for a campaign called 'No More Page Three', whose goal is to get The Sun newspaper to stop featuring photos of young, topless women.
The idea to support the campaign was sparked off by our sales manager Michelle Day, after being fed up of visiting warehouses and factories 'decorated' with sexist calendars and The Sun's page 3. As a result, the team at The Workplace Depot thought it might be an interesting idea to make our own page 3 from our catalogue into an advert for the No More Page 3 campaign.
Reaction to our advert
The team weren't fully confident that the idea would progress because of the small possibility that it might alienate some customers. However, when Steve Miller, Managing Director of the company, heard the suggestion he leapt at the idea of making a positive statement on the subject:
"We are delighted to be able to use this unique way to help get the message across that The Sun's outdated objectification of women doesn't belong in the workplace in the 21st century" commented Steve.
What's more, we received the following quote from Jo Harrison at No More Page 3:
"We love that Workplace Depot, as a company, not only wants to buck the trend of using women as props for marketing, but to also challenge that trend head on by sending out the No More Page 3 message loud and clear is fantastic and we really enjoyed creating the alternative 'Page 3'".
One of our customers, Anna Wilson of Hi-Way Services Ltd also commented on the campaign:
"It's a very nice idea and it is refreshing to see something different".
We managed to keep the advert topical to our company and catalogue through including products that we sell within the promotion, for example: 'Want to help give equality a step up?' and 'Want to hammer home that women deserve better representation in the press?'
In the end, we were confident that we were able to support No More Page 3 with the hope that our customers would provide us with feedback and their opinions regarding the advert and the addition of it in our new catalogue.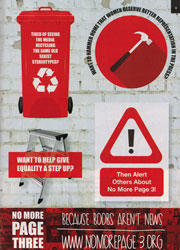 Tell us what you think…
Having said this, if you receive our catalogue then please let us know what you think of our Page 3!
We think Boobs aren't News – do you agree? Do you think society has progressed? Or do these types of pictures in tabloids not bother you?
Let us know your views and we will post some of your comments on this page!
Want to feature on our Page 3?
The team here at The Workplace Depot are always looking to expand our connections and contributions to charities and if you would like us to feature your organisation on page 3 of our future catalogues, please email us at: keepintouch@theworkplacedepot.co.uk.
---
Posted in News, Workplace Commentary