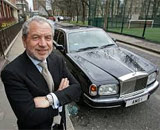 Celebrity business people are alike in many ways. They are driven, visionary, intuitive, and most importantly, successful. Not so similar are the cars they drive around in—cars that tell us a few things about the taste and personality of their owners. Let's take a look at some of the famous business people and see what their cars say about them.
Sir Alan Sugar
The Apprentice mentor drove a £300,000 Rolls Royce Phantom until a few months ago, the car that was described as "the top luxury car in the entire world" by Top Gear magazine. That's in the past, though, and the tycoon has traded his super-luxury ride for a more modest model that's about £100,000 cheaper—a Rolls Royce Ghost. Although the new ride is still a Rolls and beyond the wildest dreams of an average person, it does tell us the billionaire is going downhill.
James Caan
The Dragon Den sponsor was born Nazim Khan in Lahore and worked his way to the top selling services in recruitment and quality. His pride is the rare Aston Martin V8 that he purchased from Elton John. The other car that he drives is a Rolls Rice Phantom. Caan is passionate about cars and has owned 25 different ones in his life. His cars reflect his preference for British brands, although buying Elton John's V8 can be a perceived as a publicity stunt.
Roman Abramovich
The Chelsea football club owner has three luxury boats, two aeroplanes, and three helicopters on his private fleet. Among his rides are a Bentley, a Range Rover and a bullet-proof luxury Mercedes. The list doesn't end here, as Abramovich expresses his passion for speed by driving a Ferrari, a Porsche, and an Aston. And then, he has a Rolls Royce, a Buggati, and a Maserati as well. His latest acquisition is a lightweight and much less luxurious electric car. Apart from his obsession with cars, the wide range of models that Abramovich possesses also speaks of his restless nature and his passion to discover new things.
Mark Zuckerberg
Facebook founder and CEO Mark Zuckerberg has $17-billion net worth, and drives a $30,000 Acura TSX. The world's youngest billionaire never believed in flaunting his wealth and sticks with a truly modest car. Silicon Valley elite seldom show off their fortunes. Display of riches is considered gross in the social sense. Laurene Powell Jobs, Steve Job's wife and Apple co-founder, drives a $40,000 Audi A5, a modest choice considering her $9 billion fortunes. Microsoft CEO Steve Balmer has a $19,000 Ford Fusion.
Lawrence Stroll
A few months ago, a rare 1967 convertible Ferrari 275 GTB N.A.R.T Spyder was auctioned off for a whopping $27.5 million. The buyer, unsurprisingly, turned out to be Canadian billionaire Lawrence Stroll. The fashion tycoon is already famous for possessing a fleet of 20 Ferraris. The man behind Tommy Hilfiger clothing brand seems to have a passion for speed. He also owns a race track near Quebec to race his Ferraris on. Spending millions of dollars on cars might seem absurd to some, but where's the harm if it makes you happy and you can afford it too? A bit childish, but what the heck are the billions good for if one can't buy a few Ferraris.
- - - - - - - - - - -
The Workplace Depot sells a range of traffic barriers, car first aid kits, automatic barriers, parking blocks and car flow plates.
---
Posted in Amusing