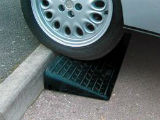 One of our more popular products here at The Workplace Depot are our kerb ramps. Admittedly, this product has more than one name associated with it as it is suitable for a number of different uses; although the main reason is to manoeuvre a wheeled vehicle or object up a kerb smoothly and securely.
What can they be used for?                        
We have come to realise that not only are kerb ramps useful for loading or unloading vehicles such as cars, vans and lorries, they are also handy for wheelchairs, trucks, trolleys, wheelbarrows, pushchairs, caravans, motorbikes, scooters and bikes.
Kerb ramps are ideal for preventing damage from vehicle wheels, allowing easy access for wheelchair users and those that constantly have to manoeuvre up and down ramps. They are extremely helpful for loading and unloading large, heavy products that might be placed on sack trucks and will make it a lot easier to move these items whilst offering a bit of extra support when you find you have your hands full!
Here at The Workplace Depot we sell single or paired kerb ramps; the paired ramps are more popular for obvious reasons, as they support transportation with two wheels. Additionally, you can push the ramps together for wider vehicles.
The ramps weigh 10kg each so are portable and have a built in handle so that they can be moved around and placed in the back of vehicles or in houses when they are not being used.
Our rubber kerb ramps are 100mm in height and are therefore suitable for most kerbs, however we also supply plastic kerb ramps, which are more useful for lighter weight transportation, such as bikes, skateboards, trollies, sack trucks and wheelie bins; particularly due to their effective non-slip surface. This plastic kerb ramp complies and exceeds the Wheel Chair Boarding Ramp Specification, the Disability Discrimination Act and the Safety at Street Works Code of Practice.
Send us your kerb ramps in action, whatever it is you might be using them for on either of our Facebook or Twitter pages.
---
Posted in Expert Commentary