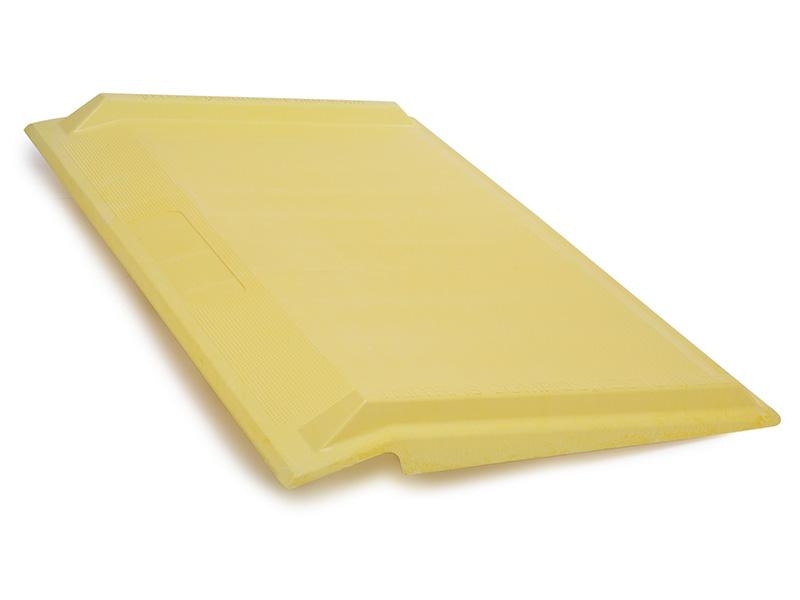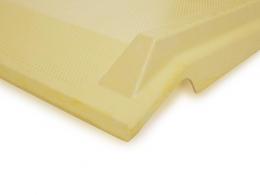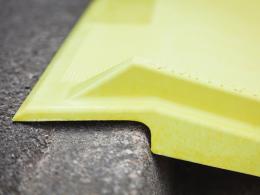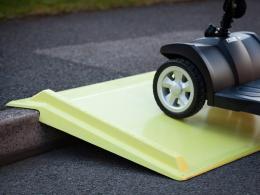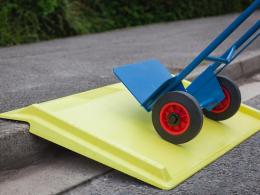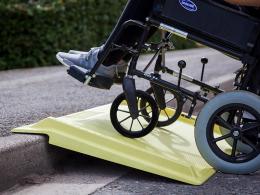 Wheelchair Kerb Ramp
Price in singles from
£57.00
Price
for multiples
from

£55.50
FREE Next Day Delivery!
Yellow, slip resistant surface suitable for wheelchairs and other uses
Suitable for kerbs up to 150mm
40mm high wheel retainers to prevent slipping over the edge
1000mm between wheel retainers
Lightweight - only 7.5kg
Maximum weight capacity - 250kg
Holes in each corner to enable fixing to floor (fixings not included)
Stackable for transport and storage
Made from sheet moulding compound (GRP)
Complies with National Grid Gas Standard T/SP/E42
Complies with the UK's DETR safety at streetworks & roadworks code of practice
See our full

Wheelchair Ramps Range here
VAT Relief
If you are buying this product to help, assist or aid a long term medical condition then you should be eligible for a VAT Relief saving of 20%. For more information click here. You will need to complete and return this PDF form - we will reimburse you as soon as we receive it.
FREE DELIVERY
Next Working Day
Warranty
1 year parts / labour
Add to Cart
Code

Description

Overall W x L (mm)

Price

Add to
Cart

Code:

SK33512

Description:

Wheelchair kerb ramp

Overall W x L (mm):

1180 x 700

Price:

£60.00

£57.00
Wheelchair Kerb Ramp
What is the purpose of a multi purpose ramp?
One small kerb can create a world of problems if you are trying to make an area accessible for wheelchairs or other items with wheels. Many items on the market created to solve this problem are heavy and unwieldy, making them difficult to install and move. At The Workplace Depot, we bring you a multi-purpose ramp that will solve all of these problems. This bright yellow item is lightweight, easy-to-install, and can be used anywhere. It is the perfect solution for making your area wheelchair accessible with minimal hassle.
Where can this product be used?
This product can be used anywhere that you need to make a kerb more accessible for wheelchairs and other items with wheels.
Who might use this product?
Anyone who is trying to make an area more wheelchair accessible could use this product. It is also great for people who need to move wheeled items over kerbs.
Multi-purpose ramp specifications
This multi-purpose ramp is great to make any area wheelchair accessible, and it can also be used for a variety of other uses. It can easily be used on any kerb up to 150mm. It has convenient 40mm-high wheel retainers, which prevent wheels from slipping over the edge, keeping people safer and more comfortable. It is very easy to move and install because it is lightweight. The entire item weighs only 7.5kg. Even though it is extremely light, it has a maximum weight capacity of 250kg. There are holes in every corner, which make it easy to fix to the floor. If you have more than one of these items, they are stackable, so you can easily move and store them. The surface is slip resistant, so that wheels will grip onto it rather than slide, making it a very safe product. The bright yellow colour is easy to spot and attractive. This item is made out of sheet moulding compound (GRP) making it high quality and durable. It also complies with the UK's DETR code of practice for safety at streetworks and roadworks. If you are looking for an easy way to make any kerb accessible for wheelchairs or other items with wheels, then this is the perfect product for you. If you have any questions about this item or any other product in our inventory, please let us know. We are more than happy to help.