Mobile Steps
£162.98
Ex. VAT
£195.58
Inc. VAT
£195.58
Inc. VAT
£162.98
Ex. VAT
FREE DELIVERY
Free Delivery -
2-3 working days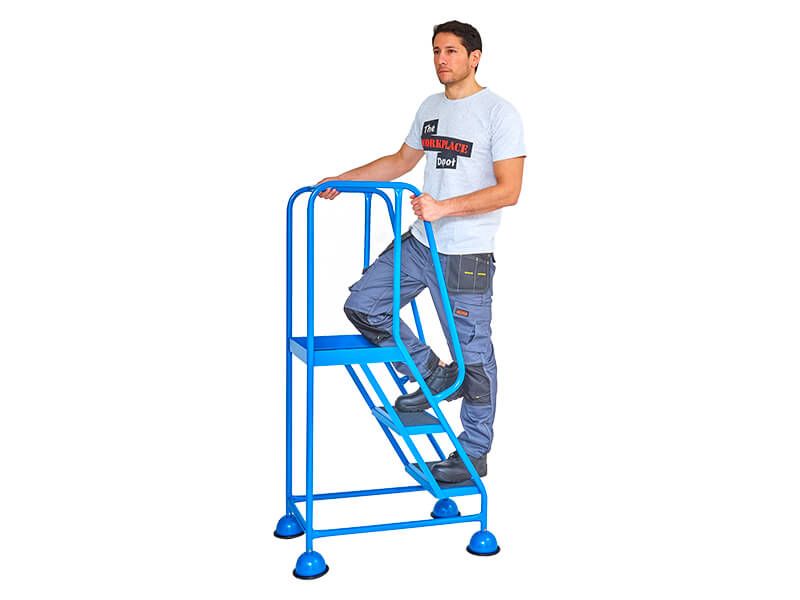 View All Safety Steps
Step into Safety
Spring-Loaded Mobility: Four cupped security feet, combined with spring-loaded castors, making relocation effortless and quick.
Safety in Handrails: Dual-sided handrails provide additional security, allowing for confident one-handed access when needed.
Robust and Reliable: Made from 25mm diameter tubular steel, ensuring long-lasting durability and strength.
Protective Platform: Elevate up to 835mm safely, with a slip-resistant platform guarded on three sides and bolstered with kick plates.
Anti-Skid Assurance: With 3 treads finished in anti-skid material, every step you take is a safe one.
Versatility at its Best: Ideal for homes, workplaces, warehouses, libraries, and retail spaces – Mobile Steps fit seamlessly anywhere.
Chemical-Resistant Treads: Crafted to resist water, oil, and the majority of chemicals, ensuring longevity and sustained grip.
Carry Weight with Confidence: Boasting a load capacity of up to 125kg, trust in Mobile Steps to support you and your needs.

Redefining Elevation
In the realm of step ladders, our Mobile Steps stand unparalleled. A harmony of innovative design and safety ensures that every climb is not just a step, but an elevation in confidence. Engineered meticulously, it combines the sturdiness of robust materials with the finesse of modern mobility solutions.
Users will appreciate the thoughtfulness infused into every detail: from domed vacuum cups that activate with each step, ensuring grounded stability, to spring-loaded castors that champion effortless movement. Our Mobile Steps not only redefine accessibility but also underscore a commitment to workplace safety and versatility.
Mobility Meets Grounded Stability
At the heart of the Mobile Steps lies an innovation that promises unparalleled movement: the four cupped security feet. These aren't just any ordinary feet; they come equipped with spring-loaded castors. This design choice allows for smooth transitions, ensuring that the ladder can be repositioned with minimal effort, even in dynamic environments.
But there's more to them than just movement. The moment weight is applied, the domed vacuum cups activate. This means that as soon as you step onto the ladder, it stays firmly grounded, offering you unparalleled stability. It's a design feature that marries the ease of mobility with the reassurance of safety, ensuring that Mobile Steps becomes your trusted partner for all elevated tasks.


Step with Confidence
The brilliance of our Mobile Steps lies in their attentive response to the user. Central to this is the inclusion of domed vacuum cups, a feature that promises stability as soon as you step onto it. Rather than relying on sheer weight or manual adjustments, these cups activate upon sensing the pressure of your footfall, providing an immediate anchor to the ground.
The significance of this intuitive technology is two-fold. First, it offers users the immediate reassurance of stability, reducing the anxiety of wobbles or missteps. Secondly, it means that the ladder provides a responsive, dynamic support system, adjusting to your movements and ensuring that every task, be it in bustling warehouses or quiet homes, is executed with confidence and security.

Overall Dimensions
| | | |
| --- | --- | --- |
| | OVERALL HEIGHT | 1440 mm |
| | OVERALL DEPTH | 810 mm |
| | OVERALL WIDTH | 570 mm |
| | HOOF DIAMETER | 130 mm |
| | HOOF HEIGHT | 80 mm |
| | TREAD WIDTH | 415 mm |
| | GROUND TO PLATFORM | 835 mm |
| | TREAD DISTANCE | 225 mm |
| | PLATFORM WIDTH | 410 mm |
| | PLATFORM DEPTH | 400 mm |
| | WEIGHT | 21.0 kg |
Dual Handrails
Navigating heights, no matter how moderate, demands an extra layer of security. Recognising this intrinsic need, the Mobile Steps come fortified with handrails on both sides. These aren't merely additions; they are integral features designed to provide a steady grip and continuous support, every step of the way.
The inclusion of handrails on both sides isn't just about physical support; it's about mental reassurance. Knowing that there's always a solid grip within arm's reach means users can focus on the task at hand rather than balancing. Whether you're reaching for a book on the top shelf or handling tools in a workshop, these handrails ensure that safety never takes a backseat, allowing users to operate with increased confidence and efficiency.


Strength in Structure
In the world of materials, steel stands synonymous with resilience and endurance. The Mobile Steps, sculpted from 25mm diameter tubular steel, are a testament to this very principle. Such a composition doesn't merely hint at durability; it loudly declares an unwavering commitment to longevity and rugged performance.
This choice of material speaks volumes about the ladder's capability to withstand daily wear and tear while ensuring optimal user safety. The 25mm diameter design ensures a harmonious blend of lightweight agility with the steadfastness of steel. It's not just about bearing weight, but about bestowing trust - every time you step up,
Crafted for Confident Climbs
Every step taken on a ladder should be one of assurance, and with Mobile Steps, that assurance comes tripled. Boasting three meticulously designed treads, each step serves as a reliable platform for your ascent. But it's not just the number of treads that sets it apart; it's the thoughtful finish that covers each.
An anti-skid finish is more than just a texture; it's a pledge of safety. It promises that regardless of the environment—whether amidst the hustle of a workplace or the serenity of a home—each step you take is securely grounded, free from the perils of slips.


Rise Above
In the spectrum of vertical access, the pinnacle often dictates the perspective. With Mobile Steps, that peak is impressively set at a 835mm elevation, courtesy of its expertly designed platform. This isn't just a number; it's an affirmation of the ladder's capability to give users a significant and safe boost upwards.
The essence of this elevation transcends its numeric value. It's about accessing those previously out-of-reach spots, about ensuring that every high shelf, fitting, or fixture is within your grasp. Beyond mere height, it's a testament to the product's dedication to bridging gaps—bringing closer what was once distant, all while maintaining a firm foundation beneath your feet.
Uncompromised Accessibility
The true measure of a product's design brilliance often lies in its consideration for everyday practicalities. With the Mobile Steps, this is perfectly illustrated through its compact chassis. Carefully engineered, it's crafted to navigate seamlessly through standard doorways, erasing the challenges often posed by bulkier ladders.
Such a design choice amplifies the ladder's versatility, making it an ideal companion for both expansive spaces and tight confines. No more tilting, adjusting, or wrestling to move from one room to the next. The Mobile Steps guarantee effortless transitions, ensuring that no doorway stands between you and your tasks.

Item Information
Four cupped security feet with spring-loaded castors for smooth mobility
Activated domed vacuum cups ensure immediate ground stability upon stepping
Dual-sided handrails provide consistent support and enhanced safety
Robust 25mm diameter tubular steel construction ensures durability
Three treads, all finished with an anti-skid texture for assured steps
Elevated platform reaches up to 835mm for enhanced access
Compact chassis design navigates effortlessly through standard doorways
Working height extends to approximately 2262mm for versatile use
Dimensions: 1440(H) x 570(W) x 810(D) mm, ideal for various spaces
Step width spans 410mm, offering ample foot space
Capable of bearing loads up to 125kg for diverse applications
Treads resist water, oil, and most chemicals, ensuring lasting grip

Customer Reviews
---
How do you rate this product? Guidance:
Please focus on the item itself. Your review will be most helpful if you include the specific reasons why you either liked or disliked the item.
Try to be concise and straight to the point - but avoid single-word reviews.
---

Free Next Day Delivery
At The Workplace Depot, we understand that your projects can't wait. That's why we've streamlined our delivery process, ensuring that your Mobile Steps reach you without a day's delay. Order before 3pm, and the next working day, your brand new ladder awaits, ready to revolutionise your tasks.
Such speed doesn't just reflect our dedication to prompt service; it's our commitment to fuelling your efficiency. While our competitors keep you waiting, we're setting the gold standard in delivery, bringing the future of workplace tools to your doorstep today. Experience not just a product, but a service that's a cut above the rest.
Always At Your Service
At The Workplace Depot, your experience doesn't just end with a purchase; it's where our journey with you truly begins. Our renowned customer support, accessible via our dedicated phone line, ensures that every query, concern, or feedback is addressed with the utmost urgency and care. Reach out between 8am to 5pm from Monday to Friday, and you'll find a dedicated team ready to guide, assist, and ensure your satisfaction.
Such unwavering commitment is rooted in our ethos: Every customer is paramount. We don't just provide products; we foster lasting relationships. It's more than just a call; it's our promise of unparalleled service, ensuring that with every dial, you're met with the expertise and enthusiasm that's become the hallmark of The Workplace Depot.


Your Satisfaction, Guaranteed
In the realm of online shopping, The Workplace Depot stands as a beacon of reliability. It's not just the quality of our products that shines, but the robust 1-year parts and labour warranty that accompanies them. This warranty isn't merely a feature; it's our handshake of trust, an assurance that your investment is safeguarded for an entire year, come what may.
While our products are crafted for endurance, our warranty is designed for your peace of mind. It echoes our commitment to transcending mere transactions and venturing into lasting bonds of trust. Because with The Workplace Depot, you're not just procuring an item—you're securing a promise of unwavering support and undeniable quality.
Warranty
1 year parts / labour
Price Promise
We match any price
Easy Returns
Return or exchange