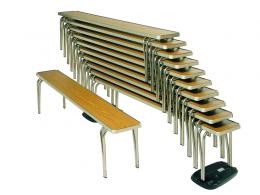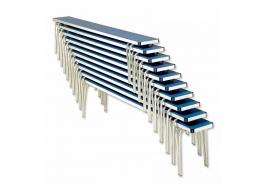 Stacking Benches
Stacking benches are lightweight yet strong, the ideal seating solution for both indoors and outdoors. Seat a large number of people without the hassle of setting up individual chairs. Use benches with folding tables or solo in rows for convenient seating. They're great for schools, businesses, and leisure centres whether they're used in dining halls, canteens, or as seats for a large event. The Workplace Depot's benches come in an array of colours and dimensions that will suit any public space, workplace, or occasion.
Contour Stacking Benches
Our Contour Stacking Benches are built with an aluminium frame and a laminate top, which means they're sturdy yet light and easy to clean. They come in 15 different colours and finishes, including wood finishes, and are available in a variety of dimensions. They're ultra-versatile for any kind of space, especially school, college, or office canteens. They also stack together tightly, so storage in smaller spaces is not a problem.
Standard Stacking Benches
The Workplace Depot's Standard Stacking Benches are the perfect space-saving solution for any area where a lot of seating is needed. These are also light and durable and can be used indoors or outdoors. They stack together for simple storage and come in four different colours – oak, walnut, vanilla, and grey -- and two different dimensions. Use these benches along with cafeteria or folding tables. They're also a good choice for sporting events, outdoor concerts, public gatherings, or any kind of event that requires extra seating.
Additional Benefits
At The Workplace Depot, both our Standard Stacking Benches and Contour Stacking Benches come with a one year warranty that includes parts and labour. We also offer free delivery within 20 working days, easy returns and exchanges, and price matching. Shop with us for all of your seating needs.