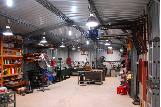 Workshops are a dangerous place to work due to many health and safety hazards. These hazards can be avoided by putting aside some time to check over the area that employees are working in and provide some storage for tools, equipment and parts.
Lets be honest, if a workshop was always tidy and shiny, customers would be a bit worried, but employees should be putting away tools and equipment as they go or once they have finished a job. In addition, nuts, bolts and other bits and bobs to build parts with need to be stored somewhere accessible and simple for employees to quickly grab and get back to the job.
Screws, nails, staples, nuts and bolts are small items that need to be stored in small containers that are easy to get to without opening and closing lids. Open fronted stacker bins are ideal for workshops. They are grease and oil resistant and manufactured from wall fluted polypropylene. The light weight, open fronted stacking bins are easy to clean and resistant to most chemicals.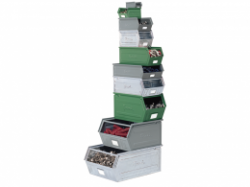 Or if the polypropylene isn't going to last long, we have galvanised steel parts bins. These parts bins are suited to engineering and manufacturing industry and the precision pressings help the bins stack securely.
We have a range of industrial shelving units for you to choose from. Available in different styles, sizes and capacities, we can offer you a storage solution that can be quickly assembled, that is fully adjustable and is heavy duty.
The workshop storage may be in another part of the building and carrying tools in your arms is not really that safe or ideal. Why not invest in a workshop cart, a 4 wheeled cart with two welded oil-tight trays, ideal for engineering use. The cart comes in a variety of sizes and shelf heights to choose from.
Another hazard of a workshop could be spilled oil, chemical and fuel. When these liquids are spilt, they need to be cleared up immediately. Our tough, durable and reliable spill kits can be dispensed instantly to help minimise, retain and absorb the liquids to prevent any accidents safely. We have 15, 50 and 120 litre kits in stock, depending on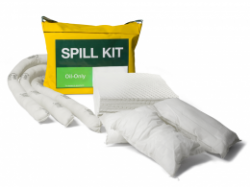 how much the company would use. Of course when handling these types of liquids, employees should be wearing protective equipment including gloves, goggles and overalls.
Once the oil, chemical or fuel has been absorbed, the material will need to disposed of correctly. Each kit comes with a number of disposal bags and ties for you to put the used spill kits into.
Of course these materials are flammable and other materials and equipment within a workshop is also flammable and can cause fires and explosions if not assessed correctly. Gas cylinders need to be stored away properly and away from any heat that can cause the gas to expand and burst the cylinder. Outside the workshop in a shaded spot is the best place to keep a cage filled with gas cylinders. Dragging or lifting these gas cylinders is highly dangerous due to dangerous consequences. A gas cylinder trolley is the perfect tool to carry a gas cylinder with – hence the name!
Click the links to view our workshop and storage collection.
---
Posted in Storage, Health and Safety