W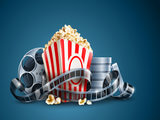 e may love to watch movies because they help us escape real life for a few moments. Yet, the popularity of workplace films takes us right back to our desks and keeps us grounded in reality.
How Workplace Films Inspire and Motivate Us to Love Our Work
Work is always hard. Even if you have your dream job, there are always ups and downs in every office, in every post, in every country across the world. Perhaps that's why workplace films that inspire and motivate us have become such box office hits in recent years. Here are our top 5 workplace movies that get us inspired and motivated and why we love them.
#5: Office Space
Roger Ebert reviews the hit film, Office Space, as a "comic cry" of anger towards the hum drum everyday of office life. In spite of the film being a little negative, the determination of the three heroes in the movie does give us a motivational boost. Sometimes it can also help just to have a laugh at the fact that so many office workers across the country can relate to the same struggles of office life.
#4: The Social Network
The Social Network is one of those films that makes each one of us feel like we could build an empire from our dorm. That's perhaps why this workplace film debuted at number 1 when it hit box offices in 2010 (according to Box Office Mojo).
The film shows the uncertain journey of Facebook's famous founders as they undergo ups, downs, and roundabouts in their journey to success.
It helps prove a point that all you need is a dream and a dedication to pursue professional greatness.
#3: The Devil Wears Prada
The Devil Wears Prada tells the classic story of the struggle to work hard and advance from the bottom to the top. Although the story revolves around the very specific peculiarities of pursuing a career within the fashion industry, the struggles that the protagonist feels, such as the pressures of a demanding work environment and competition within organisations are transferable to almost every professional field. For this reason, the movie makes it to number 3 in our top 5 workplace movies.
#2: The Internship
Technology seems to be taking over the workplace. In today's world, it's very difficult to get ahead when you aren't tech savvy. Such is the central plot of the hilarious workplace comedy, The Internship. Two salesmen, whose lack of experience in technology leads them to redundancy, decide to apply for a coveted position as a Google intern. Their challenges and difficulties are not only relatable, but their journey is certainly inspiring for the many of us who feel like we're always trying to keep up to date with the latest technology fads.
#1: The Pursuit of Happyness
For us, The Pursuit of Happyness is the ultimate of all inspiring workplace movies. It tells the common tale of one poor father's pursuit of the American dream. The hero, played by Will Smith, inspires us with his resilience, dedication, and loyalty to his son. It's the classic message that, if you are committed, work hard, and believe in yourself, you can achieve your career goals and the live the life of which you dream. The film gives us that boost to get us up in the morning and to break through those career glass ceilings. It doesn't matter where you come from, anything is possible.
Get Your Workplace Kitted Out With Essential, Quality Workplace Equipment and Furniture
From a Fraction Fixed Pedestal to comfy and professional office chairs. Keep your team organised and productive. For everything you need for your office, on budget, check out our current offers here.
---
Posted in Office, Workplace Commentary, Amusing