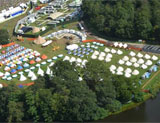 The last few years has witnessed the rise and rise of big music festivals and an explosion of 'DIY' festivals. As well as specialist and local music events there has also been growth in festivals for food, wine, beer, comedy, films, books, theatre, religion... the list goes on. Nearly every town these days has a 'festival' of some sort plus there are festivals for subjects as diverse as balloons, 'fire', ice carving, water, peanuts, ribs and oysters - over 20 Oyster festivals in the USA alone! Small, niche festivals are popping up everywhere.
There are plenty of great resources about how to organise a festival, some of which are listed at the end of this article; we wanted here to outline many of the no nonsense products that the Workplace Depot can supply the busy festival organiser.
Festival Discount Code
If you are a festival organiser you can receive a 10% discount on any item by using the FEST discount code in the shopping cart.
Barriers
Road access and car parks
Safety and Security
Trucks and Trolleys
The Workplace Depot has one of the most extensive ranges of trucks and trolleys of any UK-based supplier. The types of moving equipment that would be the most useful at a festival include the flat bed or platform truck, 'garden' trolleys, standard sack trucks and cage carts. Depending on the size or type of festival, you may also require drum and gas cylinder trucks.
Litter
Festival Online Resources
www.festivalorganisers.org – Training and conferences
www.timeout.com – How to start your own festival (Having rich parents helps!)
www.list.co.uk - How to put on a festival: Essential dos and don'ts. Includes some useful DIY tips
eventcourse.com - Become a Festival Organiser
www.studentfilm.org.uk – Organising a Film Festival
www.medicsuk.net – Event Medical Support and Training Specialist
---
Posted in News, Security, Health and Safety