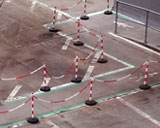 View our range of plastic chains, posts and bases here
The plastic chain provided by The Workplace Depot is pictured here being used to make a temporary walkway at Birmingham airport.
The plastic chain (sometimes called garden chain) is made in an injection press that can produce chain in a fully automated way thereby creating a high quality end product. The manufacturing is quicker than some producers who still manually assemble the chain and this also means that our production time on very large orders is much shorter. The chain itself is made from a low density polyethylene which is non-toxic, contains no heavy metal and complies with EU regulations. The manufacturer produces around 3 million metres of chain per year – enough to stretch from London to Rome and back!
Usage and characteristics of plastic chain
The chain is used for barriers on pavements, playgrounds, sport-grounds, airports, camping sites, fashion shows, swimming pools, retail... its flexibility means in can be used indoor and outdoors. It is weather-proof (temperatures from -10 to +75 degrees) and is resistant to salt and chemical exposure. The product is also lightweight, washable, non-conductive, anti-magnetic, stainless and has fast colour in its mass. It can even float should you need it to!
Garden chain colours
The chains are usually in one or bi colours (the two colours are white and red or yellow and black with alternate sections every 40cm) although we also have a three colour chain in a patriotic red, white and blue. The Union colours can be used with our red and white posts. The single colours are currently yellow, white, red, green and black.
Plastic posts – ground mounted
The posts for use with our plastic garden chain are a weatherproof plastic construction with 60cm above ground. One version has a spike for turf or soil areas and the other one has a socket for hard or tarmac surfaces.
Bases
There are three types of bases: water-filled, concrete-filled and rubber. The water-filled bases are round and can be filled to provide a sturdier base. The rubber bases are square and their low profile base reduces the risk of tripping – these can be used indoor or outdoors. The concrete bases are triangular and the perfect choice for outdoors as they can withstand adverse weather conditions.
For more information about our plastic chain see our Guide to Putting up a Plastic Chain Garden Fence
Case Study - Birmingham Airport
The pictures below show our plastic chain and posts being used at Birmingham airport to form a temporary walkway helping to safely direct passengers to and from aircraft and terminal building. This also demonstrates their use in potentially dangerous areas where there may be high wind speeds. The picture actually shows the water-filled post base (the concrete bases would be even more sturdy!) being used in conjunction with our red and white plastic chain.
---
Posted in News, Product Updates