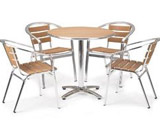 Some of the crew at The Workplace Depot regularly frequent the cafés of Bingham for our injection of caffeine to help us through the day! Whilst sitting in one the cafés, Matt, Jess, Sean Paul and myself had once again run out of anything interesting to say, so we set to thinking about how many products around us could be supplied by our company – this will be useful when Sean Paul opens his café in Newark.
Safety and first aid
It was quite easy to see some of the items that The Workplace Depot could supply – things like first aid kits and fire extinguishers by definition must be highly visible. Even more obvious than these were the sign-age; signs for things like fire exits, fire blanket, fire alarms, no smoking, first aid, no exit etc. Although not on display, there is the requirement for temporary signs, e.g. wet floor and other janitorial signs warning of cleaning in progress or slippery surfaces etc. We decided that for the full range of our Rubbermaid wet floor signs, pop-up cones, elevator guards and multi-purpose barriers, Sean Paul would have to visit our facilities section.
Indoor
Looking around the rest of the café, the items which take up most space are obviously the table and chairs – The Workplace Depot has a substantial range of café furniture including lightweight folding tables, fast food unit type tables/chairs and easy stacking chairs. Like most cafés, the one we were in had a couple of baby chairs although they had all seen better days and could do with being replaced perhaps with our Rubbermaid Sturdy Chair Baby Seat with Microban Antimicrobial Protection. Another item that the café could have considered replacing was the entrance mat who's upturned corner had that day tripped up one team – ironically, he was called Matt!
Other items that Sean Paul could buy for his hyperthetical cafe were whiteboards for writing menus and specials on, a magazine rack and a commercial clock. Also because Sean Paul's café would quickly become very popular he would need a VIP Rope Barrier to organise a queuing system and some security mirrors and CCTV to keep and eye on some of the customers. Without in any way wishing to cast aspersions about Newark, Sean Paul would probably want to have some kind of counterfeit money scanner as well as a money counting machine to help count the vast takings at the end of the day.
Toilets
Unfortunately I drew the short straw and had to list everything that the company sells for workplace toilets. I rattled off a solid but uninspiring list of items including cloakroom equipment, lockers, hand towel, toilet roll dispensers, soap dispensers, hand driers, pedal and waste bins. The only 'exciting' part of my list was the Dyson Airblade hand dryer which has an impressive touch-free, operation intelligent (!) infra-red sensor control and kills 99.9% of bacteria. You might also want to keep a Janitorial carts or a Kikalong step stool near the toilets – I only mention them here as they don't nicely fit into my list anywhere else!
Kitchen
Having worked in a busy garden centre kitchen, Jess took on the challenge of thinking what would be required in the kitchen – she has written a post on the hazards of working in a kitchen (see the article here). With hygiene being an important factor wire kitchen shelving and a stainless steel food trolley would be a must.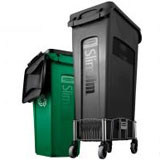 Some of the shelving and containers are made of anti-microbial materials and the kitchen bins (for hygiene reasons) would probably need to be the touch sensitive type. It is also a legal requirement to have a first aid kit in the kitchen – The Workplace Depot sells a specialist Catering First Aid Kit. Out at the back of the kitchen, Sean Paul (being a bit of an eco warrior) would almost certainly have a range of one of our Slim Jim Venting Channel Bins (pictured)
Outdoors
The café we were in (which by the way we cannot name for legal reasons – but has lots of pictures in it) doesn't have a very big outdoor area, so Matt had to work particularly hard to think of things. Assuming Sean Paul's café would be quite large then he would need a smoking shelter and a bike rack and shelter. The Workplace Depot could also provide him with outdoor seating and table sets along with an access or wheelchair ramp. Having spent most of the past month writing about bins (and lids) for our website, I happen to know that he is very picky about his bins and would certainly go for the Mega Brute Mobile Collector.
If you are setting up a café or restaurant area then don't hesitate to call us (or Sean Paul!) on 0800 012 6366 for expert advice and information on workplace legal requirements.
---
Posted in News, Expert Commentary