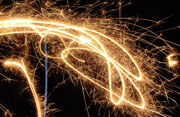 Remember, remember the 5th of November. On this night in 1605, Guy Fawkes was arrested after planting explosives underneath the English parliament in an attempt to blow up the Protestant King. This was, and still is, famously known as "the gunpowder plot". After the capture of the people involved in the gunpowder plot, bonfires were lit to celebrate the survival of King James and a national day of observance was to take place on the 5th of November from then on. This was a day to be thankful of the plot's failure. Since then the day has become a family night of wrapping up warm, watching fireworks and eating wholesome foods. It may be a fun, annual event for all the family, but with any situation where fire and mini-explosives are being used, there are strict health and safety guidelines to follow to ensure everybody has an enjoyable and safe evening.
Here are four pieces of advice for keeping safe on Bonfire Night.
1. This first tip concerns lighting fireworks. First of all, make sure that the fireworks that you purchase are of a suitable size and type for your garden or for where you decide to host your firework show. When lighting the fireworks, check that they are secure and facing upwards towards the sky and away from any trees or fences. Carefully light the fuse using a taper, held at arm's length. Once the firework is lit, stand well back and make sure all your spectators are stood well away from the fireworks to enjoy the spectacle fully.
2. After the firework has gone off, it is common advice, but nevertheless still very important: never return to a lit firework, even if it has gone off as it could still explode. Always have a bucket of water nearby in case some of the surroundings catch alight from the falling embers or sparks or if the firework goes off course.
3. Many people light bonfires in their gardens to celebrate this day, but with large fires you always have to stay safe and take precautions. First of all, make sure that where you are setting up your bonfire is a clear area, far away from any trees and overhead cables, making sure that the flames do not burn these things and start larger, uncontrollable fires in nearby trees and plants. Forgetting the safety of ourselves for a moment, organisations such as The Woodland Trust are urging people to check their bonfires for wildlife, like hedgehogs, before they light them. Scientists say that hedgehogs could be extinct in this country by 2025, so this year do your bit to help. Always use dry materials to burn on the bonfire, wet materials will cause more smoke, creating visibility problems on neighbouring roads and pathways. Also never use petrol or paraffin as they can cause large, uncontainable fires.
4. Another fun aspect of bonfire night is sparklers. Always wear gloves when handling sparklers so not to burn your hands. The sparks can be very large, so it is advisable to hold the sparklers at arm's length, away from your body and face to avoid burns. Only light one sparkler at a time, the strength of the spark is intense and the heat is hotter than boiling water, so be careful when using them. Always supervise children throughout the entire evening, and especially those who are using sparklers. Put out any used sparklers in a bucket of water to make sure that they are no longer lit and the burning embers have gone.
Despite Guy Fawkes Night being a fun occasion with awesome fireworks displays, accidents can still occur and nearly 1000 injuries were caused by fireworks over one bonfire period a just short number of years ago. To reduce the risk of accidents and injuries during your bonfire night, there is a list of items that you can have to hand.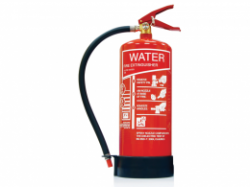 Fire Extinguisher: If you have a fire extinguisher near to where you are hosting your firework display and bonfire, you will be able to put out any accidental fires caused by stray sparks, which may land on the surrounding grass or trees, especially if conditions are dry. If fireworks get out of hand, then having a water fire extinguisher will allow you to get the situation under control once again. Similarly, you can use this product to extinguish the last of the burning embers on your bonfire, once it has gone out, to make sure it is completely put out and that it will not re-ignite again.
Fire Bucket: A fire bucket is a really handy item to have whatever time of year it is. On bonfire night, this bucket filled with sand is ideal for stubbing out sparklers, making sure they are not still burning and at risk of causing injuries to children who may handle them afterwards.
Fire Blanket: In the unlikely event that a person may become injured by flames of a bonfire or from a wayward firework and their clothes catch fire; the thing to remember is stop, drop, wrap and roll. Wrapping someone in a fire blanket will put out the flames quickly and effectively. A fire blanket can also be used on other surrounding features that may accidentally catch fire.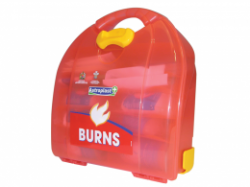 Burns Kit: If somebody at your firework display gets burnt, then the first thing to do is to run the burnt area under cold water immediately. The quicker you do this, the less damage will be caused to the skin. First Aid Kits have gels and bandages for burns but a Burns Kit is tailored to deal with burns. In a Burns Kit you will find burn gel and dressing to help reduce pain and infection.
So, get out your toffee apples and baked potatoes and enjoy your bonfire night whether you are going to an organised firework display or holding your own. Remember, remember to stay safe this November.
Click here to see our full range of fire safety equipment.
---
Posted in Health and Safety