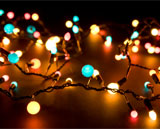 During the hectic Christmas season, one of the last things on most office workers mind is safety. But safety issues are no reason to become the Grinch! There are some procedures and safety equipment that can help with holiday office safety. If these suggestions are followed, the office can be a safe and merry environment that employees will enjoy.
One of the most dangerous decorations during Christmas time is those fabulous twinkling lights. Each year, there are many fires due to lights that either short out or are too close to flammable materials. There are several ways to safely use Christmas lights in an office setting. Here are some of the hazards and possible solutions that can be easily and cheaply implemented:
1) Cords creating trip hazards – Use painters tape or choose lights with battery packs instead of plug-in strands.
2) Arcing from electric cords – Inspect cords for any breaks prior to use. If the set is very old, discard and replace.
3) Fire from heat generated by lights – Consider using lights that do not get hot. There are a variety of LED lights on the market that come in almost every design and reduce fire hazards.
4) Fire and trip hazards from extension cords – Place decorations near an outlet. If possible, do not use extension cords. However, if this is not possible inspect the cord for any damage prior to use. If any cuts are found on the protective coating on the cord, discard immediately.
Some safety equipment to have on hand when using Christmas lights are a fire extinguisher capable of putting out an electrical fire, specialized cut resistant gloves so employees do not get cut by broken light bulbs, and clearly marked sturdy container for broken glass.
Procedures for employees should be specific by decoration but some good general ones include:
1) Set rules as to the type of decorations allowable and send them out in writing.
2) Designated an employee to check the decorations at least once per day to ensure they do not become electrical or trip hazards.
3) Create an office culture that encourages non-breakable decorations.
4) Assign staff to clean up any broken ornaments upon discovery. Have a written plan for cleaning up sharp objects such as bulbs and ornaments.
5) Implement a policy that no decorations that create smells can be used in the office as guests and employees may have allergic reactions.
Author
Nisha represents a site called aplclothing.co.uk. She has had 3 years' experience writing about workplace safety.
---
Posted in Expert Commentary, Health and Safety