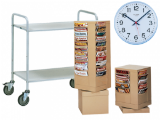 Last year, we published a blog post titled: 'How to choose the best art for your office'. With this in mind, considering the new canvases we have just had delivered to the office, I thought it would be amusing to compare the factors of what makes the best office art along with what we now have hanging on our walls!
The above article states that first impressions and company considerations are important for office decoration, however it also suggests that you should select bold colours and original pieces. This is what we have tried to achieve with our new images; what do you think?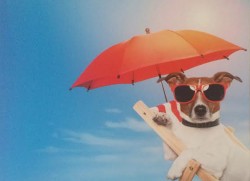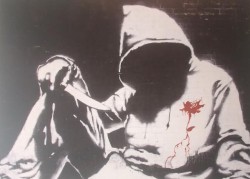 As I hinted earlier, the pictures are rather one extreme to the other, but here at The Workplace Depot, we like to be unique! The image on the right is one by Banksy, one of the most famous, anonymous artists in the world, who has made his name by drawing powerful street art and graffiti like images. For the other image on the left, we have opted for a more feel good image that will put a smile on our faces and get us through the dark, winter days!
Your Workspace Personalised
There are more ways to personalise your office than just wall hangings however; it's also nice to add your own touches to your desk, particularly within an office as these can sometimes be portrayed as quite dull. Check out another of our previous articles discussing 'Six top tips to personalise your desk' for further advice on how to do this.
To go a bit further than your desk however, here are ten tricks for making your workspace work for you! After all, we spend over a third of our day at our jobs, so why not add your own style to your workspace like you would your house or bedroom?
Get organised – stacking up papers and organising folders is surprisingly rewarding and will instantly make you feel more relaxed, as well as ready to tackle your next tasks.
Change your lighting – whether that's altering the backlight on your screen or the lights in the office, too much or too little brightness can cause headaches, so make sure the light is suitable for you.
Personalise – bring in your own pictures as well as ones for the walls, this might be of your family or a good time with friends, either way familiar faces are always nice to look at, especially if you are having one of those days.
Add some colour – not everything has to be neutral in the office! Maybe it's a bright photo frame or cushion to put on your chair; a pop of colour could lift your mood instantly.
Archive older work – once every few months it's good to review your previous work and store it away. This way you are keeping your workspace organised and remembering potential objectives you have achieved, encouraging you with your present workload.
Demonstrate your strengths – whatever it is that you may be the best at, make sure there is a visual of this so your colleagues know. This could be in the form of some gadgets on your desk or your computer screensaver.
Change two things that bother you – (although there might be more than two) whether they are work related or personal, changing things that annoy you will instantly make you feel happier and more productive towards your other duties.
Act like it's your first day – imagine what you actually want your job to entail, and make this happen. Rearrange your desk area or ask for your colleague's opinion about what you could do differently; a fresh start!
Freshen up – something as simple as opening a window, plugging in an air freshener or buying a plant for your desk can make stale office smells disappear immediately.
Finishing touches – a fresh, organised work space will soon spark the interest of your fellow employees and before you know it, the whole office will be adding bright colours and new accessories to their work areas, making the office in general feel more personal!
If you are looking for some new office furniture to spruce up your working environment, visit The Workplace Depot or if, like us, you have some of your own unique pictures hanging around your office, send us a snap to either of our Facebook or Twitter pages.
---