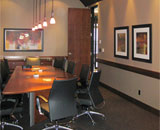 With the majority of modern workers busying themselves in an office environment, it's important to choose the right art work to evoke the best atmosphere and mood.  Morale will be boosted, work will be done, and time will fly - as long as you have the best art work to decorate your office.
Choosing the right artwork for the workplace is essential. A well placed piece of art can help to create a great first impression. Get it right and you can make a visual statement that compliments the office and inspires the workforce. If you get it wrong, you'll get grimaces and even the odd headache complaint!
Follow these office-based, art-selecting handy hints and you can't go wrong.
Think Of Others
When deciding what to hang on the walls, it's a good idea to gather some opinions - especially if you share a work space. Consult your co-workers to find out what they would like to see on display. Remember, they will have to see it every working day too.
A piece of art offers another focus, a break away from a computer screen. This means it must be aesthetically appealing and practical. Make sure colours aren't so bright they're distracting, or so calm that it sends the workforce to sleep.
If you work in a creative industry, then displaying art can provide inspiration. Artistic varieties such as sculptures, canvas work or photography can be visually stimulating.
Photography is another creative medium to consider: how about some group photos of past events to encourage cooperation, team spirit and a sense of fun? Nothing inappropriate of course! Just a little something to personalise the office.
Company Considerations
Even if you have a strong corporate identity, art can still highlight individuality of employees, who should always feel unique. Together you can choose artwork that you will enjoy but that also complements your company business and style - from colour schemes to connecting themes. As long as your company has no strict interior design rules, it should be fine to get a little creative.
For example, vibrant colours and pop art could reflect youth and enthusiasm for creative industries such as advertising and design work. Or you could use this opportunity to display works created by the team itself, a little free advertising to visitors.
For conservative careers like law or finance, still life, landscapes and tasteful reproductions of well-known pieces offer professionalism and a sense of security to potential clients.
First Impressions
Always think of the impact your office décor will have on any visitors. The first piece they face when they walk through the door must deliver the right message. As they say, a picture is worth a thousand words. Is your decor is saying the right thing?
Choosing The Best Art For You
Prominent lighting is the best way to display the brilliance of a painting. Ensure it is well lit and usually hung at eye level. An effective way to select the right colour is to choose a couple of bold colours in your office and look for art that has those colours in it. This way you can make a statement that it truly belongs in this environment.
If you're still uncertain, a great way to find out if you're making the right selection is to try before you buy. Sites can offer a way to visualize the way your office will look with your selected piece from their store. Just choose the corresponding room style, select a piece of art and test drive it! Simple and effective, and it doesn't cost you a thing. Play around with it until you get the design that is right for you.
If you want something original, sites like Art Gallery offer a variety of affordable art pieces straight from the artist's studio. Shop around online until you find the style that is right for you.
Be bold, be brave and choose art that makes you and others feel good. You can't go wrong.
Have you got any other suggestions for choosing the best art for your office? Share in the comments.
Author: Laura Stone is a Journalism and English graduate with a slight addiction to blogging. She specialises in literary reviews and loves to visit art galleries. She currently blogs for Art Gallery.
---
Posted in News, Expert Commentary