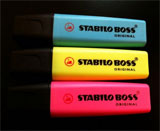 Ever since the evolution and introduction of technology into the office working environment, bosses and businesses have practically shouted from their corporate rooftops to espouse their 'paperless office' credentials. The reality is, of course, rather different.
Anyone who works in an office knows it's impossible to function without some kind of daily interaction without note pads, Post-Its and diaries. And even though your beloved Microsoft Office, Word and Outlook can perform a multitude of functions at the touch of button (or click of a mouse), there's one thing they simply can't do – and that's replace those essential office supplies that have been the bedrock, indeed the life force, of the office world for decades.
A PC might be able to do many things, but it can't replace a ream of A4 paper. And with some of the basics of office stationery comes an extra dimension of something that's a physical and tactile experience. Don't tell me you haven't opened a new pack of Post-It notes and felt an almost erotic and thrilling quiver of excitement run through your body. No? Well, maybe that's just me.
Here then are some of the reigning stationery champions of the office world, those bastions of desk-bound glory that have made the bustle of the busy office the inimitable working environment it is today.
Paper
Let's get the most basic – and essential – one out the way first. But paper, of course, comes in a myriad of forms and not just those clumpy packs of A4 that nestle snugly alongside the printer.
Flip charts for monthly meeting, scraps of paper (recycled whenever possible, of course – we've always got one eye on the business and the other on the environment), and invoices for clients who haven't paid their bills – having the right paper product for the right task is de regeur to ensure you work to maximum capability.
The Notepad
An extension of the above-mentioned paper products is the notepad, the paper-based sidekick of the office world that's practically taken for granted. Perfect for notes for meetings and conferences, compiling to-do lists, jotting down customer orders, or, if you're a journalist, scribbling shorthand to jot down over-the-phone quotes, the notepad is often the unsung hero of the modern office.
Diaries And Planners
I can hear the chuckles of doubt and the derisive mocking laugher echoing through HR already, but hold your horses. You might think that diaries are an outdated form of planning those days, weeks and months ahead, but they're a physical, robust and dependable way of staying organised.
Crucially, a diary won't crash on you, suffer a log-in error or need to be re-booted. Sure, you've got your mobile phone, PC and laptop diaries, but it's always good to have the fall-back contingency of a paper copy.
Pens
Ahhh, those little plastic sticks of inky joy. It's impossible to have too many pens in the office. Just being surrounded by them provides some form of pleasurable comfort. And we're not just talking about the ubiquitous Bic here; pens also inveigle their way into the office world under the guise of fountain pens, marker pens, gel pens, and the indispensable fluorescent pens (a godsend for highlighting essential points of an important document).
Post-Its
These yellow rectangles are an invaluable accompaniment to any office workers' day, used by millions of office proletariat across the globe. A boon for jotting down telephone, numbers, reminders and leaving messages for either yourself or colleagues (the Post-It-on-PC-screen remains a favourite). They can even perform the dual function of a bookmark for files and documents. How's that for multi-purpose?
Stapler
Goliath. Excelsior. Meteor. Matador. Just a cursory glance at some the monikers afforded to that other office must-have – the stapler – reveals the importance they have in the office. Robust and reliable, the office stapler is essential for keeping a multitude of pages together in a bound and easy usable form. They come in a variety of sizes too, so whether it's Hobbit-sized or humungous, there's a stapler for every occasion.
Files And Folders
There's no better way to keep your paperwork clean, organised and protected than by sheathing it in one of the many files and folders available. Be it a floating file for your cabinet, ring binder, or single plastic wallets, they're a brilliant way of securing your documents to prevent them from getting damaged.
Envelopes
They come in standard plain, window, and – for larger and more fragile items – strong padded versions. Every office needs a combination of this letter and item-protecting tryptich so things can be sent without fear of them getting damaged.
Adhesives
OK, so this might be one of the less widely used items of office stationery, but there are occasions when you'll need to stick things together with sellotape or glue. And Blu Tack always comes in handy when putting up posters around the office or paper on meeting room walls for those omnipresent brainstorming sessions.
Shredder
Confidentiality should be the prime concern of any modern business, and a shredder is the best way to ensure that all sensitive documents are disposed of effectively. Some shredders can even destroy items such as DVDs, CDs and credit cards, as well as paper – so now there's really no excuse for not disposing of your sensitive waste and materials in a responsible manner.
So while the contemporary office may wallow in its own technological prowess and capabilities, when it comes to those simple yet effective basics, those traditional stationery supplies still more than cut the mustard. They are, quite literally, the staples of the modern office.
Can you think of any other essential office supplies that could be added to this list? Post (It) or rather email here
Bio: James Duval is an IT fanatic who embraces technology but also possesses an affectionate nostalgia for all things traditional and old school. He recommends Continua.
---