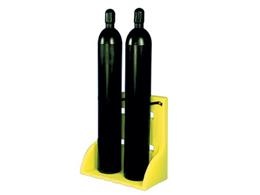 Accidents involving gas cylinders can cause serious injury or even death. Having the correct support and guidance on how to handle gas cylinders in the safest way possible.
The Health and safety Executive (HSE), offers guidance and support to anyone who manufactures, owns, fills, repairs or uses gas cylinders. The generic and legal term that covers gas cylinders is 'pressure receptacle' which also covers other types of 'pressure receptacle' such as tube, pressure drum, cryogenic receptacle, bundle of cylinders as well as gas cylinders themselves.
Hazards of gas cylinders
Gas cylinders are known for transporting and store gases under pressure which are used for many different purposes including, chemical processes, medical and laboratory uses, fuel for vehicles, heating and cooking and lots more. The problem is, that there are hazards that come with the cylinders.
Some of the main hazards include impact from rapid release of compressed gas, a fire as a result of escaping flammable gases or fluids, damage or explosion from falling cylinders, manual handling injuries and any parts that fail.
These hazards can lead to serious injuries or even fatalities. Inadequate training, poor installation, handling, storage incorrect filling procedures, faulty equipment can all lead to the accidents and death.
Handling gas cylinders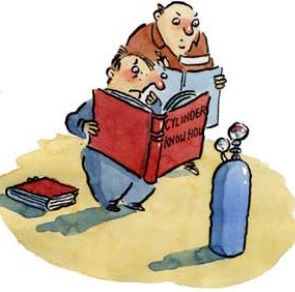 Knowing how to handle and use a gas cylinder is part of the task when it comes to preventing accidents. Every member of staff should have received training by a training provider on how to handle a gas cylinder in the correct way. Here are some pointers to check when using a gas cylinder:
- Always use gas cylinders in a vertical position, unless stated otherwise by the manufacturer.
- Restrain cylinders securely to prevent them from falling over.
- Wear suitable foot wear and other personal protective clothing/equipment.
- When the gas cylinder is not in use, close all valves.
- Ensure that the valve is protected by a valve cap or collar to prevent any damage if the cylinder is dropped.
You should always be careful when the gas cylinder is in use. Always double check that the gas inside is the correct type of gas for the intended use and ensure that the regulator and pipework is suitable for the type of gas and pressure being used. When removing the cylinder, never drag, drop or roll the cylinder as this can cause major damage.
Transporting gas cylinders
The transportation of gas cylinders is incredibly important. The vehicle must be suitable for the purpose and be marked to warn other drivers and pedestrians that it is carrying dangerous and possibly flammable goods. The driver must be suitably trained on how to drive the vehicle as well as handling the cylinders themselves and must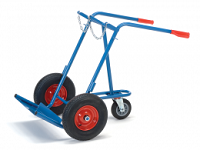 carry the appropriate documentation.
Loading and unloading gas cylinders should be a safe and secure operation. It is important that the cylinders are safely restrained or contained when this is in process. Cages, trolleys and containers are a great way of keeping the cylinders in an upright position, unless stated otherwise by the manufacturers.
Just like the vehicles, the cylinders should be marked with signs associated with their contents and their hazards. It may be necessary to take extra measures and precautions with certain types and volumes of gases and fluids to make sure they are safely transported.
Storing gas cylinders
Gas cylinders should not be stored for an excessive amount of time. Only buy the sufficient quantity of gas to cover your needs and always use the gas that is bought first is used first – first in, first used. Store gas in dry, safe places. They should be placed on a flat surface and not in a tightly confined space e.g. open air or ventilated. Always ensure they do not lie or stand in water, you can stand them on a pallet to avoid any damage to them. Protect gas cylinders from any external heat sources that may affect their mechanical integrity and they should be stored away from sources of ignition and other flammable materials.
Gas cylinders can become dangerous if damaged, this is why it is important to store them safely, by restraining or containing them properly, even if they are designed to be free-standing.
When you do handle, store or transport any type of 'pressure receptacle', always follow the guidelines, rules and regulations to ensure that yourself and your colleagues, are safe when working with gas cylinders.
Click to view our gas cylinder trolleys and stands.
---
Posted in News, Storage, Health and Safety