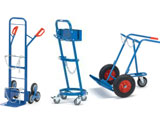 See our range of Gas Cylinder Trolleys here
This article is aimed at anyone who owns or uses gas cylinders – whether you are self employed or an employer, there is a legal duty to have a safe workplace and to use work equipment safely. This article targets businesses or organisations which use a lot of gas cylinders including hospitals, manufacturing plants (especially welding and engineering), laboratories and caravan parks.
In July 2013 three south east firms were fined £685,000 after a plumber died and six other workers were seriously injured after incorrect storage and inadequate risk assessment. The accident happened when a gas cylinder toppled over and set off a chain reaction with other cylinders and the resulting high pressure cylinders were propelled at up to 170mph across the workplace.
According to the Health and Safety Executive (HSE), the six main gas cylinder hazards are:
- manual handling injuries
- blast impact of a gas cylinder explosion or rapid release of compressed gas – as happened in the above example
- impact from parts of gas cylinders, valves or flying debris
- contact with gas or fluid that is accidentally released
- flammable gases or fluids causing fire
- falling cylinder impacts
Safe gas cylinder movement
In relation to handling gas cylinders, it is important to get the right cyclinder trolley for the job in hand and to follow these safety guidelines:
- Gas cylinders usually need to be kept in a vertical position
- They need to be securely restrained so that they do not fall over
- Double check that the cylinder and gas is the correct one for the intended use and that the regulator and pipework are a suitable type. Disconnect regulators and hoses from cylinders where possible
- Use suitable PPE equipment
- Do NOT drop, roll or drag cylinders (see below)
- Use appropriate cradles, clamps and slings when lifting equipment with a hoist
- Never use the forks of lift trucks to raise and lower gas cylinders
- Ensure that gas cylinders do not project beyond the sides or ends of a vehicle
Our 10 year guarantee
The Workplace Depot recommends that you use the following trolleys for handling gas cylinders. Note that the trolleys we supply are guaranteed for ten years - this is especially impressive given that they will get robust and heavy usage! The trolleys are powder-coated and undergo extensive pre-treatment by shot blasting, which extends the life of the product. You can also order any RAL colour you want (helpful for identification in caravan parks or organisations that have different departments using them) for a mere 10% extra cost – see details of this exclusive offer here.
Gas Cylinder trolleys
These are specifically designed for handing and transporting gas cylinders and have a fully welded steel construction for additional strength. They have a chain for supporting the bottles, and pneumatic tyres to cushion movement over non smooth surfaces. Details: Gas Cylinder Trolleys
Steel Bottle Trolleys
Welded and powder-coated tubular steel design with a chain bottle support. Choice of either solid rubber or pneumatic tyres and can hold one steel bottle of 20, 40 or 50 litres – this is ideal for outdoor use in both caravan parks as well as industrial units. Details: Steel Gas Cylinder Trolley
Steel Bottle Dolly
This is specifically designed for use in smooth floor environments like hospitals, laboratories and certain manufacturing facilities. It has steel sheet rims and hubs with roller bearings and also has a brake which means it could be used in vehicles (if properly secured). The steel bottle trolley comes with a clamp for winding up hose and a holder for shrink wrapping pistols. Details: Steel Gas Cylinder Dolly
Gas Cylinder Stair Trolley
If you need to negotiate steps and stairs in your workplace, then this is the trolley to enable you to safely move cylinders. It has top and bottom chain support to hold the cylinder in place and a plastic grip with safety loops as hand guards. Details: Gas Cylinder Stair Trolley
Gas Cylinder Storage
See the gas cylinder storage section:
- Gas cylinders should not be stored for excessive periods
- Rotate stocks to use the oldest first
- Cylinders should be stored in a well-ventilated area or preferably outdoors, on a flat, dry surface
- Gas cylinders containing flammable gas should not be kept in a building used for other purposes
- Gas cylinders need to be properly restrained – see gas cylinder wall bracket
- Cylinders need to be stored away from areas that are vulnerable to impact hazards
If you need any additional information on cylinder handling and storage please call our expert support team on 0800 0126777.
---
Posted in News, Product Updates