Bring some colour to your workplace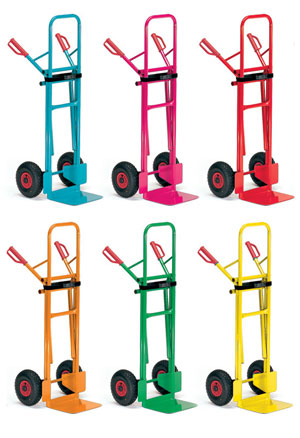 View our extensive range of truck and trolleys
We now have a unique 'any colour you like' offer on ALL our Fetra Truck and Trolley products:
Any RAL* colour – choose from 1000's
Your bespoke colour will cost just 10% more than the standard blue
There is no minimum order
One colour per item, but if you order 3 trolleys you can have 3 different colours!
Paint is tough, powder-coated and environmentally friendly with long product life
Delivered to your door within 4 weeks
10 year guarantee on all Fetra products
Why your Trucks and Trolleys need to stand out from the crowd
In Europe it is not unusual to have different coloured trucks and trolleys – here a few of the reasons given to us as to why some European businesses have opted for colourful trolleys:
In a large operation where there are multiple departments using trucks or trolleys, the different colour paint will denote the department. 'Losing' trolleys between departments is a very common problem in places like supermarkets and warehouses
Order picking – different teams can have different colours. Perishable and non-perishable goods will usually need separate trolleys
Health and safety – As well as usage separation, some users want bright colours so that they stand out more
Some companies have requested their own 'corporate' colours – this is usually where they may be seen by the public such as large retail outlets or DIY stores
They look nice!
Colourful Facts
* The Classic RAL System is used to define standard colours for paint and coatings and is the most popular European Colour Standard. It is the commonly used standard for architecture, construction, industry and road safety.
According to Dulux the most popular colour in the world is blue – it is no accident that our standard truck comes in a shiny, metallic blue. 42% of men have blue as their favourite colour and 30% of women. The next favourite colours are red and green, followed by orange, brown and purple. If you really want to annoy people in your workforce, then the least popular colour is yellow – it is liked by only five per cent of people.
Colour - Top 10 songs and 10 artists
Ok, this is going very off the topic of trucks and trolleys, but... we think these are the most famous songs with the colour in their title and the most well known artists associated with a colour. If you disagree, please email us with your suggestions and we may add them to our lists:
Songs

Back in black – AC/DC
Brown eyed girl – Van Morrison
Gold - Spandau Ballet
Green green grass of home – Tom Jones
Lily the pink – The Scaffold
Mr Blue sky - Electric Light Orchestra (ELO)
Purple rain - Prince
Red red wine - UB40
White flag - Dido
Yellow submarine – The Beatles

Artists

Black Sabbeth
James Brown
Goldie Looking Chain
Green Day
Pink Floyd
Blue
Deep Purple
Simply Red
Whitesnake
Macy Gray
See our extensive range of truck and trolleys here